Chane ki daal ka halwa is a traditional Pakistani sweet and is often made in winter months. It is made with chane ki daal, also known as split gram. It is an indulgent dessert usually made on special occasions and is considered a little tricky and time consuming to prepare. But here is the perfect recipe, passed on to me by my mom and I have written down each and every detail so you can make it easily.
Though I had written this post a while back but due to some technical reasons, I lost the draft. Searching for words and then framing them can be sometimes a painful task specially when you are already lagging behind. Writing should come as a flow and in my humble opinion cannot be crafted. I have been a little out of touch with my reading agenda. The other day, when I was visiting a book store, I seriously felt my heart dropped. So the reading and writing (read frequent blogging) has climbed up in my to-do list and hopefully I am able to keep up to it.
Coming back to today's recipe Chane ki Daal ka Halwa, this is one of my favorite Pakistani sweets. Its made up of very few (high fat) ingredients and you are going to be hooked to it. Its main ingredient is Split Gram, also called Split Bengal Gram. In Urdu and Hindi, it is called Chane ki daal. It is boiled, grounded and made into a fudge. 'Halwa' is the traditional Urdu word which we use in Pakistani cuisine to what is commonly known as fudge. My little research revealed that Halwa/Fudge is popular among all parts of the world. It can be of different types, like made from carrot, pumpkin, almond, walnut etc.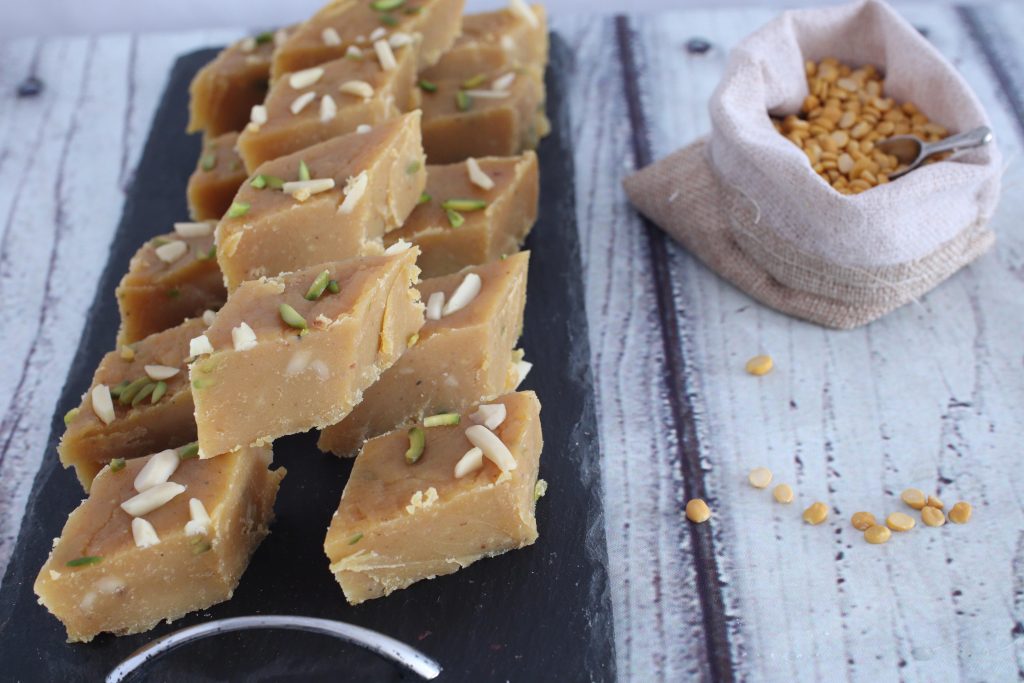 This halwa is very special to me as it is my favorite halwa the way my mom makes and since last 16 years, she has been making this halwa whenever I visit her after my marriage that is. It is nostalgic, wants me to go home now and homecoming sweet.
If you are looking for some instant Pakistani Dessert Recipes made with condensed milk then you should check out my post Pakistani Desserts with condensed milk where I do a roundup of some recipes.
You might also like
Quick and Easy Suji ka Halwa (Bazaar jaisa)
Anday ki Piyosi or Anday ki Mithai
Yield: 1 kg approximately
Chanay Ki Daal Ka Halwa
A traditional indulgent Pakistani sweet made with chanay ki daal or split gram
Ingredients
250 grams Split Gram Lentils or chanay ki daal soaked for 4-6 hours
250 grams Sugar
1 cup clarified butter or ghee
1/2 liter milk
saffron few strands (optional)
1/2 teaspoon Green cardamom powder
Instructions
Drain water from the soaked lentils.
Boil milk and add lentils and saffron.
Cook on medium heat till the milk dries and lentils are tender. This takes about 1.5-2 hours for this quantity. There should be a little milk remaining.
Cool and blend. There should be no lumps.
In a separate pan, heat clarified butter or ghee. Do not heat too much. Add cardamom powder and then add lentil paste.
Fry for 20 minutes till light brown on slow heat, stirring continuously. The aroma will start to come.
Add sugar and continue to fry until it forms a ball and fat is separated. The color will be changed. This will take about another 20-30 minutes.
Remove it on a lightly greased square/rectangle dish and sprinkle nuts.
Allow to cool before cutting diamond shaped pieces.
Notes
They keep well in a air tight container for up to a week.
The stirring part is crucial, before and after adding sugar. It will also help in no sticking in the pan.
Use a non-stick pot if available.
Summary
Recipe Name
Author Name
Published On
Preparation Time
Cook Time
Total Time
Average Rating





Based on 1 Review(s)