I am making easy apple crisp today that is ready in 30 minutes. What happens when you are suddenly free after finishing a project? For me, I immediately get back to my neglected baby, my blog. When I got up this morning, I was starving and didn't want to have usual breakfast. Idea – make something for breakfast and blog and yes quick, remember I was starving? I had saved the recipe of Apple Crisp yesterday while performing my daily ritual –
Tastespotting
. Its addictive man. I loved
Dawn's
presentation and decided to try this out.
What's the difference between apple crisp and apple crumble?
Most crisps and crumbles are pretty straightforward and can go with any seasonal fruits like pears, peaches, cherries etc. The only difference is of oats in crisp while crumble doesn't have oats. I like mine with apples especially when they have been lying around for a while and no one was eating them. Best served warm with a dollop of fresh cream or with ice-cream for a more formal dessert.
Are Gala Apples good for Crisps?
I have always used Gala apples with skin and it turns out perfect. They are sweet enough such that it doesn't require any additional sweetness in the apple layer.
Here is how to old fashioned apple crisp from scratch:
Easy Apple Crisp
2018-10-16 05:42:06
Serves 2
An easy apple crisp (not crumble because this has oats) that can double up as breakfast or dessert when served with ice cream
Ingredients
3-4 Apples*
1/2 cup all purpose Flour**
2/3 Brown sugar [Use a little less if you prefer mild sweet]
1/2 cup Rolled oats
3/4 teaspoon Cinnamon grounded 3/4 tsp
1/4 teaspoon Nutmeg grated (optional)
1/3 cup Nuts and raisins (optional)
1/3 cup Butter softened but still cold plus a little extra
Instructions
Wash, peel,seed and cut apples into cubes. (I prefer with skin on)
Put them on a buttered pie dish.
Mix rest of the ingredients and rub with fingers to resemble crumbs.
Spread on the apples evenly.
Bake in a preheated oven at gas mark 325 F for about 30 minutes.
Notes
* Use any kind available, I used Gala
** You can use wholewheat flour as well
Bake Fresh https://bakefresh.net/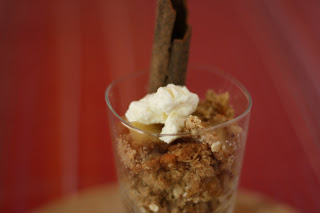 Summary
Reviewer
Review Date
Reviewed Item
Author Rating





Recipe Name