This is a quick post but I HAD to share this recipe. I am usually pressed for making savory dishes mostly since some of my regular followers expect. Besides that, I have more ideas for making sweets and baking items, I cook proper meal at night and I haven't still mastered the night time photography skills. Well, that doesn't at all means that I have mastered natural light photography. Some pictures still come out horrible but thats the fun of learning.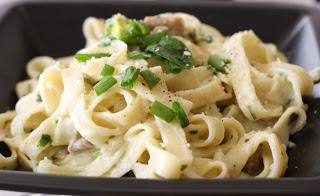 So today, I had to stir something quickly for lunch, in half an hour to be exact. Secretly I was feeling
Giada De Laurentiis
from Food Network. I knew I had to make pasta because thats usually the quickest meals and family favorites. I had bought Fettuccine, so that had to be the main ingredient. I had tried Fettuccine Alfredo in a restaurant last week over a lunch with friends [btw it was great fun]. It was just ok, not great, I mean the food. So, after some searching, I settled down with a promising recipe which didn't have cream. All the other recipes had cream [including Giada's] as main ingredient and rightly so, it was Alfredo after all. I cannot over-indulge, not good for us. And guess what, it did turn out great with low fat milk thickened with corn flour. For now atleast I am settling down with this recipe.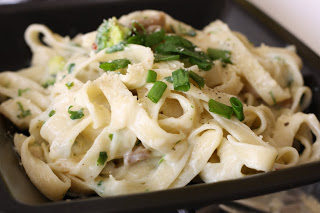 Back to the recipe. Fettuccine means 'little ribbons' in Italian, is a popular Italian pasta with ribbon like shape and the most common dish that is made out of it is Fettuccine Alfredo. Some says this dish has its roots in Rome but its now gaining immense popularity worldwide. Alfredo refers to the thick buttery, creamy sauce seasoned generously with parmesan cheese – another popular Italian ingredient. Some veggies can also be added for variation.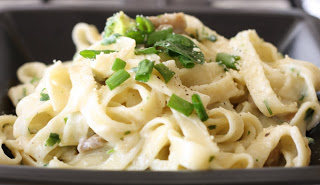 Enough talking, did I tell you it was quick post?
Mushroom and Broccoli Fettuccine Alfredo [somewhat healthified]
Ingredients:
Crushed Red pepper flakes 1/2 tsp
Garlic (chopped) 2 cloves
Broccoli approx. 1 head cut up
Mushrooms 200 gm (small tin)
Butter 2 tbsp
Extra Virgin Olive Oil 1 tbsp
Milk [I used low fat] 3 cups
Corn starch/flour 2 tbsp
Parmesan Cheese 1 cup
Black Pepper 1 tsp freshly grounded
White pepper 1 1/2 tsp
Salt
Parsley [I used green corriander] a handful
snips of green onion and a couple of mint leaves
Method:
1. Cook pasta according to package directions.
2. In the same boiling pasta water, put broccoli in a sieve and steam for 5 minutes.
3. In a separate pot, place oil, add garlic, red chilli flakes and after 2 minutes add mushrooms. Cook for good 5 minutes. Lastly add in broccoli.
4. Keep the above mixture aside.
5. Make Alfredo Sauce. In the same pan, melt butter, add 2 cups of milk.
6. Separately in a bowl, mix one cup of remaining milk and cornflour.
7. Add salt, white pepper, milk with cornflour into the sauce.
8. when it starts thickening, add cheese and parsley.
9. Lastly add in mushroom and broccoli mixture.
10. Add in all the pasta and let it sit for 15 minutes so all the sauce is absorbed by the pasta.
11. Garnish with green onions, parmesan cheese, freshly ground black pepper and mint leaves.