Today I am making traditional frozen dessert – Pakistani Kulfi: instant kulfi recipe with condensed milk. While spring is in full swing and we are enjoying some cool evenings here in Riyadh, KSA, the days are getting warmer and sun is shining bright. I love this weather as its the perfect time to host and attend gatherings specially outdoors. This past week, I hosted a brunch for my friends here. For the dessert I wanted to keep falooda – Pakistani version of ice cream sundae. But this is a meal on its own, either should be served alone or after very light meal which was not the case. So I decided to serve a scaled down version with less condiments and serving size. Needless to say it was thoroughly enjoyed. Best part? The main component that is Qulfi/ Kulfi is super easy and can be prepared in a blender without even turning on the heat.
I remember, when I was growing up Qulfi/ Kulfi was a staple and my phopo (paternal aunt) used to make and keep it in freezer for unexpected (and expected guests). The process was long which required the custard to be cooked for a certain amount of time before cooling and freezing. Well, this blog has a policy except a few exceptions that only easy recipes make their way. When I tried blender Kulfi with this super easy instant kulfi recipe with condensed milk and quite similar in taste and texture to the original one, I knew it was a keeper. So here it is , no churn, no fuss, Qulfi/Kulfi – a favorite frozen dessert loved by all. A few tips in the recipe and you will be making it again and again.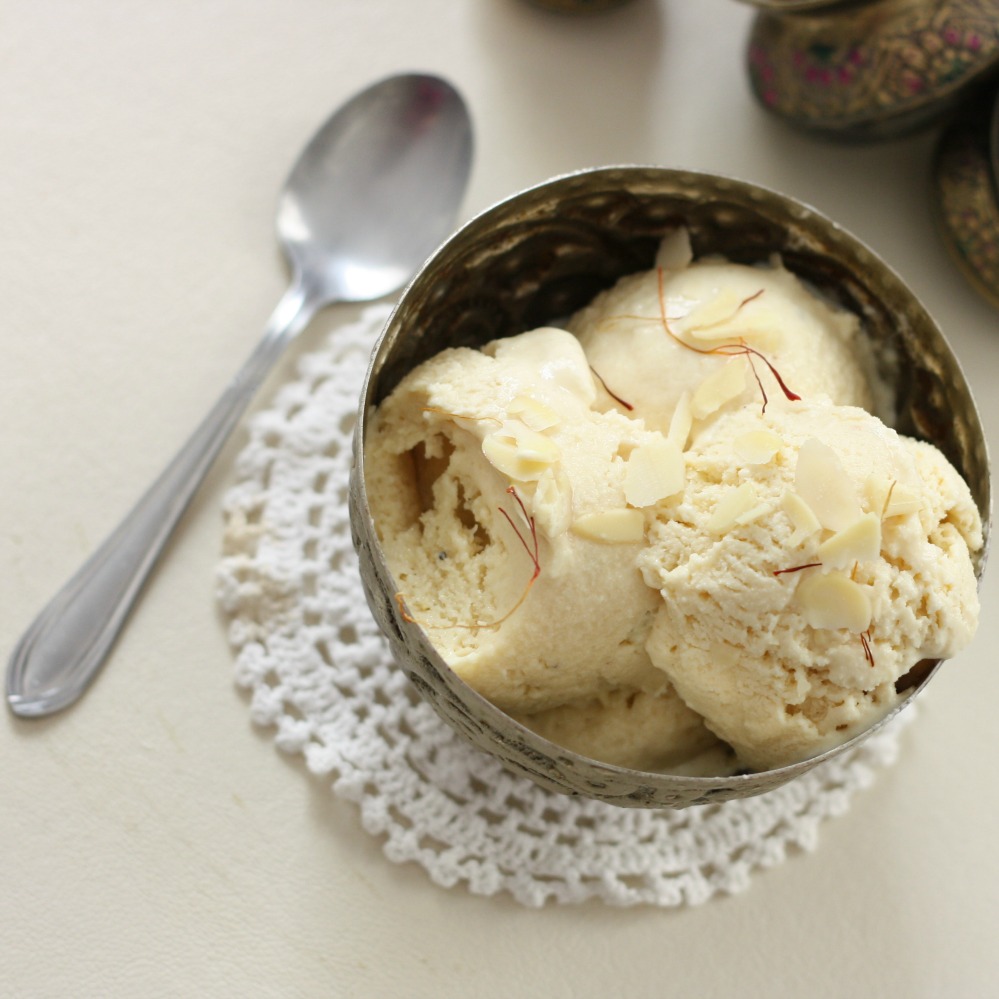 Cardamom Saffron Qulfi
2017-03-27 14:57:53
Serves 8
Ingredients
350 ml Evaporated Milk*
395 ml Condensed Milk
1 and 3/4 cup Whipping/double/heavy cream
4 slices of bread, corners removed
1 teaspoon of crushed cardamom
few strands of saffron
almonds/pistachios to sprinkle
Instructions
Whip the cream to semi soft stage. You can skip this step but I find this gives a lighter texture to your qulfi.
Blend slices with cardamom and half evaporated milk in your blender.
Mix this mixture with condensed milk and the rest of the evaporated milk.
Add saffron.
Mix it in with whipped cream either by hand beater or whisk. Make sure the mixture is homogeneous and well mixed.
Freeze it in an airtight container. I like to put the box in a plastic bag for additional protection from freezer air.
Take it out after 2 hours when its semi frozen. Beat it with a beater. This will make sure that the mixture is well blended and does'nt settle down in the bottom and also there are no crystals. You can repeat this process once more if you have enough time.
Freeze until completely frozen.
Serve as stand alone or part of your falooda.
Notes
*Most evaporated milk comes in 12 ounces or 350 ml can while condensed milk comes 14 ounces or 395 ml cans.
* You can adjust the sweetness of the mixture by increasing or decreasing the amount of cream by plus minus 1/4 cup.
If you use the first three ingredients chilled , it helps in improving the texture.
Bake Fresh https://bakefresh.net/
Summary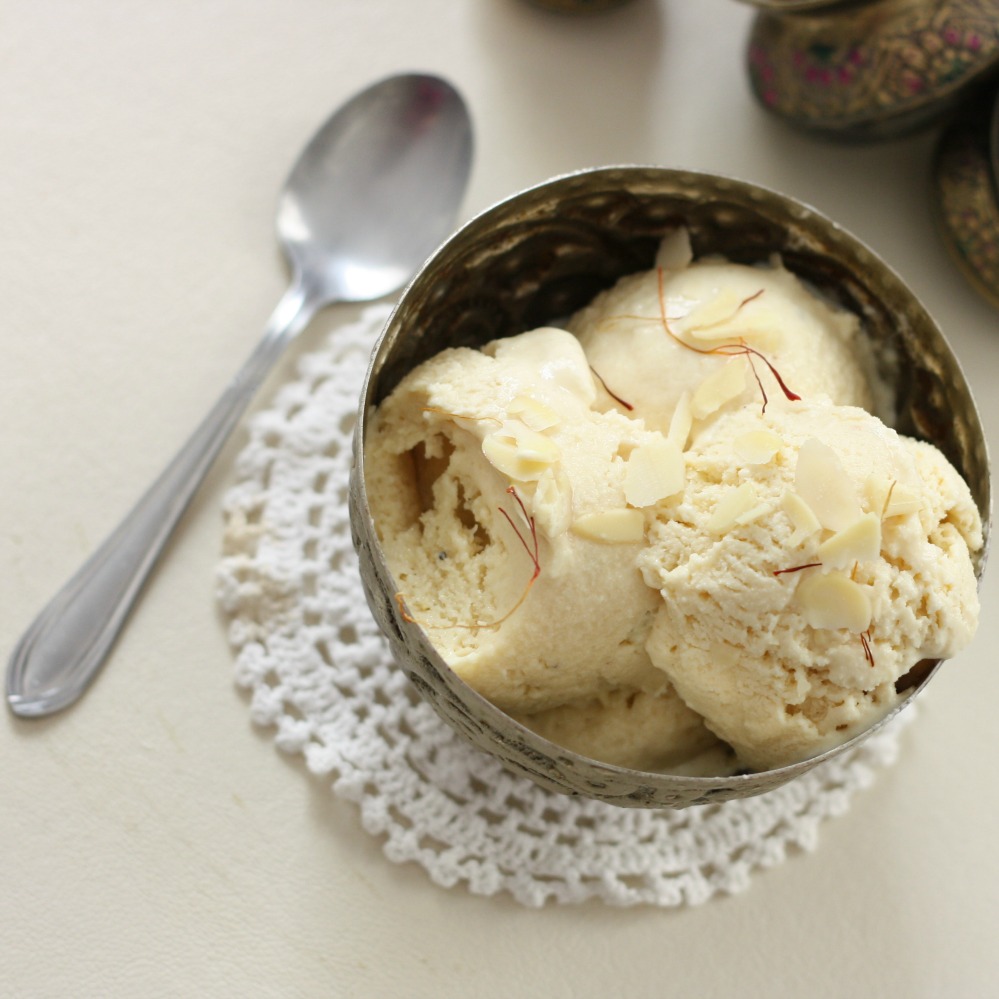 Reviewer
Review Date
Reviewed Item
Author Rating





Recipe Name