Hello readers, I am back after a long break. I hope you all had a nice summer break too. Well this vacation, I had a real professional leap and earned a diploma and certificate in Patisserie. Those who are interested, I will be writing a detailed blog post soon about how and why.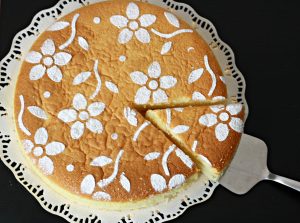 Meanwhile, the come back post has to be extra ordinary. And this one surely is. A cross between cheesecake and pound cake. I am not a cheesecake fan as I find it really heavy. This cheesecake has an interesting story. This was first introduced by our friends in Bahrain when were having a road trip with them and they made me taste to replicate it. Well, they have left Riyadh and I got a chance to make this now (Guys you know who you are ;). It turned out delicious and if I may say so exactly like the one we tasted.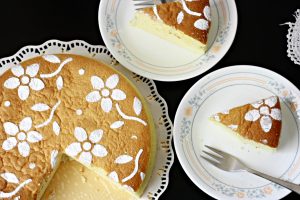 A few technical tips and you should be able to make it at home and will become hooked to it and might never go back to traditional cheesecake. Soft, light, airy and not very sweet and tastes best when refrigerated.
Thanks to Rasa Malaysia for the recipe and a few youtube videos I watched to master the method.
Japanese Cotton Cheesecake
2016-09-26 14:54:43
Serves 12
A light and fluffy cheesecake
Ingredients
caster sugar 5 oz.
egg yolks 6
egg whites 6
cream of tartar 1/4 tsp
unsalted butter 2 oz.
cream cheese 9 oz.
milk 3 oz.
lemon juice 1 tbsp
cake flour 2 oz.
cornflour 1 oz.
salt 1/4 tsp
Instructions
Preheat the oven to 300 F.
Prepare a 9 inches springform pan by lightly greasing and lining the bottom with the parchment paper. Wrap the base in aluminium foil to prevent water seeping into the tin.
Heat cream cheese, butter and milk over a double boiler until melted and combined. Cool the mixture.
Mix in the flour, the cornflour, salt, egg yolks, lemon juice and mix well.
Whisk the egg whites and cream of tartar with a hand beater until foamy. Add in sugar and beat until soft peaks are formed.
Fold 1/3 meringue into the cheese mixture, then fold in another 1/3 of meringue. After incorporated, pour the batter back to the remaining 1/3 meringue and fold gently.
Bake cheesecake in a water bath for 1 hours 10 minutes or until set and golden brown.
Notes
The most important step is not to bake it in a very hot oven. After it is done, put off the oven and leave the cake inside for good 20 mins. then leave the door of the oven ajar and cool for another hour. This prevents shrinkage due to drastic temperature change.
I used a stencil to sift icing sugar on top of it to make pretty pattern, you can use doilies too.
Adapted from Rasa Malaysia
Bake Fresh https://bakefresh.net/
Summary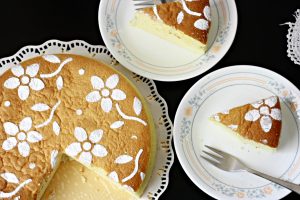 Reviewer
Review Date
Reviewed Item
Japanese Cotton Cheesecake
Author Rating





Recipe Name
Japanese Cotton Cheesecake