Another overdue post and yet again I am struggling to post recipes regularly. There are many reasons but sometimes its just the shortage of words. I have been trying to post this very nice recipe for a long time, 3 weeks to be exact. I have always liked Ina Garten of Barefoot Contessa and usually her baking recipes become quite popular. Lemon bars is also one such recipe. The perfect balance of sweetness and tanginess of moist gooey filling sitting on a crisp buttery crust, the bars are completed with a generous dust of icing sugar. I made these for Clown Party which we arranged for our daughter and these bars received lot of compliments. They also make perfect picnic snack individually wrapped in wax paper. So next time you want to do some citrus baking try these.
Lemon Bars
Ingredients
adapted from Food Network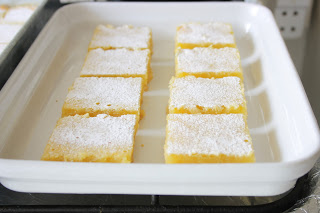 For the crust:
1/2 pound unsalted butter, at room temperature
1/2 cup granulated sugar
2 cups flour
1/8 teaspoon kosher salt
For the filling:
6 extra-large eggs at room temperature
3 cups granulated sugar
2 tablespoons grated lemon zest (4 to 6 lemons)
1 cup freshly squeezed lemon juice
1 cup flour
Confectioners' sugar, for dusting
Method
1. Preheat the oven to 350 degrees F.
2. For the crust, cream the butter and sugar until light in the bowl of an electric mixer fitted with the paddle attachment.
3. Combine the flour and salt and, with the mixer on low, add to the butter until just mixed.
4. Dump the dough onto a well-floured board and gather into a ball.
5. Flatten the dough with floured hands and press it into a 9 by 13 by 2-inch baking sheet, building up a 1/2-inch edge on all sides. Chill.
6. Bake the crust for 15 to 20 minutes, until very lightly browned. Let cool on a wire rack. Leave the oven on.
7. For the filling, whisk together the eggs, sugar, lemon zest, lemon juice, and flour. Pour over the crust and bake for 30 to 35 minutes, until the filling is set. Let cool to room temperature.
8. Cut into triangles or square bars and dust with confectioners' sugar.