Biscuits or Cookies are one of the most popular snack items, whether you dunk in milk for your breakfast, dip in your evening tea or just munch them mindlessly while working or relaxing. I have always loved cookies. In my home country, bakery cookies are very popular and during my recent visit, I tried many but ultimately concluded that you cannot beat the homemade goodness. Here in Middle East, I generally don't like any bakery items, I have this weird superiority complex that I can bake better at home. Not only versatile in taste and texture, they can be made through variety of methods. Some are drop cookies, some are chilled before baking, some can be shaped while many can be pressed with cutters. Some are no-bake or even twice baked.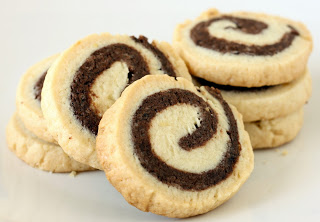 My sister who is also a hobbyist baker made pin wheel biscuits on Eid (a recently concluded occasion of Muslims to mark the end of the fasting month of Ramadan), turned out really good. They are swirl shaped round cookies with alternate layers of chocolate and vanilla. The recipe I am posting here is near to perfect and is an old recipe from my baking classes I used to take.
From here onwards, I will try to give measurement in variety of formats and it is always recommended that you invest in a good measuring scale.


Pin Wheel Biscuits
Ingredients
Unsalted Butter (room temperature) 3oz/75 gm/3 tbsp
Flour 6oz/150 gm/12 tbsp
Baking Powder 1 tsp
Caster Sugar 3.5 oz/7 tbsp
Vanilla Essence 3-4 drops
Egg Yolk 1
Cocoa Powder 1 tsp heaped
Method
1. Cream butter, sugar, egg and vanilla.
2. Add sifted flour and baking powder and mix with finger tips or hand beater till the mixture resembles fine bread crumbs.
3. Add chilled water with a tea spoon to just bind the mixture. You might not need water at all. Don't knead, just work to bind.
4. Divide the dough into two and add cocoa powder to one. Mix.
5. Roll out white dough between piece of parchment/baking paper into a rectangular shape. Cut the uneven edges and patch them to make a near perfect rectangle.
6. Repeat step 5 with chocolate dough. Remove the top parchment papers from both.
7. Lay chocolate dough over vanilla dough and start rolling firmly but gently from the longer side peeling off the parchment carefully. It should be shaped like a log.
8. Wrap it in the same parchment paper on which the vanilla dough was placed.
9. Freeze for 20-25 minutes.
10. Cut about 1/2 inches thick slices and place on an un-greased tray preferably lined with parchment paper.
11. Bake in a pre-heated oven at no.6 for 20 minutes until golden brown. Don't bake for longer period, increase the temperature if required.