So guys, the blessed month of Ramadan is upon us and so is the heat. Days are long, kids are off from schools, outdoor activities have been slowed down, the vacation is calling. Amidst all this mayhem, the food has to be prepared, devoured and well a few things from them need to be blogged as well.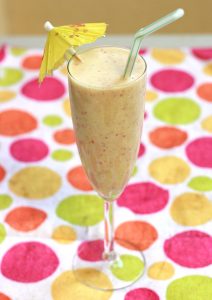 .
Smoothies are my favorite meal replacement option. They are filling, nutritious and can be prepared in a jiffy, not to mention that that they come in variety of flavors. These days I am hooked to green smoothies, they are so nutritious that once you start feeling the changes, you are going to be addicted to them.
Today I am sharing a very versatile fruit smoothie made with fruits and yogurt. Its my secret way to finish off some fruits that have gone a little soft to eat and feed kids the fruits they don't like.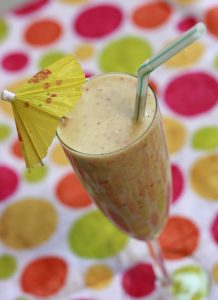 Sunshine Smoothie
2016-06-11 09:53:10
Serves 2
A delicious easy , healthy, summery smoothie
Ingredients
1 frozen riped banana
8 strawberries
1/2 cup pineapple
1 cup orange juice, freshly squeezed
4 tablespoons yogurt
1/2 cup icecubes
Instructions
Blend all of the ingredients for 1 minute.
Pour, serve and enjoy.
Bake Fresh https://bakefresh.net/