Today we are making Madeleines in a silicone mold. Two new things. First a bit about Madeleine. They are small French cakes baked in a special shell like mold. A girl with the same name once baked these and they got popular among masses and elites.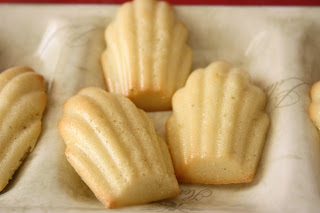 I picked my silicone mold from a local 2-riyal shop (aka dollar store) and surprisingly it turned out fantastic. No greasing, dusting with flour and easy to take out. I had always thought that silicone molds are expensive, may be some variety is. Mine was also the same characteristic orange color and the cakes came out smooth and shiny. Nice.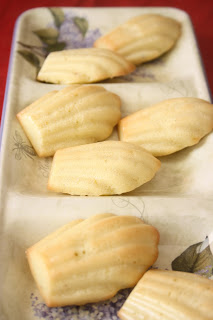 I always had madeleines in my to-do list and had never tasted one either so one fine morning I decided to kill the curiosity and they did'nt disappoint me either. Very light, delicate cakes, perfumed with lemon zest and juice. Many people dunk in tea or milk, dip in chocolate or cream, drizzle with glaze or dust with icing sugar. I liked mine plane. Many recipes are made with flour only but the recipe I decided to try from Martha's baking handbook had some almond flour as well which gave a wonderful flavor and texture. Since I had that in hand, I decided to try this. I now have chocolate madeleines in agenda. There's no end right? 🙂 So next time, your butter is not at room temperature and you are craving for some nice cake treat, go for it.
Ingredients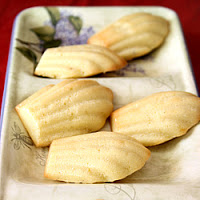 Flour 3/4 cup
Castor Sugar 1/2 cup + 2 tbsp
Almond flour 1/2 cup
Salt 1/2 tsp
Eggs 3
Lemon zest 2 tbsp
Lemon essence 1/4 tsp
Butter 1/2 cup
Method
1. Melt butter on a low heat till melted. Cool.
2. Whisk all the dry ingredients in a bowl.
3. Add lemon zest and essence to the cooled butter.
4. Whisk eggs till frothy.
5. Whisk in the dry ingredients.
6. Lastly whisk in the butter.
7. Cover and refrigerate for atleast two hours or overnight.
8. Preheat oven to 350 F. Spoon the mixture with the help of two spoons nearly 3/4 full.
9. Bake for 12-15 mins until corners are light brown.
10. Cool and enjoy. Incase you are not using silicone mold, grease and flour the pan.
11. Makes about 24. Dust with icing sugar if required.