Couple of days ago, I made the best brownies.Yes, you read that right, best. Best by all means, the ones I made before and the ones I have tasted and trust me,I have done this alot.Needless to say, these brownies didnt last long to see the daylight. [I made half proportion so stop rolling eyes ;)].I just saved one for my daughter and for photo shoot.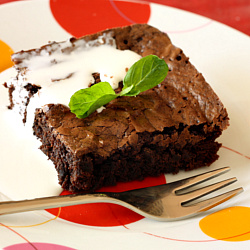 For me baking is perfection.Perfect in taste and looks. Both are extremely important but the first one is a little more important. If it tastes good, no matter how good it looks, it will be slurped up. Vice versa is not true.
Ok, so coming back to the brownies, my hubs had this strange craving late night, "isn't there any cake, can you make something?" Officially I had to bake something for my son's first birthday but he was very disappointed that we wont be able to eat it now. So the plans changed and as per his suggestion, I decided to try brownies. I had two good recipes that I blogged about as well,
Cocoa Brownies
from BettyCrocker and
Fudgy Brownies
by Baked.
But this was perfect for me, moist, not too fudgy, not too sweet, not too cakey, just the right amount of everything. For now this is my to-go recipe and why not its originally from Martha Stewart afterall.
Double Chocolate Brownies
Ingredients
Unsalted butter 6 tbsp
Semisweet chocolate 6 oz, coarsely chopped [I used dark chocolate 41% cocoa]
Cocoa powder 1/4 cup [hence the double chocolate]
Flour 3/4 cup
Baking powder 1/4 tsp
Salt 1/4 tsp
Sugar 1 cup
Eggs 2
Vanilla essence 2 tsp
Method
1. Preheat oven at 350 F. Grease and line 8×8 inches with parchment paper leaving 2 inch overhang for easy lifting. Grease the lining.
2. Put butter, chocolate and cocoa powder in a heat proof bowl placed over simmering water. Stir until melted and combined.Cool.
3. Whisk flour, salt and baking powder in a separate bowl.
4. Beat sugar, vanilla and eggs until pale and fluffy, about 4 mins.
5. Beat in chocolate mixture until just combined.
6. Mix in flour mixture.
7. Pour in prepared pan.
8. Bake for 35 mins. until just done. The tester will not be wet but may have few crumbs attached to it which is ok. DO NOT overbake. They will be dry.
9. Cool in pan for 10 mins and then take out and cut squares.
10. Enjoy with fresh cream.