I am addicted to baking, its like therapeutic for me. I can't resist. If I am sad, I will bake, if I am happy I will bake, if I am having guests over, I will bake, if I am invited somewhere, I will bake. When I am trying to loose weight, I will bake healthy breakfast and oven roasted veggies. In festive moods and season, I get into indulgent desserts which needs baking ofcourse (think cheese cakes and mousse cakes). I hardly buy any cookies and stuff for kids, I always make them at home. I have a long list which needs to be marked off. There are many things in it. This blog is result of my addiction.
Today I had a friend coming over, next thing in my mind, what to bake. She loves chocolate (hence my friend he he). I decided to mark-off one more item from my list. Whoopie pies, oh but I realized there's no brown sugar. Boscotti, yes that would be nice with tea and lots of gossip. So, I decided to try chocolate almond biscotti and if I am posting something immediately after trying it, man it is surely good. So go and try this amazing double baked biscuits and please don't give your kids those chemical ladden and hydrogenated oil factory packed cookies. Atleast these contain fresh ingredients, no chemicals and lots of love.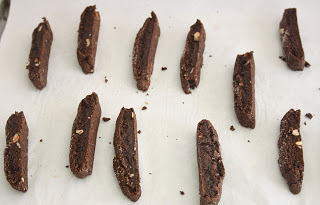 A few words about biscotti. They are Italian origin double baked cookies (like we have cake rusk in Pakistan, which reminds me I have to post them too and they are my hubs favorite cookies) and insanely easy to make and delight to eat. Not fully crisp, not chewy, they are just in between and sans lot of butter, a little is there though. (whats better without butter 😉 ). I have one recipe with olive oil and whole wheat too and I will post that soon too. I picked the recipe from Dorrie Greenspan who has this regular event tuesdays with dorie but thanks to my insanely insane schedule, I can't follow this. So I was sure that this recipe would be a winner and it is.
Chocolate Almond Biscotti
Recipe source http://daisylanecakes.blogspot.com/2011/06/twd-chocolate-biscotti.html
Ingredients
Flour 1 cup
Cocoa powder 1/4 cup
Instant espresso powder 1 tsp
Baking soda 1/4 +1/8 tsp
Baking powder 1/4 tsp
Salt 1/2 tsp
Butter soft 3 tbsp
Sugar 1/2 cup
Egg 1
Vanilla essence 1/2 tsp
Chopped almonds 1/2 cup
Semi-sweet chocolate chips or coarsely chopped bittersweet chocolate 2 oz (optional, I did'nt use)
Sugar for dusting
Method
1. Sift all the dry ingredients.
2. Beat butter and sugar till light.
3. Add in egg and vanilla.
4. Add in dry ingredients until just mixed.
5. Add in nuts and chocolate.
6. Mix with hands until just comes together.
7. Shape it into 12 inches log almost 1/2-3/4 inch thick.
8. Bake it in a pre-heated oven at 350 F for 25 mins.
9. Take them out, cool for 5 mins and cut into 1/2 inch thick pieces and re-bake for 10 mins.
10. Cool and serve and enjoy.