Ok, I know its a long name but hey, I invented this recipe. I am travelling to US tomorrow for 5 weeks but whats the relation between this and today's post, you would ask. Well, I had to finish up the ingredients and that included my favorite sour cream too. I am not kind of a person who repeats the recipe very often and I wanted to use my silicone bundt pan mold for a long time. I had this recipe of quick bread (coming soon) from Daring Bakers which I made last week and it came out delish. But I had only two eggs so I decided to go by own recipe and eye-balling and sixth sense method and trust me it turned out too good. My one year old son who is a complete sweet tooth like me had this for lunch. I threw in some golden raisins also and it was just complete. Moist, soft, tangy from zest and well-rounded taste of sour cream, this will be my go-go recipe for sure.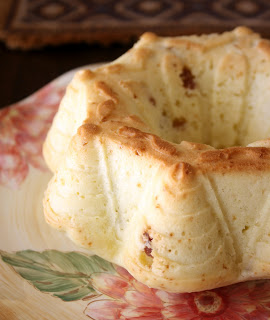 Bundt SourCream Lemon Pound Cake
recipe source – me (how I waited for this day ;))
Ingredients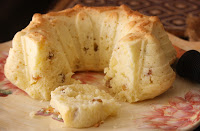 Eggs 2
Sugar 3/4 cup
Lemon zest 1 tsp
Flour 1 1/3 cup
Sour cream 3/4 cup
Baking Powder 1/4+1/8 tsp
Golden Raisins handful
Salt two pinches
Butter 3 1/2 tbsp melted and cooled
Lemon juice 1 tbsp
Method
1. Pre-heat ove at 350 F.
2. Beat eggs, sugar and zest.
3. Sift flour, salt and baking powder. Add in raisins.
4. Add flour mixture to the eggs. Beat just to incorporate.
5. Add melted cooled butter until just combined.
6. Spoon into silicone bundt pan or greased loaf pan.
7. Bake for about 45 mins until light golden and looks done.