What is Hummingbird Cake?
Hummingbird Cake is an incredible cake that is bursting with tropical fruits flavor like bananas, pineapple and coconut. It is and old- fashioned style cake and one of the most popular cakes in Southern America. It has moist layers of cake sandwiched and topped with cream cheese frosting. I have used toasted walnuts instead of pecans because here in this part of the world, walnuts are more readily (and cheaply) available.
When it comes to taste and texture, it resembles carrot and banana cake but in taste you really can't compare. You can find my carrot cake recipe here that is super quick to make.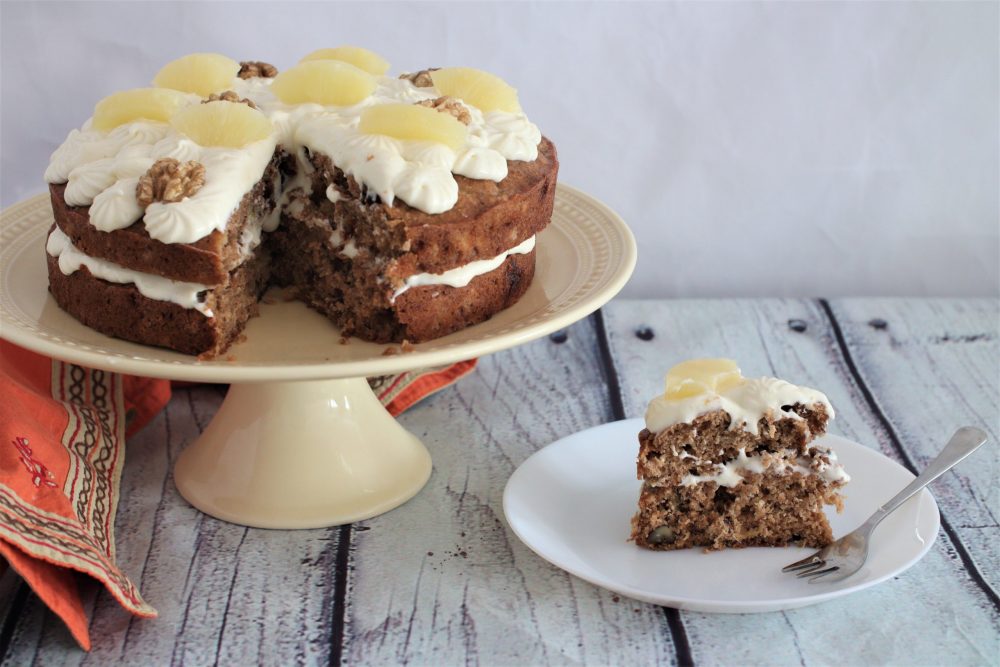 Why it is called Hummingbird Cake?
Its origin is from Jamaican Island whose national bird is hummingbird. Food historians agree that in 1978 Mrs. L. H Wiggin send this recipe to be printed in Southern Living.
Does it needs to be refrigerated and how long does it lasts?
The cake itself usually doesn't need refrigeration but since it has ingredients like pineapple and bananas, I would recommend it storing in fridge specially in hot and humid weather.
If using cream cheese frosting, it must be refrigerated and due to oil (and not butter) it remains moist for at least 3 days in an airtight box.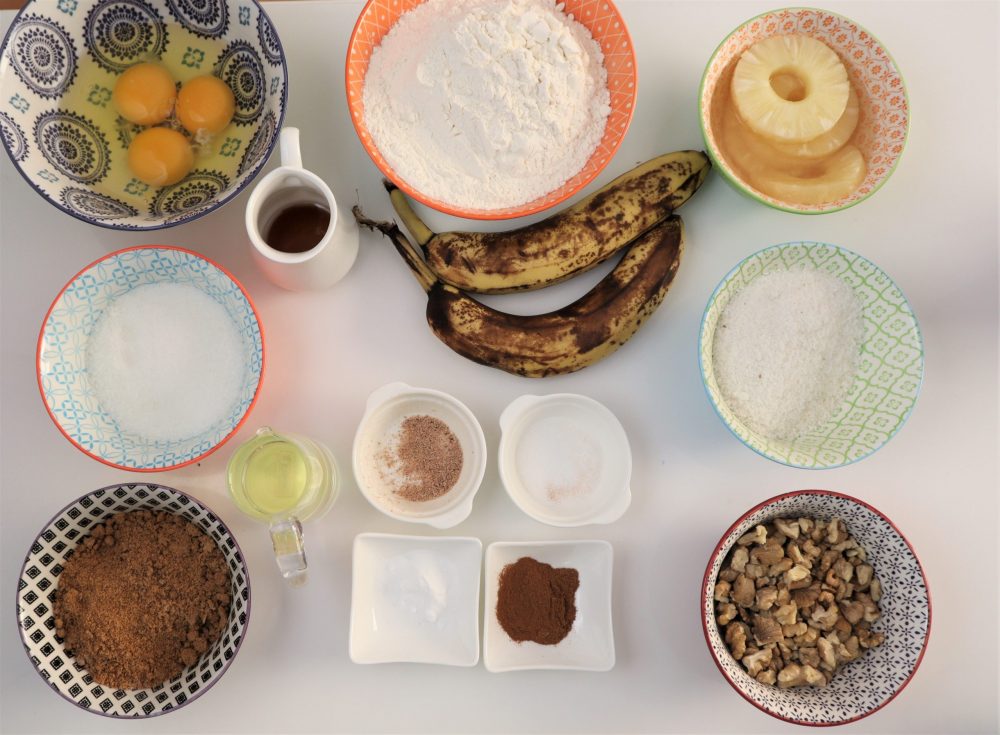 If you want to make sheet cake or bundt cake or cupcakes you can check out Sallys Baking Addiction blog for instructions. I personally have not tried it.
Hummingbird Cake
2020-02-12 15:11:46
Serves 10
Easy Hummingbird Cake bursting with tropical flavors
For the Cake
1 cup chopped walnuts
3 cups flour
1 teaspoon baking soda
1 and 1/2 teaspoon ground cinnamon (powder)
1/2 teaspoon salt
1/2 teaspoon nutmeg
2 large bananas mashed (about 2 cups)*
1 cup coconut
1 can/8 ounces pineapple crushed**
3 eggs room temperature
2/3 cup vegetable oil
1 cup brown sugar
3/4 cup granulated white sugar
For the frosting
1/2 cup butter
180 grams/6.5 ounces cream cheese
4 cups icing sugar
1 teaspoon vanilla
1/4 teaspoon salt
For the Cake
Prepare two 9 inches cake pans by greasing and dusting with flour.
Toast the chopped walnuts in oven for 5-8 minutes in preheated oven at 325 F.
In a large mixing bowl, sift flour, baking soda, salt. Add in coconut, cinnamon and nutmeg powder. Whisk.
Whisk sugars, oil, bananas, pineapples, eggs and vanilla in a separate bowl.
Add wet ingredients to dry ingredients. Whisk until combined.
Fold in nuts.
Bake in a preheated oven at 325 F for 20 minutes until done.
Cool completely before frosting.
For the Frosting
Beat cream cheese, butter, vanilla and salt well until creamy and smooth.
Add in icing sugar.
For Assembling
Place the cake on serving plate.
Spread a little less than half frosting or pipe dallops.
Place the second layer.
Repeat with remaining frosting.
Decorate with pineapples or walnut halves.
Chill for 1 hour before serving.
Notes
*Over ripe bananas are sweeter and softer and recommended for the cake
**Some liquid should be used in the cake
Adapted from Sally's Baking Addiction
Bake Fresh https://bakefresh.net/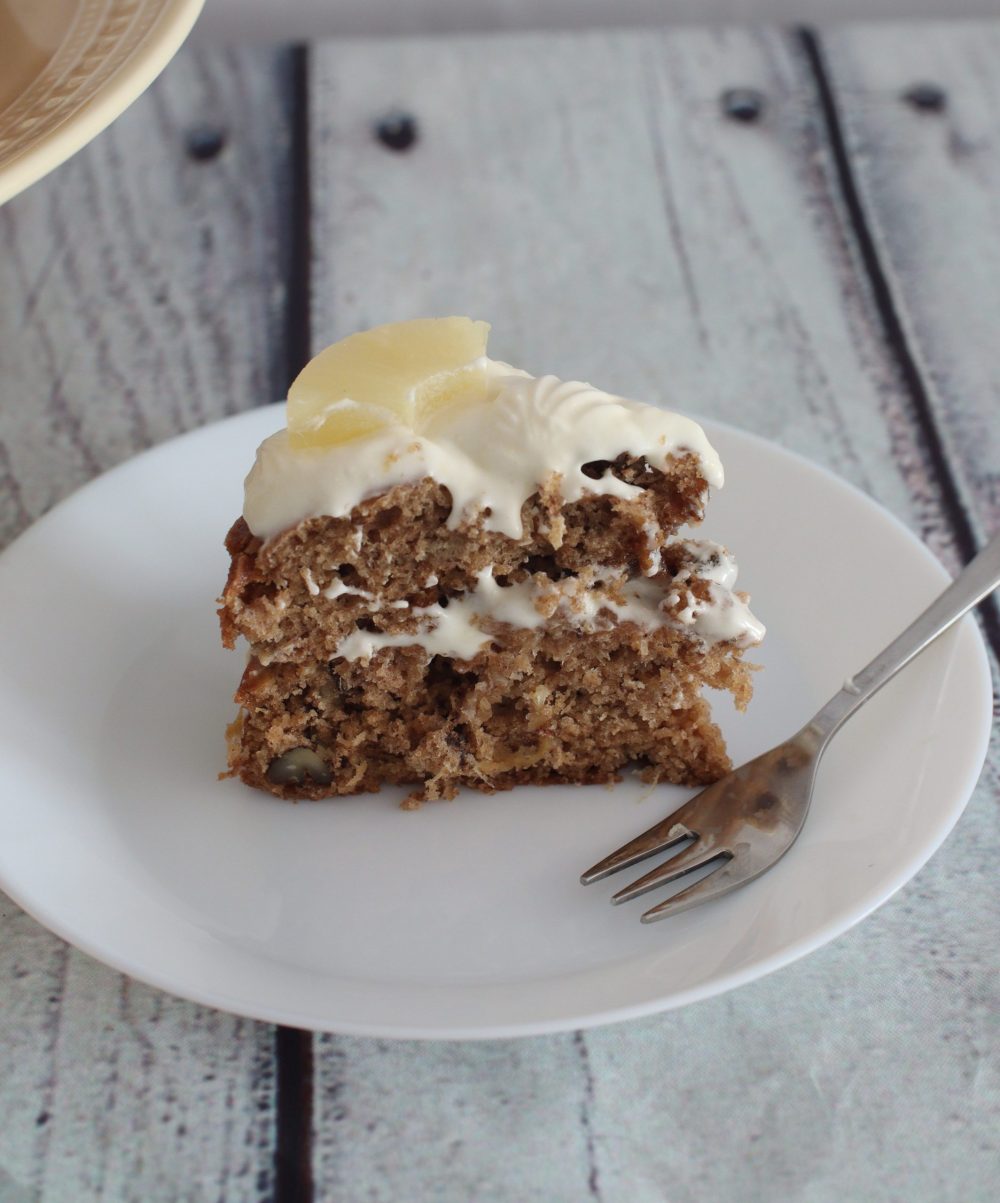 Summary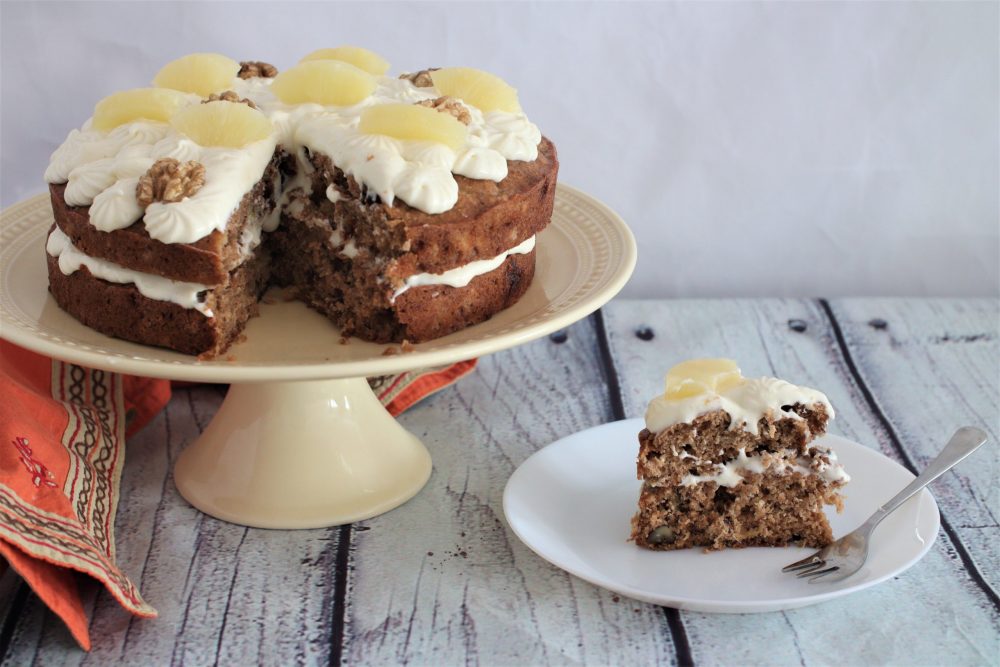 Recipe Name
Author Name
Published On
Preparation Time
Cook Time
Total Time
Average Rating





Based on 1 Review(s)