To be honest, I never knew that a cake eaten with coffee is a coffee cake, I always thought only the cake which 'contains' coffee is a coffee cake. Bummer!!! Did I mention I am still learning? As usual, my favorite ingredient was near its expiration and I had to utilize it and create something interesting enough to post it on blog. I came up with this recipe after some searching, which I discovered was very popular. Ina Garten from Barefoot Contessa is one of my favorites too, since she cooks and bakes some delicious and great looking food. Although I adapted this recipe from Elizabeth's Edible blog but she has credited the recipe is from Ina.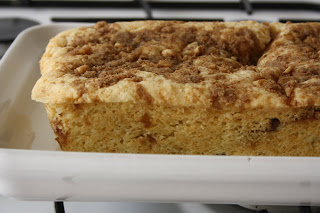 This is a Sour Cream Cake with walnut-cinnamon streusel. A couple of points about streusel. Streusel is a German word meaning something scattered or sprinkled, similar to strew in English. In baking/pastry making it refers to the traditional German crumb topping of butter, flour and sugar baked on top of muffins, breads and cakes. Often variations like nuts and spices are added to flair up the flavors.
As usual, you can try substituting yogurt, if you don't have sour cream and can use any other nut/spice combination. For me, cinnamon is my all time favorite. Rest of the recipe is pretty straight forward. Typically this cake is baked in a ring pan or bundt [d silent] pan [as typically 'coffee' cakes are baked in bundt pans]. They are distinctive ring shaped pans with some design on the bottom. I baked the cake in loaf tin since I made half of this recipe. If you are making full recipe then a typical 8-9″ bundt or ring pan will be perfect.
Sour Cream Cake with Walnut Cinnamon Streusel
Ingredients:
Cake
Butter 3/4 cup or 12 tbsp [unsalted at room temperature]
Sugar (granulated) 1 1/2 cup
Eggs [extra large at room temperature] 3
Vanilla 1 1/2 tsp
Sour Cream 1 1/4 cup
Flour 2 1/2 cups
Baking powder 2 tsp
Baking soda 1/2 tsp
Salt 1/2 tsp
Streusel
Brown sugar [light] 1/4 cup
Flour 1/2 cup
Ground cinnamon powder 1 1/2 tsp
Salt 1/4 tsp
Butter [cold] 3 tbsp
Walnuts [chopped] 3/4 cup
Glace
Icing/Confectioner's sugar 1/2 cup
Maple syrup or water 2 tbsp
Method:
1. Make the cake batter first. Cream butter and sugar. Add eggs, one at a time.
2. Add sour cream and vanilla.
3. Sift all dry ingredients and add in to the batter beating at low speed until just mixed.
4. For the streusel, combine all the ingredients with finger tips so the mixture resembles as crumbs.
5. Spoon half the cake batter into prepared greased pan.
6. Sprinkle 1/2 of streusel on it and pour rest of the batter.
7. Sprinkle the remaining streusel.
8. Bake in a pre-heated oven at gas mark 4 for about 60 minutes until done.
9. Cool in pan for 10 minutes, remove and pour the glaze on it.
10. Make glaze by mixing two ingredients until a thick pouring consistency is formed.