Make this impressive melt in mouth Chocolate Torte as a great finisher to any meal. Served with whipped cream and fresh berries or any seasonal fruit, dusted with cocoa powder, you sure have a crowd pleaser. This flourless chocolate cake is decadent and I have been making this for 16 years now, have never looked for another recipe.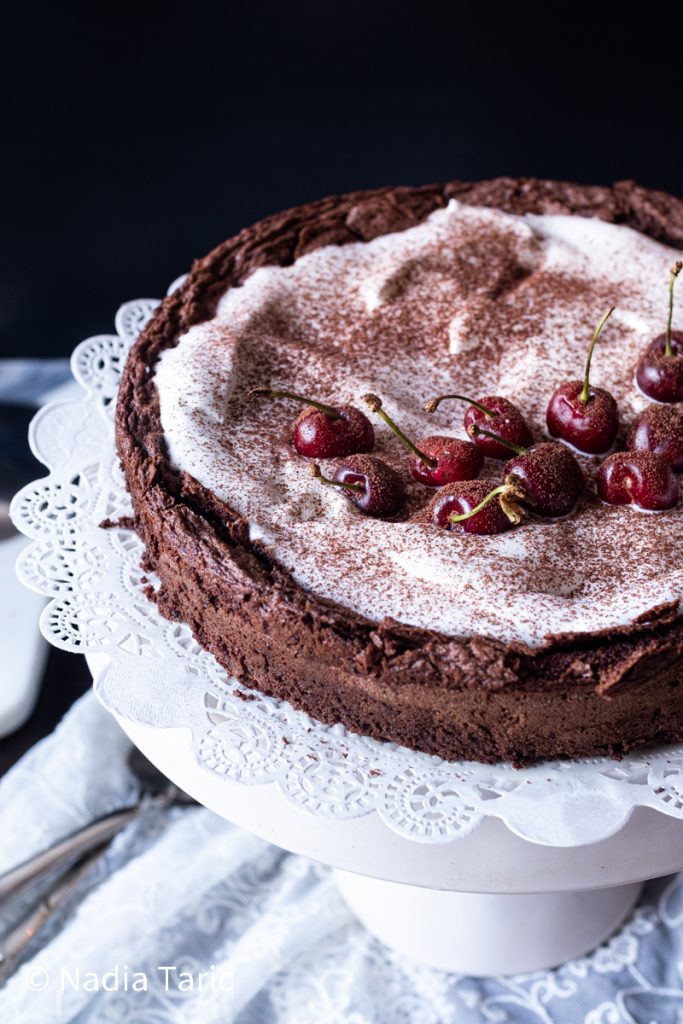 Recipe at a Glance
The main ingredient of this classic chocolate torte is obviously chocolate. I recommend using best quality chocolate you can afford about 58%-62%.
Cocoa powder and butter are melted along with chocolate and 35% fat whipping cream till the mixture is combined.
You can do this on a low heat or on double boiler to be cautious of not burning the chocolate, stirring continuously.
Next whisked egg yolks are added to the above cooled mixture and finally the meringue is folded.
How to use Cake pan with removable bottom?
Cake pans with removable bottom are called spring foam pans. They have a removable bottom making it ideal for cheesecakes and other cakes which are too delicate to invert.
You can also use it for other purposes like regular cakes and even tarts.
A word of caution though, since the bottom is removeable, it might have slight space. To avoid the batter from leaking or water seeping inside (incase of water bath) seal the bottom well with aluminum foil.
What makes torte a torte?
Very less or no flour is the main factor that makes torte a torte. Torte is often served with jam, ganache, ice cream, mousse or whipped cream optionally dusted with cocoa powder.
What does chocolate torte tastes like?
This indulgent flourless chocolate cake can be thought of as a cross between brownies and mousse but same melt in mouth texture as a good quality chocolate bar.
How is torte different from cake?
A torte is more dense, rich in flavor and has no or little crumb as compared to the cake. Neither flour nor leavening is used giving it less height than the regular cake layer.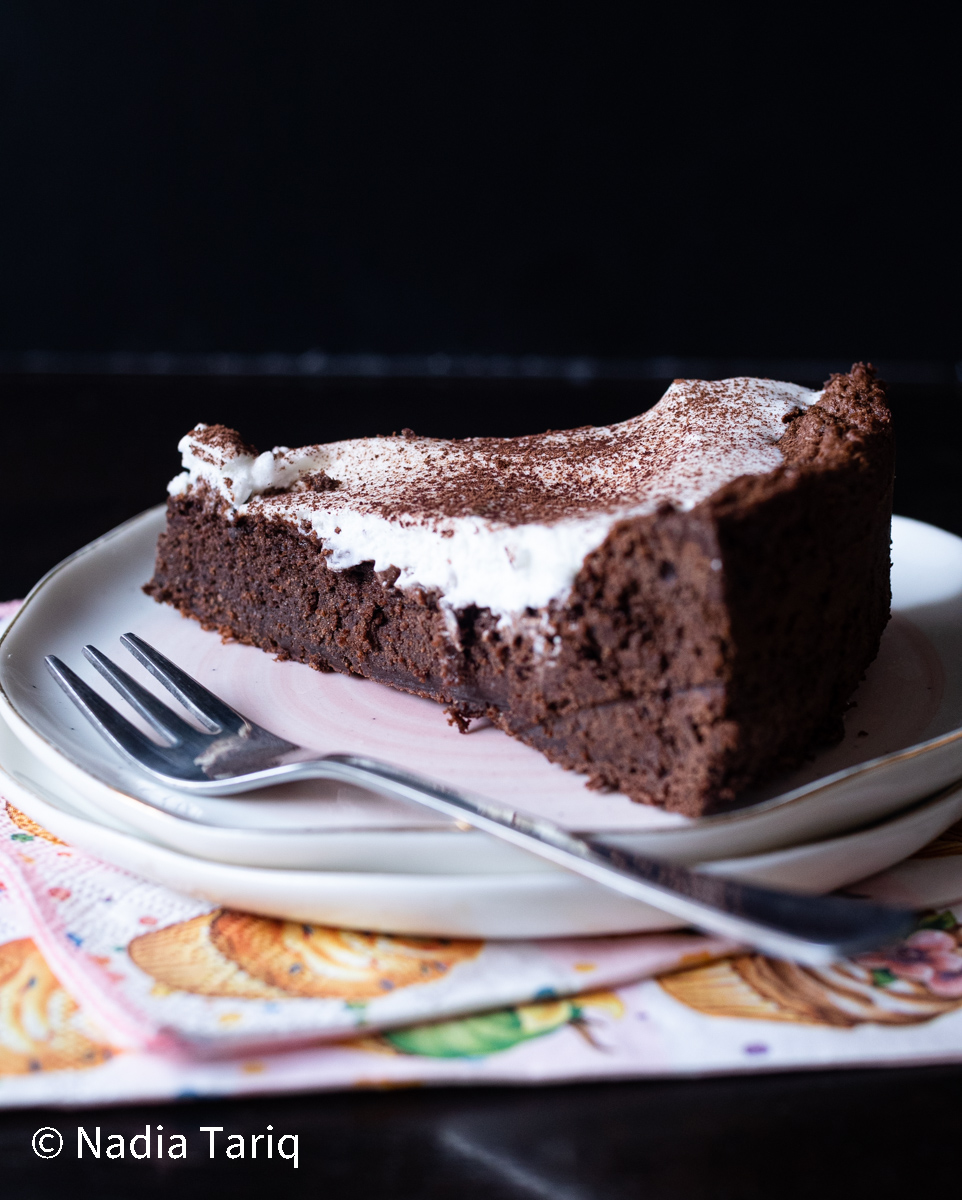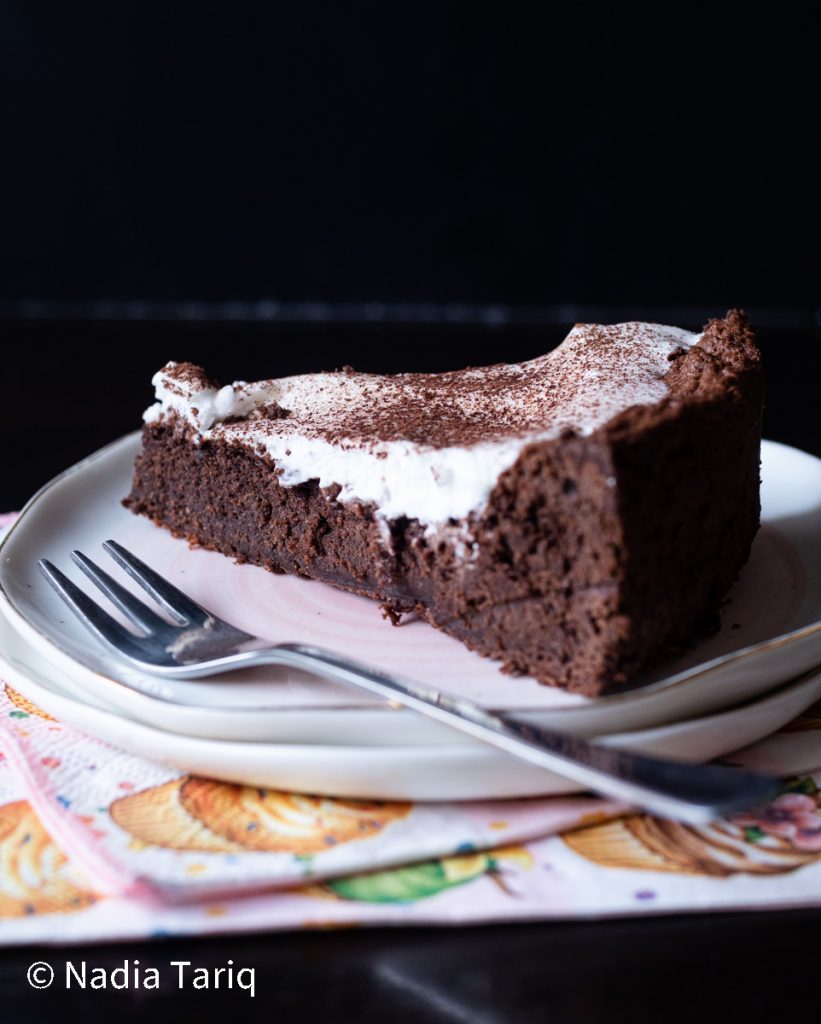 Is chocolate torte gluten-free/keto-friendly?
If you are able to make meringue with sugar substitute then rest of the ingredients are keto friendly. It is also naturally gluten free hence can be a great dessert for celiac intolerant people.
You might also like
Yield: 1 9-inch round cake
Chocolate Torte - Flourless Chocolate Cake
Flourless chocolate cake - chocolate torte, melt in mouth texture and just like eating a chocolate bar in mousse cake form
Ingredients
250 grams Dark Chocolate*
125 grams Unsalted Butter
125 grams sugar
4 eggs (separated)
2 tablespoons cocoa powder
50 grams heavy/whipping cream **
Instructions
Heat Chocolate, butter, cocoa powder, cream in a heavy base pan over double boiler or on a very low heat stirring continuously.
Whisk egg yolks.
Whisk egg whites using an electric mixer until frothy.
Slowly add sugar, beating continuously till all the sugar has been added and a meringue is formed - stiff shiny glossy peaks.
Add the egg yolks into the cooled chocolate mixture.
Fold in 1/4 of the meringue to the chocolate mixture to lighten.
Add the rest of the meringue and fold gently but thoroughly.
Bake in a 9-inches spring foam pan, greased and dusted with cocoa powder in a preheated oven at 350 F for 30 minutes.
Notes
* I use 62% dark chocolate
** minimum 35% fat cream
*** double boiler is a pot with simmering water, the heat proof bowl with chocolate is placed on top of it, without touching the water
Summary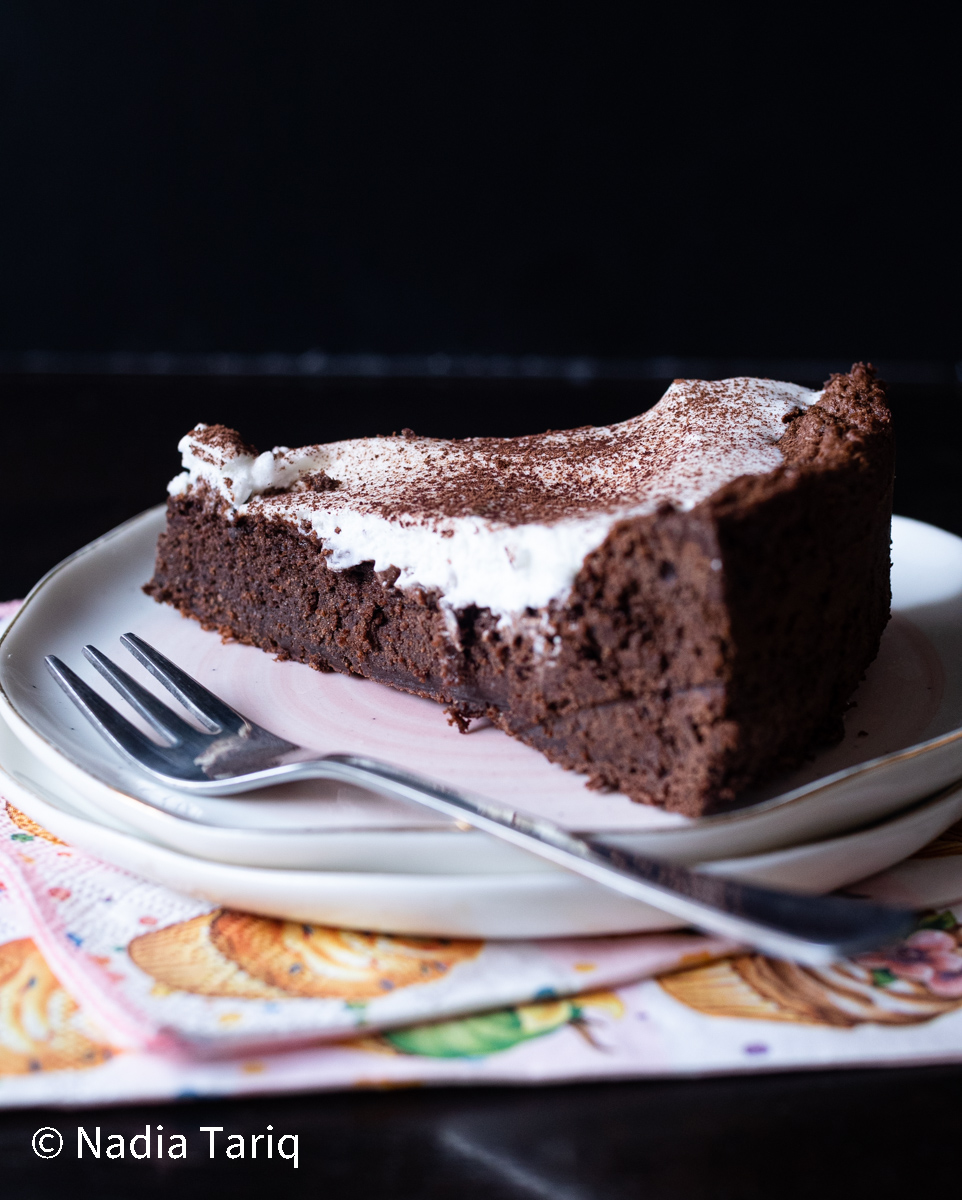 Recipe Name
Author Name
Published On
Preparation Time
Cook Time
Total Time