I have been using the spritz cookie press since my childhood and this is the only recipe of Spritz Cookies I have always used and never looked for another one. This is a classic keeper recipe.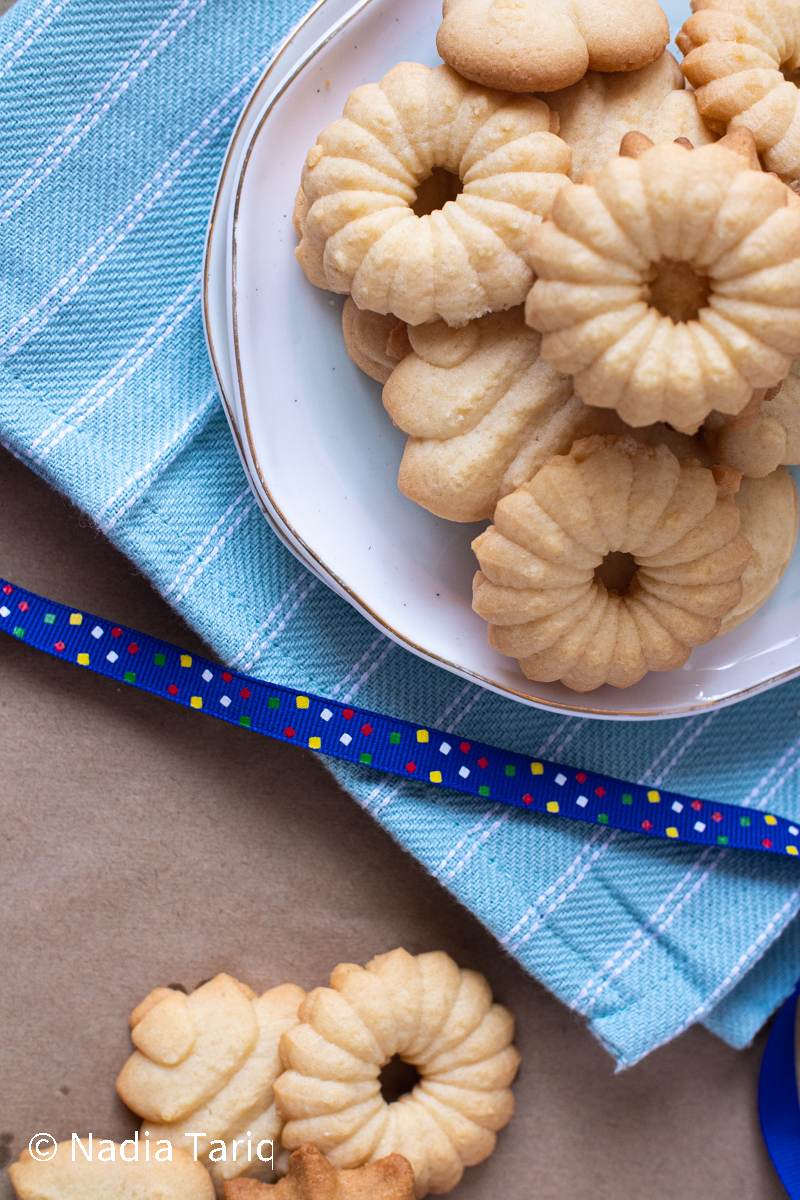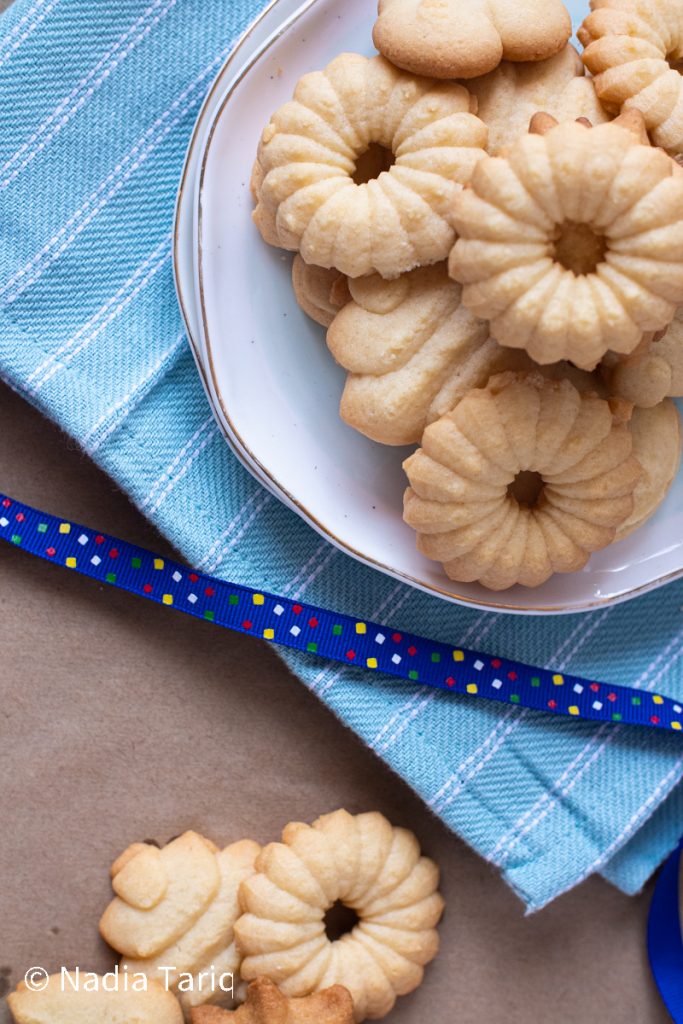 Recipe at a Glance
The ingredients of these cookies are pretty basic and simple.
Flour – Regular all purpose flour. I have not tried with any other flour though.
Butter – Unsalted good quality butter.
Sugar – Use regular sugar but grind it at home just to give a finer, smoother dough.
Egg, optional vanilla flavoring and baking powder are three other ingredients.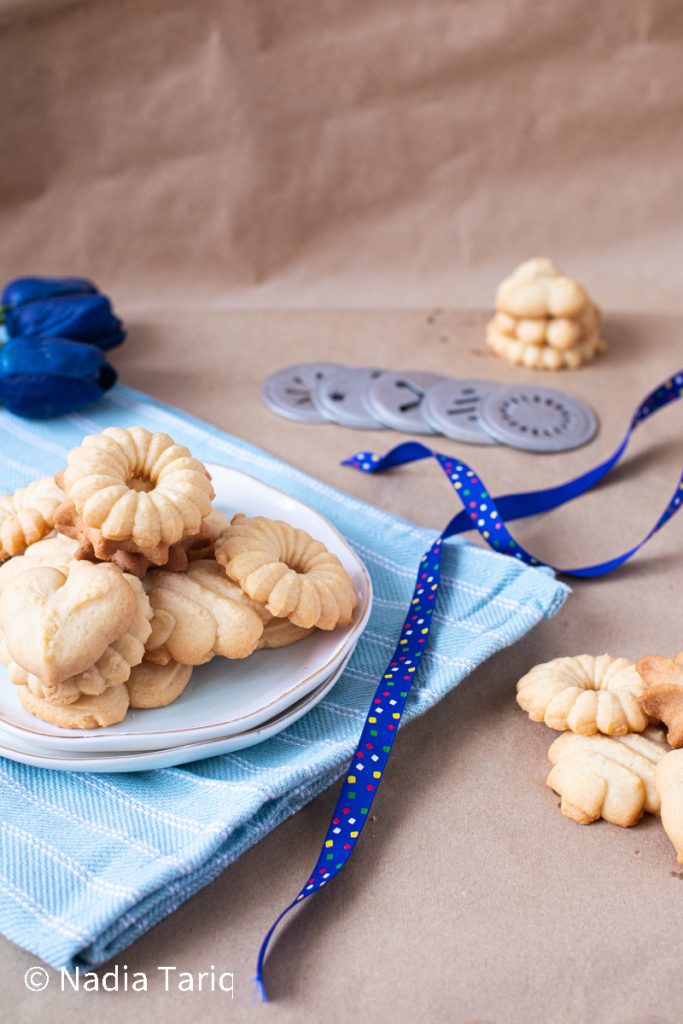 What is the secret to making Spritz cookies?
The consistency, consistency is the key to get them perfectly spritz by the cookie press. A general rule of thumb is medium soft non sticky dough. if it is too sticky or soft, add a tablespoon of flour, and if its drying out, add a tablespoon of milk or cream to bind.
What is the difference between a spritz cookie and a butter cookie?
Spritz cookie is a type of butter cookie where cookies are shaped using a cookie press. Sugar cookies are shaped using cookie cutter.
Why are they called Spritz cookies?
Spritz literally means "squirt or spray a liquid at or on to (something) in quick, short bursts." If you haven't used the cookie press before, you will be quite amazed on how it works. This word spritz has originated from German word "Spritzen"
Are shortbread and Spritz cookies the same?
Shortbread is usually rich in butter, has no egg and is in general more melt in mouth and dense has a snap and crumble easily because there is no egg as binding agent to hold their shape.
If you love cookies you might also like the following cookie recipe
Easy Buttery Cutout Sugar Cookies
You can also have a look at the Cookie playlist on my YouTube
Yield: 30-40 cookies
Spritz Cookies using Cookie Press
A simple 5 ingredient recipe that yields a perfect dough for cookie press.
Additional Time
10 minutes
Ingredients
3/4 cup Butter (room temperature)
2/3 cup sugar (grinded)
2 teaspoons vanilla
1 egg
2 cups all purpose flour
1 1/2 teaspoon baking powder
Instructions
Cream butter and sugar
Add in egg
Add in vanilla
Sift in flour and baking powder
Beat until combined
Fill the dough in cookie press or just make balls by hand.
Place on an ungreased tray and bake in a pre-heated oven for 12-15 minutes at 350 F until golden brown.


Summary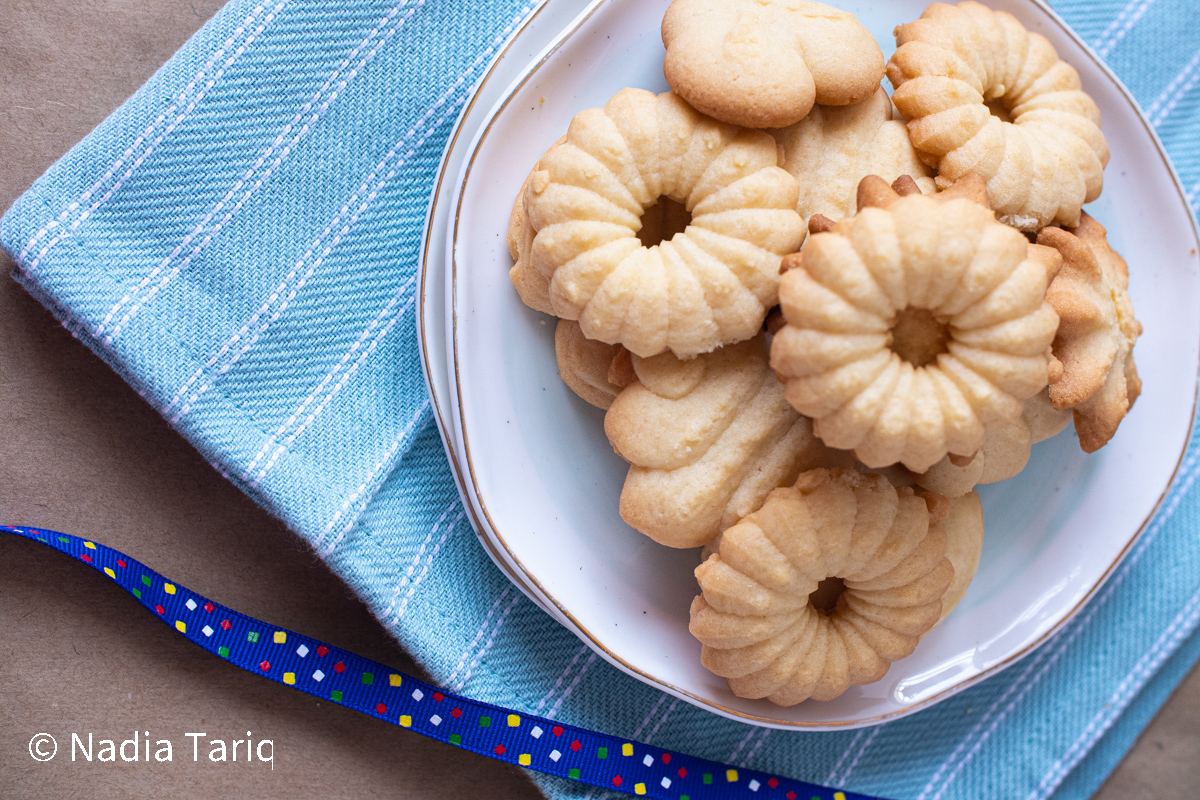 Recipe Name
Spritz Cookies - 5 ingredients
Author Name
Published On
Preparation Time
Cook Time
Total Time