Well, I am back with a very nice quick recipe. Life has been pretty busy lately with travelling, sister's wedding, Ramadan, Eid, toddler and work. Nevertheless, blogging was and still is one of my comforting aids and I love to share my experiments in kitchen.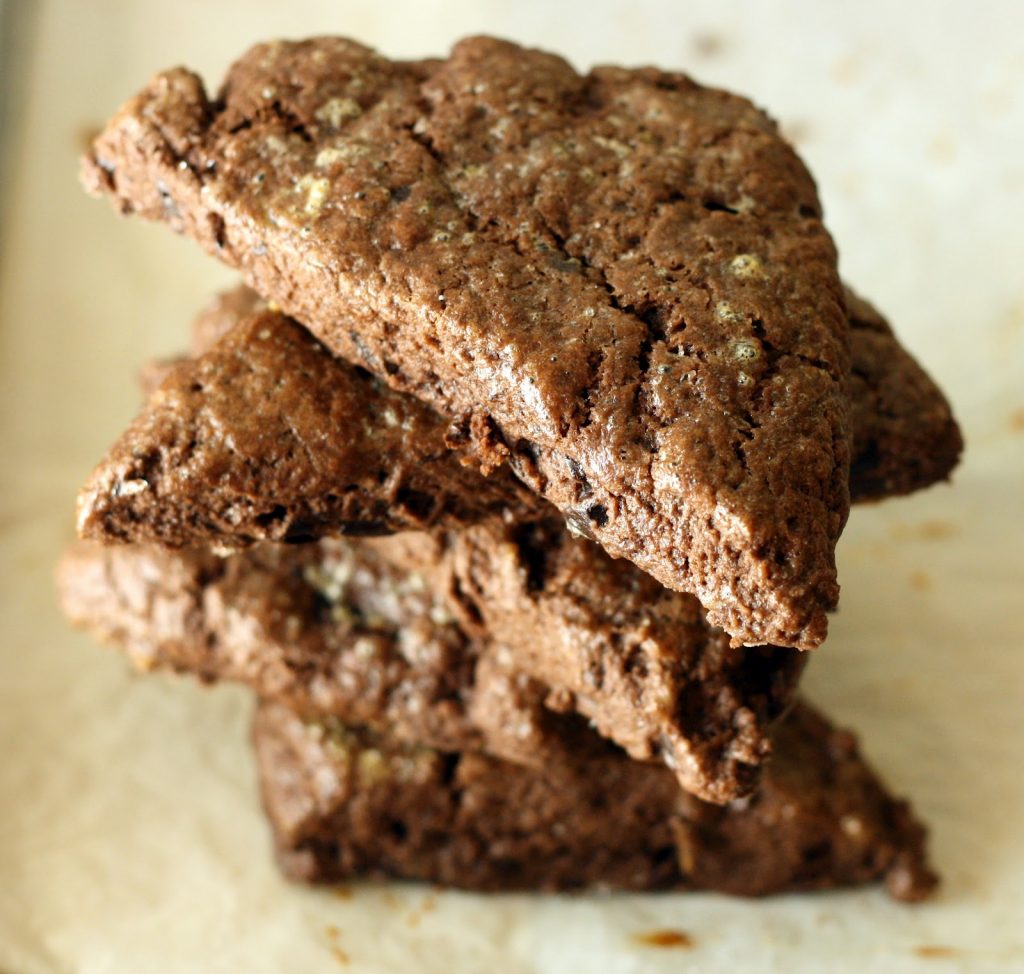 Scones in my humble opinion are cross between cake and cookies. It basically uses raising agents to puff them up. Traditionally eaten in breakfast, they are also perfect for light midday snack. What I loved about them is that they are not overly sweet and breeze to make. You can freeze them as well and bake when required. Best eaten on the same day like other scones primarily due to presence of generous amount of leavening agents.
Chocolate Scones
Source: Martha Stewart Baking handbook


Ingredients:
Flour 1 cup plus 1 tbsp
Cocoa powder 1 1/2 tbsp
Granulated sugar 1/4 cup plus 1 tbsp
Baking powder 1 1/4 tsp
Baking soda 1/4 tsp
Salt a pinch
Butter, unsalted 5 tbsp cold and firm, cut into cubes
Semisweet chocolate 2.5 oz chopped up
Egg 1 large beaten and divided into half
Cream 1/4 cup plus 1 tbsp
Sugar for sprinkling optional
Directions:
1. Line a baking sheet with parchment paper.
2. In a large bowl, whisk all dry ingredients.
3. Cut in butter with finger tips or pastry blender into the dry ingredients until mixture resembles bread crumbs.
4. Fold in chocolate.
5. Whisk together 1/2 egg and 1/4 cup plus 1/2 tbsp cream.
6. Add egg mixture to the flour mixture and fold until just combined.

7. Turn the dough on a lightly floured surface and pat with hands to make a 9×3 inches rectangle. Cut into 3 inch square and further into triangles.
8. Slide them gently on the baking tray, cover and freeze for one hour or overnight.
9. Pre-heat the oven to 375F and brush the scones with remaining egg and cream mixture.
10. Sprinkle sugar.
11. Bake for about 25 minutes until toothpick comes out clean.