Let's make Chocolate Fudge Ice Cream the Old Fashioned way – homemade chocolate ice cream with fudge sauce – no ice cream machine required and lies somewhere between Baskin Robins and Peshawri Ice Cream.
My kids love ice cream, like mostly kids do, specially my elder daughter. As summers are here, I thought I would give it a try and make ice cream at home. I don't own an ice cream machine but I was aiming for the same quality. As I do research for all the first time things, I came across lot of information on types of ice cream and methods to make it. I had already read a lot on famous David Lebovitz blog (who is famous for his take on ice creams and have also written a book called The Perfect Scoop).He explained thoroughly (linked here) on how to go about a process to achieve the same quality ice cream without a machine. (Though I do plan to buy one as Kitchen Aid attachment ;))
Recipe at a glance
Egg Yolks
I often make quick ice cream using equal quantities of evaporated, condensed milk and cream but this recipe is custard based made from egg yolks and steamed milk.
Dairy
Both 35% fat Cream and full fat milk are used in this recipe. First we mix cocoa powder in some cream and then heated to make ganache with chocolate.
Milk is heated with sugar and a pinch of salt to make custard with egg yolks.
Chocolate
I usually prefer couverture dark chocolate (around 60%) but you could use other kinds, just make sure if you are using darker than this, you might want to increase sugar by 25 grams or if you are using milk chocolate or semi sweet then you might want to decrease the sugar by 25 grams.
What are the ingredients for Chocolate Ice Cream?
Chocolate ice cream is made from yolks, milk, chocolate, cream and sugar.
There is a shortcut that uses cream, condensed milk and evaporated milk with cocoa powder and chocolate which I will also share sometime later. I have made Qulfi – Traditional Pakistani Ice cream here using this method.
How is Chocolate ice cream made step by step?
There are two key steps in this method, first a ganache made with cream, chocolate and cocoa powder and second custard which is made from egg yolks, milk and sugar.
Both of the mixtures are then combined before freezing.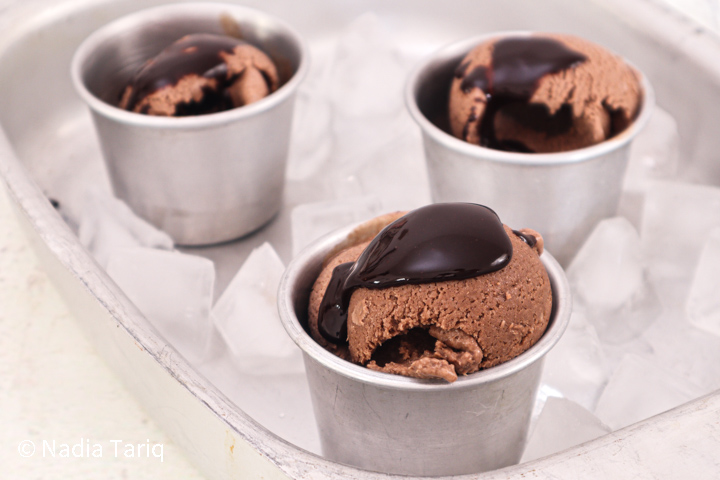 Can you use cocoa powder in chocolate ice cream?
To get the rich and intense chocolatey flavor, real chocolate is a must. This recipe also uses cocoa powder for that added flavor.
I have also made chocolate fudgesicles that only used cocoa powder and corn flour as thickening agent so if you don't have chocolate at hand, you might want to try this recipe.
How can I prevent ice crystals in no churn ice cream?
Ice cream made commercially is typically churn or at home, an ice cream machine is used. However, if you do not have an ice cream machine, you can use this method of freezing at intervals of 30 minutes and beating at least couple of times to mimic the same process.
Since this recipe is not made in ice cream machine so it has a few small crystals and is rich so it has texture and taste of famous Pakistani Peshawri Ice Cream.
Yield: 1 liter Ice Cream
Chocolate Fudge Ice Cream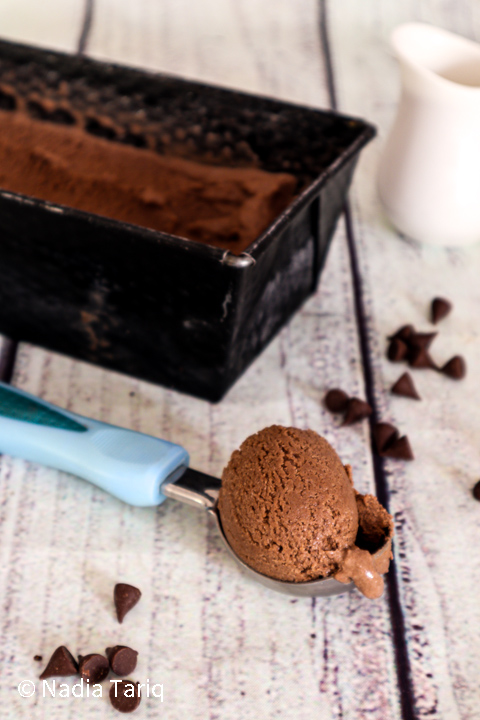 Chocolate Fudge Ice Cream the Old Fashioned way - homemade chocolate ice cream with fudge sauce - no ice cream machine required and lies somewhere between Baskin Robins and Peshawri Ice Cream.
Ingredients
21 grams/ 2.5 tablespoon Cocoa Powder
500 ml Cream
140 grams Dark Chocolate (chopped) (I used 62%)
5 Egg yolks
250 ml Milk
100 grams Sugar (check notes)
1/4 teaspoon Salt
1/2 teaspoon Vanilla essence
Fudge Sauce
2 tablespoons cocoa powder
4 tablespoons icing sugar
1 teaspoon butter
2 tablespoon milk
Instructions
1. Whisk half cream and cocoa powder and heat till completely dissolved and bubbles start to appear.
2. Add the cream and cocoa mixture to chopped chocolate/chocolate chips and stir.
3. Stir until chocolate is completely melted, add rest of the cream.
4. Whisk egg yolks in a bowl.
5. Heat milk, sugar and salt until just starts to boil.
6. Add heated milk mixture to egg yolks in steady stream.
7. Return the entire mixture to heat and cook stirring continuously till it starts to thickens.
8. Sieve the mixture into the chocolate mixture.
9. Add vanilla and stir well.
10. Freeze covered for 3 hours, take out and beat well.
11. Return to freezer overnight in a rectangular pan covered twice.
12. Take out 10 minutes before serving and scoop out, serve with fudge sauce.

Fudge Sauce

Mix all and cook on low heat, stirring till combined.
Notes
Use sugar according to type of chocolate you are using, if using dark chocolate which is less sweet, increase the sugar by 25 grams.
For 60% chocolate, 100 grams sugar is fine.
For semi sweet or milk chocolate, reduce the sugar by 25 grams.