It never occured to me that this April, my blog is two years old. I havent been fair to it and to all my followers for which I want to apologize. This was the beginning of BakeFresh – name I thought of my blog has spread in other directions. From there, I have come quite a way but the makeover of this blog and updating it more regularly is still in pipeline. I have a brand new BakeFresh logo (and visiting cards), website (
www.bakefresh.net
) and I have been busy in cake decoration orders and conducting classes. Managing all this with two kids is never easy but BakeFresh gives me the reason to be managed, more active and re-charges my energy in a way that nothing can.
So, although, the blog is starving for more posts, why not give it and to all my lovely followers a double doze. I have been obsessed with coconut lately, mostly because of the orders and utilizing leftover frostings. I tried not one, not two but three coconut cupcakes recipe and interestingly they all turned out great. Luckily I managed to take some pics as well so here is a grand post, in honor of my 2 year old baby and all the wonderful followers of BakeFresh.
Coconut Cupcakes Version 1 (with coconut milk and unsweetened coconut)
Source: A Sticky Affair
Ingredients
Shreded Coconut 1/2 cup
Flour 1 cup + 2 tbsp
Pinch of salt
Baking powder 1 tsp
Eggs 2
Egg white, 1 extra
Unsalted butter 100gm
Caster Sugar 3/4 cup
Vanilla essence 1/2 tbsp
Coconut milk 1/2 cup
Toasted coconut, for decorating (optional)
Method
1. Using a food processor, process the coconut until very fine – about 3 or 4 minutes (If you're using fine desiccated coconut you can skip this step).
2. Add coconut to a bowl with sifted flour salt and baking powder. Mix evenly until combined.
3. In a separate bowl combine eggs and egg whites. Do not beat.
4. In another bowl, cream the butter for 1-2 minutes. Add the caster sugar a third at a time, beating for 2 minutes after each addition. After the last addition beat until the mixture is light and fluffy and sugar has almost dissolved.
5. Add the eggs a quarter at a time, beating for 1 minute after each addition or until the mixture is light and fluffy. Add the vanilla extract and beat until combined.
6. Add a third of flour mixture and beat on low speed until combined. Add half of the coconut milk and beat until combined. Repeat this process. Add the remaining third of the flour mixture and beat until thoroughly combined; do not over-beat as this will toughen the mixture.
7. Spoon mixture into cupcake papers, filling each about 3/4 full. Bake in a pre-heated oven for 18 minutes or until a fine skewer inserted comes out clean. Remove cupcakes from the trays immediately and place on a wire rack to cool completely.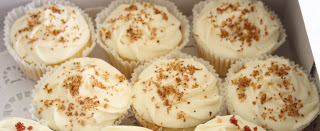 Coconut Cupcakes Version 2 (with/without coconut milk and sweetened coconut)
Source: Home Cooking in Montana
Ingredients
All purpose flour 1 3/4 cup
Baking powder 2 tsp
Salt 1/2 tsp
Egg whites 3
Coconut milk or whole milk 3/4 cup
Vanilla essence 1 tsp
Almond essence 1/4 tsp (optional)
Sugar 3/4 cup
Unsalted butter, room temp. 1/2 cup
Sweetened shredded coconut 1 cup
Method
1. In a bowl, sift together flour, baking powder and salt. Set aside.
2. Measure coconut milk in a measuring cup and add the egg whites and extracts. Combine.
3. Cream the sugar and butter on medium speed using a mixer. Mix until the butter lightens in color as well as texture, about 4 minutes.
4. Alternately, add dry and wet ingredients in 3 additions. Starting and ending with dry ingredients.
5. Fold in the coconut. Scoop batter in prepared paper lined muffin tin.
6. I like to use an ice cream scoop. Much easier. Fill about 3/4 full.
7. Bake in a pre-heated oven until toothpick comes out clean…about 25-30. Check at 20 minutes as all ovens are different.
8. Cool in pan for 5 minutes. Remove and cool completely.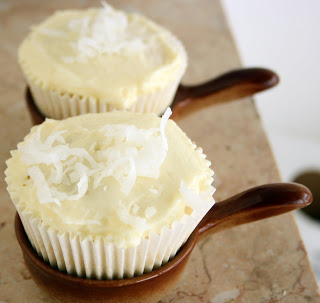 Cream Cheese Frosting
Ingredients
Cream Cheese 4oz
Butter 2 1/2 tbsp
Icing Sugar 2-3 cups
Vanilla essence 1 tsp
Method
1. Beat butter and cream cheese until creamy.
2. Add in essence and icing sugar beating till combined.
3. Frost with a spatula or piping swirls with an open star tip.
Chocolate Coconut Cupcakes with Fudge frosting
Source: Baking Obsession
Ingredients
Coconut (unsweetened) 1/2 cup
Egg 1
Sugar 1 cup
Flour 1 1/4 cup
Cocoa Powder 3/4 cup
Baking Powder 1 tsp
Baking Soda 1/2 tsp
Salt 1/2 tsp
Sour Cream 1/2 cup
Coconut milk 160 ml
Vanilla essence 1 tsp
Butter 4oz (4 tbsp)
Method
1. Sift together all the dry ingredients except coconut.
2. In another bowl combine coconut milk, essence and sour cream.
3. Beat butter till creamy. Add sugar and beat until light an fluffy.
4. Add egg to the butter mixture and beat.
5. Alternately add dry and wet ingredients beginning and ending with dry ingredients and beat on low speed.
6. Fold in coconut until just combined.
7. Fill the paper lined muffin tray about 3/4th full.
8. Bake in a pre-heated oven at 180 for about 20 mins. Don't overbake.
Fudge Frosting
Source: Martha Stewart
Ingredients
Semisweet chocolate chips 1 bag (12 ounces)
Icing sugar ¼ cup
Salt ½ tsp
Evaporated milk ¾ cup
Vanilla ½ tsp


Method
1. Place melted chocolate chips, sugar, and salt in a medium bowl; set aside.
2. Heat evaporated milk in a small saucepan over medium-high heat until it just comes to a simmer.
3. Remove from heat and pour over chocolate mixture; let stand for about 5 minutes.
4. Add vanilla, whisk until filling is smooth and well combined.
5. Transfer chocolate filling to refrigerator; let chill until slightly firm, but still spreadable, about 2 hours.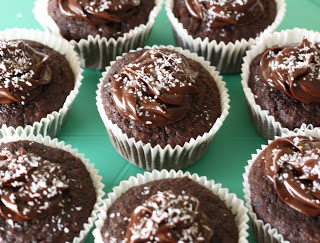 Verdict: I like all three versions and thats why they have made they way to the blog. It all depends on ingredients availability (coconut milk, sweetened/unsweetened coconut, left over egg whites and so on). All three yields moist, flavorful and soft cupcakes. If you are like me and love chocolate and coconut combo then the last option is for you.