Its been a long absence. I was visiting home and as vacations and festivals bring with it, I was very busy. I had a terrific vacations and now I am back on track. Working and baking and lot of things in-between. Best part of the trip was that I met couple of very old friends of mine who were also visiting from US and UK. Its great to see old familiar faces. One of them bought something which was utilized as soon as I touched the base. Hershey's chocolate. Initially I thought they were KISSES but then when I was already in the middle of the recipe, I realized that they were not KISSES, they were BELLS. Nevertheless, I continued and am glad I did. The recipe which was picked up from Hershey's website yield some great cookies both in quantity and quality. They are good all alone and I like them better without chocolate but since I had to utilize the chocolate, I pressed them anyway. This recipe is definitely a keeper and makes good cookie jar filler.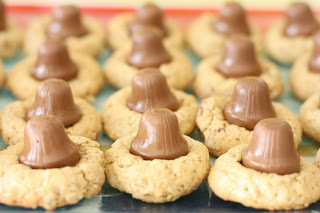 Oatmeal KISSES BELLS Cookies


Ingredients:
HERSHEY'S KISSES BELLS Brand Milk Chocolates
Butter or margarine, softened 1/4 cup
Shortening 1/4 cup [If you don't have it, use butter instead]
Granulated sugar 1/2 cup
Brown sugar 1/2 cup
Egg 1
Flour 1 cup
Baking soda 1/2 tsp
Salt 1/2 tsp
Rolled oats 1 cup + 1 tbsp
Chopped nuts 1/2 cup
Method:
1. Cream both butter and shortening. Add in sugars and beat.
2. Add in egg and beat.
3. Add in all dry ingredients except oats and nuts.
4. Lastly add in oats and nuts.
5. Make 1 inch balls and place on un-greased baking tray.
6. Bake in a pre-heated oven at gas mark 5 for 8-10 minutes until golden brown.
7. Immediately press one KISS/BELL on each cookie.
8. Cool before storing.
| | | | |
| --- | --- | --- | --- |
| Fahrenheit | Celsius | Gas Mark | Heat of Oven |
| 225° | 110° | 1/4 | Very cool |
| 250 | 120 | 1/2 | Very cool |
| 275 | 140 | 1 | Cool |
| 300 | 150 | 2 | Cool |
| 325 | 160 | 3 | Moderate |
| 350 | 180 | 4 | Moderate |
| 375 | 190 | 5 | Moderately hot |
| 400 | 200 | 6 | Moderately hot |
| 425 | 220 | 7 | Hot |
| 450 | 230 | 8 | Hot |
| 475 | 240 | 9 | Very hot |