Enough said in the title. Yes, they are "The" Vanilla Cupcakes. I am very happy as I write today's post. Its not an easy claim. Vanilla cakes and cupcakes are the trickiest of genre. Oil, shortening, butter or mix of them, all purpose or cake flour, yogurt, milk or buttermilk, egg yolks egg whites or whole, reverse creaming or traditional butter and sugar creaming method, I have tried them all. From white velvet to yellow to white cakes and cupcakes, nothing came out the way I wanted them to be. Moist, tender crumb well risen, nice rounded tops, pronounced vanilla flavor and not so sensitive that if baked for an extra minute, goes dry.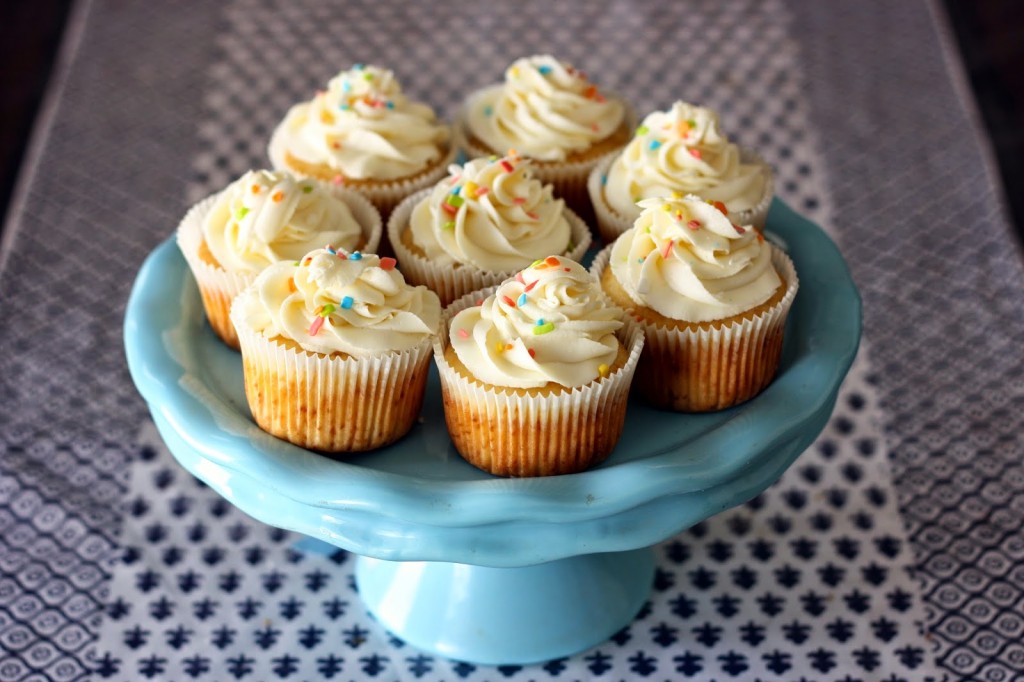 Also, one of the perks is that it is one-bowl method. I will give the well-deserved credit to Lindsay of LifeLoveandSugar who posted this amazing recipe. Thanks Lindsay.
The Perfect Moist Vanilla Cupcakes
2016-09-26 12:27:38
Serves 12
An almost perfect vanilla cupcake
For the cupcakes
All purpose flour 1 2/3 cup
Castor Sugar 1 cup
Baking soda 1/4 tsp
Baking powder 1 tsp
Butter (room temperature) 3/4 cup
Egg whites 3
Vanilla essence 3 tsp
Milk 1/2 cup
Sour cream/Yougurt 1/2 cup
For Buttercream Frosting
Butter 1/2 cup
Shortening 1/2 cup
Icing sugar 4 cups
Milk 1/4 cup
Vanilla essence 1 tsp
For the cupcakes
Preheat oven to 350 F and line muffin tray with paper liners.
Whisk all the dry ingredients together.
Add in all the wet ingredients and mix with hand beater on medium speed until just smooth. Don't over beat.
Fill in the cases with an ice cream scoop or with 1/3 measuring cup.
Bake for 15-20 minutes until just done.
For Buttercream Icing
Cream butter and shortening until fluffy and light.
Add in rest of the ingredients and beat well until smooth.
Frost the cool cupcakes with piping tip 1M from wilton.
Top with sprinkles if desired.
Adapted from Life Love and Sugar
Bake Fresh https://bakefresh.net/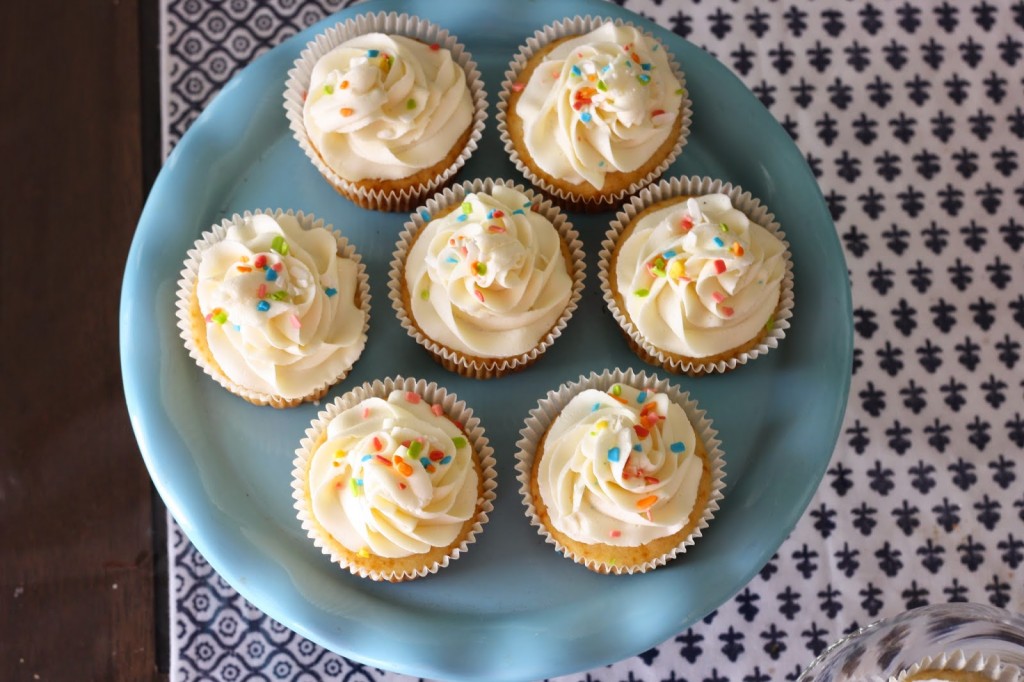 Summary
Reviewer
Review Date
Reviewed Item
Author Rating





Recipe Name
The Perfect Moist Vanilla Cupcakes