So I have been wanting to post this since I took the hands-on class last month. It was first of its kind in Riyadh and was conducted by a well-know chocolatier Philippe Marand who happens to be head of the chocolate academy Dubai. Earlier this year I had planned to take a chocolate class in Bahrain and although everything was set in place, the class got cancelled at the last moment due to lack of number of attendees.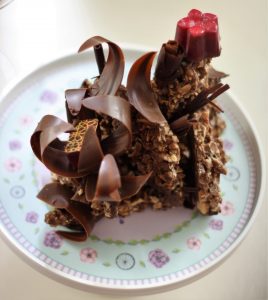 The urge was there, and the shiny fancy bonbons were too tempting not to try. I took up couple of online courses and managed to pull them off but we all know the importance of a live, hands-on class that lends you life long experience and learning. Here is a little glimpse into bon-bons I tried myself.
When Know.sa announced the chocolate class, it was kind of unbelievable because in KSA hardly anything of that sort happens due to visa restrictions. I immediately signed up and it was one of the best learning experiences. I found it a little pricey as compared to what was being offered in the region but I was saving traveling and lodging costs. Three days, fifteen hours of full chocolate immersion costed me sar 3700. Before I post all the details, I would like to thank my friend Summaya who baby sat my kids the first day as it was a working day and really pushed me to do it. Rest of the days were taken care by my husband.
The venue itself was quite far from the city center but was extremely well equipped as it was a chocolate factory. From tempering machine, 8 foot long enrobing machine to all basic spraying guns and tools. It was very well-organized with approximately 20 students and we did not require to bring anything. An apron, notebook, pen,chocolate samples, merchandise and refreshments were all provided. The representatives from the factory, the organizing company and the sponsors were all well-informed and active in their respective roles and were all bi-lingual, prompt, helpful and professional.
First day was all about chocolate theory, tempering and working on ganache. Second day was moulding, spraying techniques and different kinds of fillings. Third day was finishing truffles, bon-bons, enrobing and the final chocolate showpiece.
If you really fancy in trying out some chocolate making at home, I highly recommend this post of mine when I first attempted to make chocolates, it is pretty detailed and full of information for the first timers. You can easily try out truffles and bark as they are super simple to make. For those of you who are interested in more pictures from the class, please follow me on instagram, where I will upload all the pictures and videos from this class.
A very basic recipe of dark chocolate ganache which I have been using since a long time without fail.
Basic Dark Chocolate Ganache
2018-05-25 20:47:09
A basic chocolate ganache
Ingredients
2 parts by weight Dark Chocolate (60% and above)
1 part by weight Heavy/whipping/double cream
For example, if you are taking 8 ounces of chocolate, you should use 4 ounces of cream.
Instructions
Heat cream in a sauce pan till only bubbles start appearing on sides.*
Melt chocolate in a microwave** or double boiler/ban marie.
Pour the cream over chocolate and mix thoroughly with a spatula.
Use immediately as a pouring glaze.*** OR
Let it cool to room temperature till its peanut butter like consistency for frosting.
You can also whip it with beater to use it as a filling.
Or use to make truffles.
Options are endless.
Notes
*This step ensures that the bacteria present in it is destroyed.
** if using microwave, heat in bursts of 30 seconds and keep stirring in between else it will burn.
*** you might want to add some oil/butter or corn syrup to adjust the pouring consistency.
Adapted from Rylan(late) from CakeCentral
Bake Fresh https://bakefresh.net/
Summary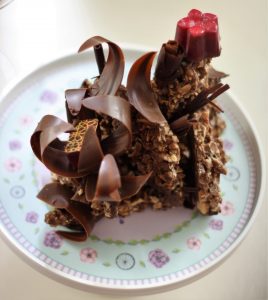 Reviewer
Review Date
Reviewed Item
Basic Dark Chocolate Ganache
Author Rating





Recipe Name
Basic Dark Chocolate Ganache