Some memories are instantly revived. With these cookies, I remember my Naani's home (maternal grandmother), where we used to go for sleepovers on weekends. When all the cousins got some money from her to buy goodies. We used to buy these assorted bakery cookies being freshly baked.
I still go to Karachi's best bakeries and try to recollect the same taste but usually its a miss for whatever reasons. The other day, while kids are vacationing at home, I tried to get them involved in the whole process of choosing, baking and shooting a recipe. They make a great giveaway too!
It is such a simple recipe yet yields rewarding result. It is like a cross between short bread and the rolled out cookies. Cookies are one of my favorite things to bake as they can so versatile. If you go here, you will find 14 cookies recipe and they all are love. With this one also you can pipe in different shapes and fill them with some jam, sandwich them with buttercream or ganache and so on. It has no leavening or flavoring agents hence imparts a pure distinctive buttery flavor. I have used icing sugar also known as powdered or confectioners sugar because of the desired delicacy of the cookie and also to be able to pipe them easily without clogging the nozzle. If you don't have piping bag, you can try piping with zip lock bags with one end snipped off.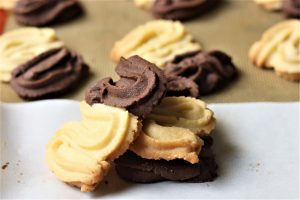 For now here is this cool recipe!
Easy Homemade butter cookies
2018-06-02 09:40:17
a delicate and crispy piped cookies with only 5 ingredients
Ingredients
9 ounces or 250 grams butter - unsalted and room temperature
3/4 cup icing sugar/confectioner's sugar or powdered sugar*
1 egg
2 and 1/2 cups flour
2 tablespoons cocoa powder
Instructions
Cream butter and sugar.
Add in egg.
Add in 2 and 1/4 cups of flour and beat until mixed. Check for consistency and adjust.**
Take out half the mixture and add cocoa powder to one half. Beat until mixed.
Fill in piping bag w=fitted with a large open star shape with white batter first.
Pipe in desired shape.
Repeat for chocolate batter, you can attach two batters or pipe them separately.
Refrigerate for 30 minutes until firm.
Bake in a pre-heated oven at 350 F for 15-18 minutes until light gold in color.
Store after cooling in an airtight container for upto 5 days.
Notes
*Castor sugar or ground sugar is not recommended as it doesn't impart that melt in mouth texture and will cause problems while piping. Also commercial icing sugar has a little corn flour added which also contributes towards the final texture. If you don't have then you can use at home ground sugar but sift it a coupe of times and then measure and use.
*Every flour is different and has different levels of gluten and protein. This is the reason, you may or may not utilize the entire flour. So just don't add 1/4 cup and check if it requires more flour to be able to pipe easily.
Adapted from Emma's Goodies
Bake Fresh https://bakefresh.net/
Summary
Reviewer
Review Date
Reviewed Item
Easy Piped Butter Cookies
Author Rating





Recipe Name
Easy Piped Butter Cookies