Making French Macarons from scratch is surely not an easy recipe to master. It takes lot of courage because intimidating, extensive of knowledge, practice, experiments and ingredients. It it in my experience one of the most temperamental recipe but more so because its unforgiving, we might get away with some steps, replacing ingredients in other baking recipes but not this one.
I have tried to break down each and every step of making macarons, explaining in detail through the video, answering most frequently asked questions and resources to some amazing information that is present out there. In the end there is a link to download printable checklist of each and every step so you don't miss out anything and reduce the chances of failure considerably. So let's get started.

How to make macarons from scratch?
I started making macarons in 2009 and my first try was with Daring Bakers. You can read it up here. Over the years I have developed confidence of making french macarons from scratch even using my own grinded almond flour. If you break the steps and do all the pre requisite in a timely manner, it is not only possible to make the french macarons from scratch easily but also successfully.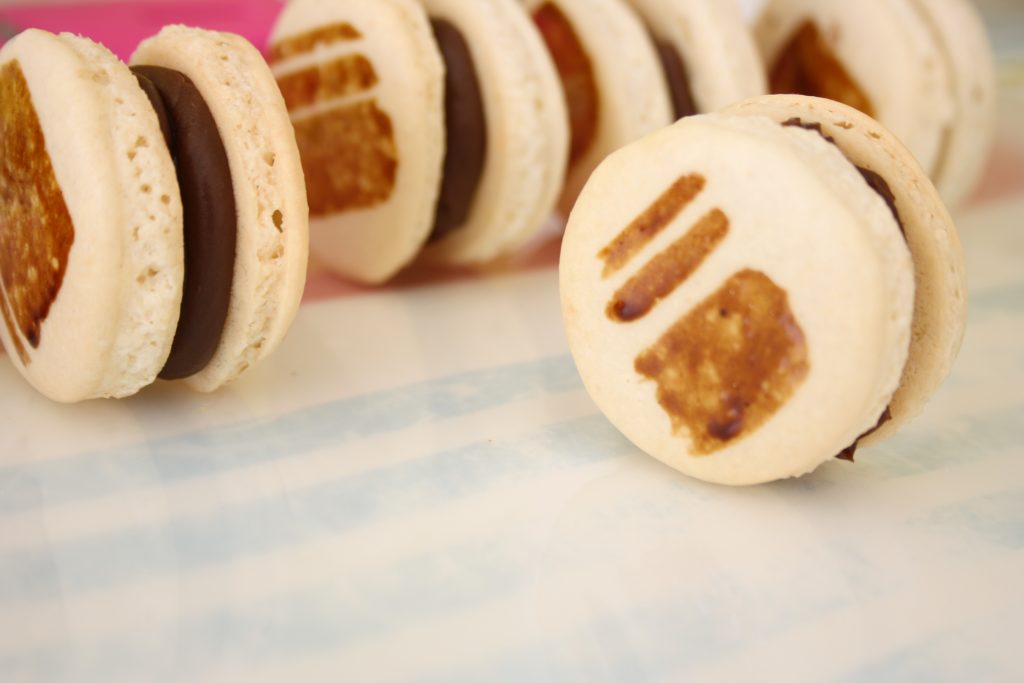 Are Macarons really that hard to make?
Macarons are finicky but not hard to make.
It only has three basic ingredients, Egg white, sugar, icing sugar, almond flour. Coloring and flavorings are optional.
Given you have aged the egg whites properly
Weighed out your ingredients
Pulsed and sifted your icing sugar and almond flour really well
Made your meringue to stiff peaks
Achieved macronage
Dried, baked, filled and matured your macarons well
Then congratulations, you have enough persistence and motivation to master this cookie.
Make Macarons like a pro
Here are some tips if you want to make macarons like a pro:
you should be practicing them, get and avail every opportunity to make them
master basic recipe and then experiment with flavors
pay attention to your environment, specially humidity
learn your oven well, bake a couple at a time if you need to, to learn the best possible settings
Can you use regular flour for macarons?
French Macarons are naturally gluten free because it uses almond flour and not regular flour. Hence the original traditional macarons are not made using regular flour.
Also I think I will clear one more frequently asked question and that is difference between almond flour and almond meal. Almond flour is grinded almond powder of blanched almonds (no skin) whereas almond meal is grinded almonds with skin.
Best Easy Macaron recipe
Contrary to popular belief, there is no 'best' recipe of French Macarons. Infact, if you compare and observe, almost all macarons recipe our same. It is the techniques used during the process that make them successful or otherwise. Tr y to master and pay attention to the technique rather than trying out different ratios.
How do you make the perfect Macarons?
First, lets define the idea of perfect macaron. In my humble opinion and experience, here is a ll a good macaroon should have.
physical characteristics – smooth top, ruffled feet
inside texture should be soft, bit of chewy-ness and no hollows/crispness
perfect ratio of filling to cookie
If only I had to give three suggestions, it would be these to answer the above questions:
practice
observe (by maintaining dairy/notes)
repeat
How long you should bake the macarons for?
Baking the macarons is one of the most crucial steps. Keep in mind the following tips:
Macarons are typically baked for 12-15 minutes
Macarons are relatively baked on lower temperatures in preferably conventional oven (you don't want additional heated air) at 300-325 F.
Macarons are baked on upper rack for less heat exposure
Macarons are baked on two stacked trays for even heat distribution
Macarons tray is rotated half way
Macarons shells are peeled off the parchment or silicon sheet rather then lifting up like traditional cookie
Some tips might suggest to open the oven door ajar with a wooden spoon but i experienced crinkled tops so be careful when applying this tip
How to make macarons for beginners?
For a beginner in baking or to Macarons world, things can be confusing or even daunting. My advice is to take it slowly and step by step, digesting all the information and get in the kitchen fully equipped with sound knowledge. Here are my two cents:
my mantra is, if you want to master a recipe, read up and watch all possible material available, for example, out of so many tutorials i read and watched, someone mentioned to dry the almond powder in oven by roasting it for 5 mins and that played a huge role in my macaron making journey because I store my almond flour in fridge hence it absorbs a little moisture
Practice small batches – halve the recipe
Start with plain macarons, not even chocolate and take it from there
I tried lot of macarons, but this is the recipe and my first successful batch of macarons, I did for breast cancer awareness and named them pinkarons. Check it out here.
To make things a little manageable and digestible not to forget any step, I have created a checklist of bullet point for all major steps. Go ahead and download your free checklist here.
Why do macaron shells crack?
I would refer you guys to wonderful resource who answers most of the troubleshooting questions related to French Macarons. Please see Indulge with Mimi.
Easy Step by Step French Macaron Recipe Tutorial Video
French Macarons
A step by step method on how to make these temperamental famous sandwich cookies
Total Time
1 day
50 minutes
Ingredients
For the Macaron shells
100 grams aged Egg whites
30 grams granulated sugar
120 grams almond powder/flour
200 grams icing sugar
1/4 teaspoon Cream of Tartar
Dark Chocolate Ganache Filling
4 ounces Dark chocolate 62%
4 ounces whipping cream
Instructions
Age egg whites, either on counter top covered loosely for 24 hours or in fridge for 5-6 days.
Bring to room temperature. Add cream of tartar or salt.
Using a hand whisk or electric beater, beat egg whites till fluffy. Make sure the whisk and bowl is impeccably clean with no moisture or grease.
Sprinkle granulated sugar and beat till glossy stiff peaks are achieved. Don't over beat else meringue (beaten stiff egg whites) will break and become grainy. Don't proceed since you cannot achieve macarons through this. Add color.
Pulse almond meal and icing sugar in a food processor and add in batches of 1/4 to meringue folding quickly. Don't over or under mix.
Fill the batter into a piping bag fitted with plain tip and pipe rounds on parchment lined baking sheets. There will be roughly 50-60 rounds.
Bake in a preheated oven for about 12-15 mins at 325 F
Cool for 5 minutes and gently peel off the parchment and cool them upside down till ready to fill.
Melt chocolate in microwave or double boiler stirring continuously
Gently heat cream until it begins to bubble.
Pour over chocolate.
Let it stand for 5 minutes.
Stir well.
Leave at room temperature until ready to pipe or pop in fridge for a couple of hour, give a stir and pipe on half of the cookies. Don't fill too much or on the sides since it will spread once sandwiched.
Sandwich and keep in fridge in a covered container for at least 24 hours to mature
Nutrition Information:
Yield:
50-60
Serving Size:
1
Amount Per Serving:
Calories:

200
4
Summary
Recipe Name
Author Name
Published On
Preparation Time
Cook Time
Total Time
Average Rating





Based on 1 Review(s)