Today I am sharing recipe of Fatayer with you. When I first ate fatayer here in Riyadh, I instantly fell in love. The variety of cheese they use does not only give its distinctive flavor but also the various shapes it is rolled in makes it unique.
What is Fatayer in English?
Fatayer is Middle Eastern Hand Pie in English. It is similar to Italian thin crust pizza, or Lebanese manakesh/manakish or Turkish Pide. Although meat fatayer are really popular it is often replaced with different type of fillings like cheese variety or even chicken. This recipe is more like vegetarian fatayer recipe.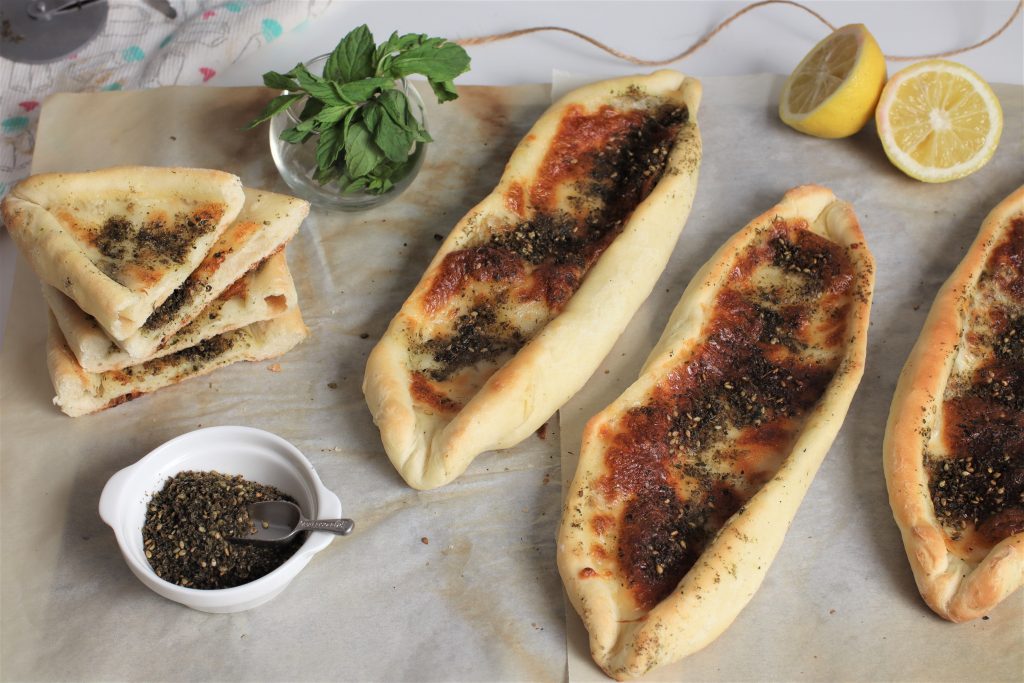 How do you eat Fatayer?
Fatayer is typically a street food in Arab countries and is a part of Levantine cuisine normally available as a takeaway. Various condiments can be eaten with it depending on the time of day and meal. It is delish on its own but goes really well with middle eastern dips like Hummus, Mutabbal, Garlic mayo, olive oil and pickled vegetables and salad.
Which cheese can be used in Turkish Pide?
Traditionally and commonly, A'kawi and Kashkaval cheese is used but Mozzarella works perfectly fine. Spinach with Feta cheese is also common filling topped with some pine nuts. I tried Halloumi also but it didn't melt enough, if you use, make sure you grate it and mix in some mozzarella.
What is zaatar and its substitute?
Zaatar is a flavorful Middle Eastern spice blend used in variety of dishes and consists of aromatic savory dried herbs like oregano, thyme, sesame, sumac, coriander and cumin.
Here we get it readily available but if you fancy, you can use this lovely zaatar spice recipe from FeastingatHome.
How to make Fatayer dough from scratch?
The Fatayer dough is like any other bread dough for example pizza, dinner roll etc.
It is such a simple yet rewarding recipe and can be made easily at home. Any leftover fillings can be used as topping. There are only a couple of tips to keep in mind:
Dough should be medium soft in order to handle well and make the desired shape.
If your dough gets little soft, you can use a couple of tablespoon of flour to roll and shape it.
Do not overfill the filling, else it will ooze out when baking.
Traditionally and commercially the fatayer are baked in brick fire oven which imparts the distinct flavor, however you can improvise your home oven by baking on preheated baking sheets on the lowest oven rack or even floor of the oven.
Yield: 4 Medium size Pies
Cheese Zaatar Fatayer Recipe
Learn how to make these Easy Fatayer also known as Turkish Cheese Pide with two different cheese fillings and Zaatar.
The Fatayer is the generic term used for pies in Middle East, specifically Saudi Arabia, its same as Manakesh or Manakish, or Pide.
Total Time
1 hour
50 minutes
Ingredients
2 cups flour
1 tablespoon milk powder
1 tablespoon oil
1 teaspoon sugar
1 teaspoon instant yeast
1 teaspoon salt
1/2 egg
Mozzarella cheese & zaatar
Mozzarella cheese & Feta cheese
Instructions
1. Combine all the dough ingredients.
2. Make a smooth soft,elastic dough.
3. Place the dough in a greased bowl and brush some oil on top of the dough as well.
4. Keep it in a warm place, covered for 1 hour until risen and double in size
5. Grate the mozzarella cheese and mix in crumbled feta (equal quantity) and mix both with some spring onions.
6. Mix in crumbled feta (equal quantity) into half of mozzarella along with some spring onions.
7. Take the dough out on a lightly floured surface and divide into four pieces.
8. Roll out each piece in a thin oval shape.
9. Sprinkle two fatayer with one two cheese mixture and other with mozzarella and zaatar.
10. Fold into boat shape and pinch the edges
11. Do not overfill the pies with cheese
12. Brush the sides with oil.
13. Bake in a preheated oven at 375 F for 12 minutes on the lowest rack.
Notes
You can use all purpose flour or bread flour or a combination of both. Half of the flour can also be replaced with whole wheat flour.
Summary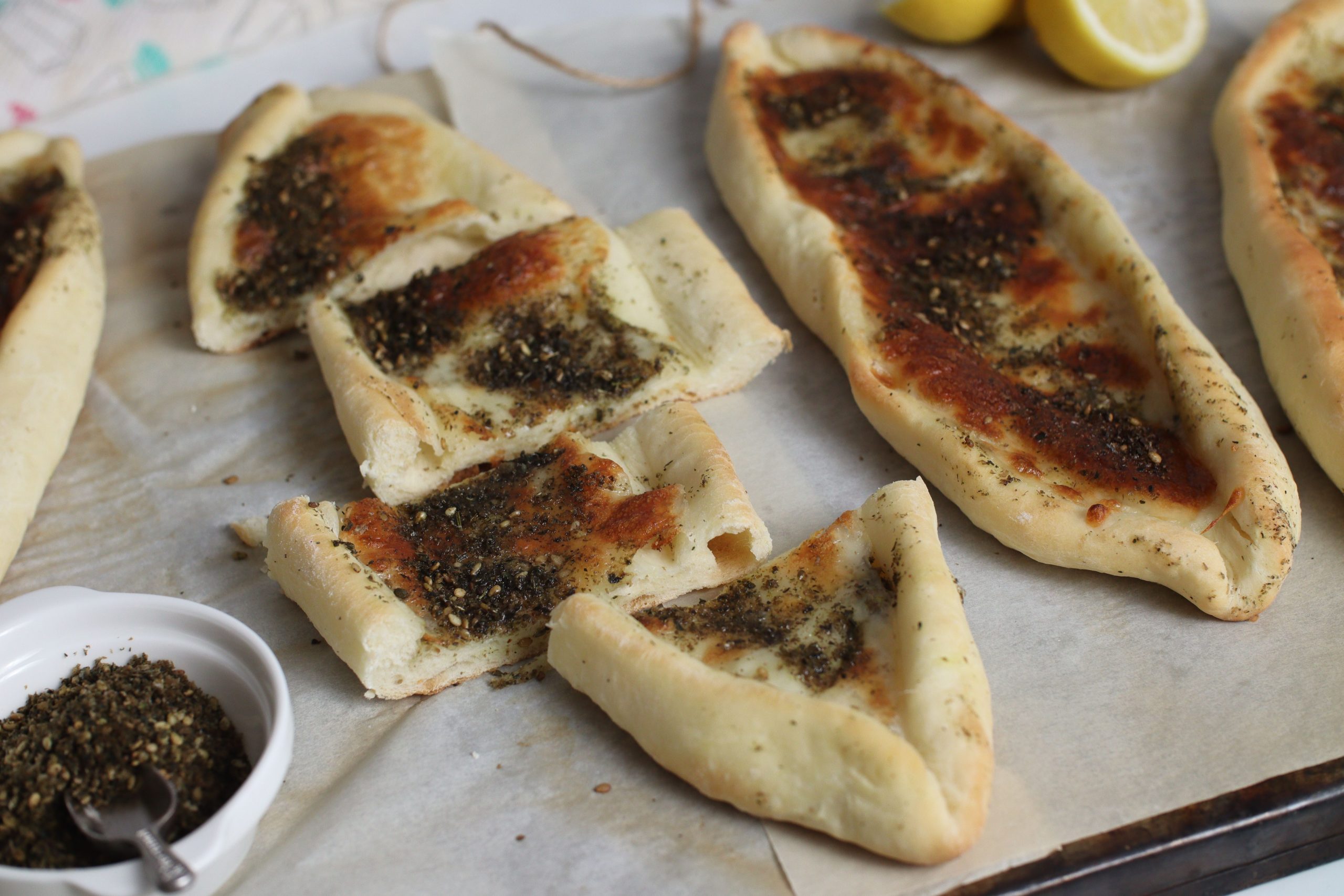 Recipe Name
Author Name
Published On
Preparation Time
Cook Time
Total Time