Today, I am bringing you legendary Bombay Bakery Coffee Cake Recipe. If you are interested in this 100 year old bakery's origin and history, you might find this article interesting.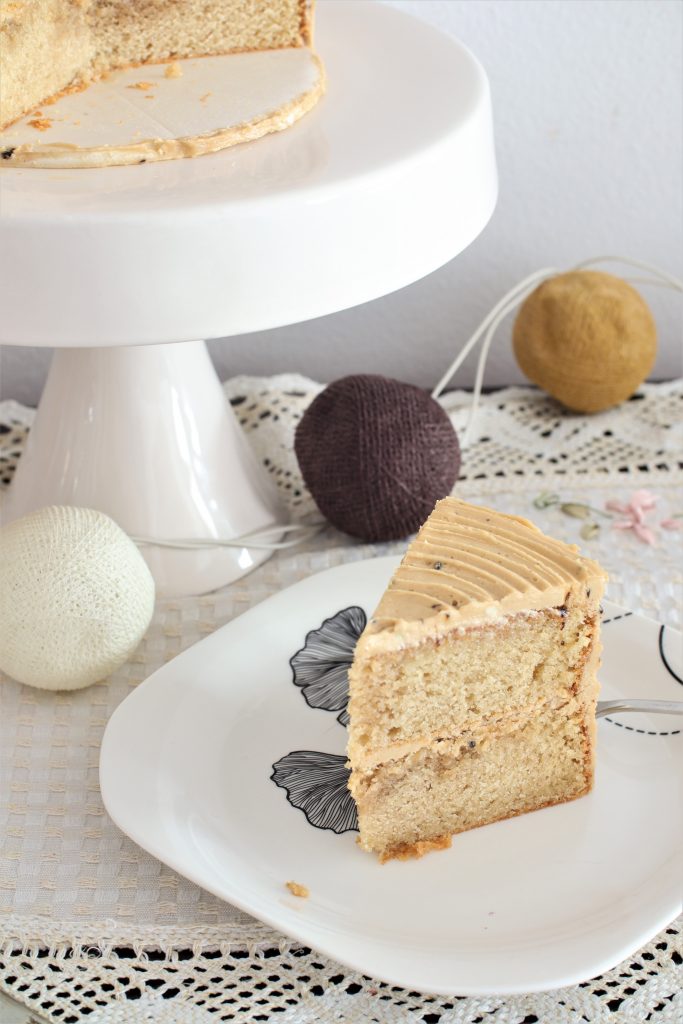 Bombay Bakery Coffee Cake is one of the most popular cakes in Karachi, Pakistan. The bakery is originally based in Hyderabad but since the distance between two cities is not much, lot of people bring as a gift or just out of this cake's craving.
Cake itself is very straightforward to make and I have tried to infuse coffee flavor at difference levels, in the sponge itself, brushing the cake with coffee syrup and then of course the coffee buttercream filled and frosted the cake.
I receive lot of queries regarding layered cakes, making, storing, filling etc. I am answering a few FAQs below.
Bombay Bakery Coffee Cake Recipe
A delicious recreation of famous Bombay Bakery Coffee Cake!
Total Time
2 hours
35 minutes
Ingredients
Coffee Cake
6 ounces/ 1 and 1/3 cup Flour
1 and 1/4 teaspoon baking powder
1/4 teaspoon salt
4 ounces/ 1/2 cup butter (soft)
6 ounces/ 3/4 cup castor/grinded sugar
1 teaspoon vanilla
4 ounces/ 1/2 cup milk
2 eggs
1 ounce/ 2 tablespoon oil
2 teaspoons instant coffee powder
Coffee Syrup
1/4 cup sugar
1/2 cup water
1 teaspoon instant coffee
Coffee Buttercream Frosting
1 cup soft butter
4 cups icing sugar
1/4 cup milk
2 tablespoon cream
2 teaspoons instant coffee powder
few drops of vanilla (optional)
pinch of salt
Instructions
To make the cake, cream butter and sugar really well using an electric mixer or stand mixer.
Add in one egg at a time mixing well after each addition.
Add in vanilla.
Combine oil, milk and coffee in a separate bowl.
Sift flour, baking powder, salt in another bowl.
Start adding flour mixture and milk mixture alternately to the batter starting and finishing with dry ingredients.
Do not over mix, mix until just combined and homogenous mixture is obtained.
Pour in greased and prepared two 6 inches pan and divide the batter equally.
Bake in a preheated oven at 325 for 18-20 minutes until done.
Cool for 5 minutes before inverting from cake pans and cool completely - preferably wrapped.
To make coffee syrup, combine sugar,coffee and water until just dissolved.
Cool the coffee syrup and make buttercream.
To make coffee buttercream, cream butter really well, add in vanilla and salt.
Combine and dissolve coffee in cream.
Add milk and icing sugar in butter and beat really well.
Add in cream till smooth buttercream is obtained.
To frost the cake, place one layer on a plate or cake board.
Brush with syrup really well.
Spread around 1/3 cup buttercream.
Place the second layer, syrup.
Frost the entire cake with coffee buttercream and use fork or decorating comb to design.
Refrigerate to set, but take it out 20 minutes before serving.
Love this recipe, try out another cult favorite Hummingbird cake recipe that you will fall in love.
How to keep cake moist after baking and after cutting and How long will a cake stay fresh?
When storing a leftover iced cake in fridge, place bread slices on exposed parts with help of toothpick so it doesn't make the cakes dry.
Oil based cakes are little forgiving than butter cakes but cakes like coffee cake, vanilla or lemon cakes taste better with butter, addition of little oil is the reason for keeping them soft and moist and prolonged shelf life.
Cakes can stay fresh if these tips (of not exposing to air) are followed for at least 3 days.
Secret to moist cakes?
None likes dry cake, it is never acceptable regardless of the type of cake. Often people ask why is my cake too dry? or how to make a cake moist and soft? Well, there is no one thing. Starting from ingredients like yogurt, milk, buttermilk help in making cakes moist however cakes like these which have vanilla base are a little finickier than their chocolate counterparts. (This is a well-known industry fact 😉 Here are some tips to make the moist cake every time regardless of ingredients, method and recipe in general
Slow even baking and to remove from the oven promptly just when it is done is essential, over baking for even couple of minutes can start drying out the cakes.
Cover the cakes when you take out from the oven with a clean kitchen towel immediately.
Remove from the pan and wrap them (see next faq of storing cake layers)
Infusing moisture at every stage is critical to overall quality of the cake, all ingredients should be at room temperature, mixing method should be followed as in recipe and then baking and storing them.
Brushing the cake layers with simple sugar syrup (1:2 ratio of sugar to water) or even juice,milk (depending upon the flavors and type of cakes) add the extra level of moistness to the cakes.
Oil does not contribute towards the taste much in vanilla cakes but adding a little bit makes the cakes moist in refrigerator or on counter tops in general. A great example is my pound cake recipe here which has very little coconut oil to get a great texture and mouthfeel.
How do you store cake layers?
Following are some tips on how to store a cake before icing it:
Once cake layer(s) are cooled, wrap them in plastic wrap, and chill either on counter or in freezer for couple of hours before icing them.
If you are not icing them same day, freezer is recommended but with one more plastic bag/zip lock bag sealed tightly.
Cake itself never needs refrigeration, it is the perishable filling that does in this cake, coffee buttercream hence it is important to protect the cake layer from exposure of air by keeping it covered and wrapped all the time.
Whether you store cake layers or finished cake in fridge or freezer, please understand that sugar and cake absorbs odours and smells very easily. Keep them away from strong smelling ingredients and food.
Should I refrigerate the cake before frosting it?
You can do so wrapped in plastic for easier handling but I prefer popping in freezer rather than fridge as condensation from freezer (changes in temperature from very cold to room causes the droplets) adds an extra level of moistness to the cakes, when those droplets get absorb into the sponge.
Summary
Recipe Name
Bombay Bakery Coffee cake
Author Name
Published On
Preparation Time
Cook Time
Total Time
Average Rating





Based on 1 Review(s)