Today, we are baking classic shortbread recipe which is kind of copycat to famous Walkers shortbread. Easy, indulgent and with very few ingredients , check out below for most frequently asked questions and you will be making shortbread successfully in no time. if you are interested in the origin of these cookies, this is a great read.
What kind of sugar do you use for shortbread cookies?
I have used icing sugar or confectioner's sugar or powdered sugar because of two reasons:
it gives the smoothest texture to the cookies
also commercial icing sugar usually has corn flour which helps in binding the cookie dough
However you can use, brown sugar, granulated or grinded sugar but this might change the texture a bit. If using grinded sugar, you might want to sift it to mimic powdered sugar for similar results.
What is the difference between a sugar cookie and shortbread cookie?
Butter cookies are not same as shortbread. Here are some differences:
butter cookies are more sweeter while shortbread is mildly sweet
butter cookies usually have eggs in them while shortbread has none
butter cookies are delicate and light and crisp while shortbread is more crumbly (that is why it is called "short" bread) and sandy texture (due to rice flour)
What can you add to shortbread?
Shortbread is amazing base for lot of variations. Some ideas are:
dip in melted chocolate
add zest of citrus fruit
add in chocolate chips, raisins or other dry fruits and nuts
tea, herbs or cocoa (replace some of the flour when using cocoa powder)
What is the difference between regular shortbread and Scottish shortbread?
While the regular shortbread uses only butter (like famous Walker's brand) ,Scottish shortbread might use vegetable shortening(blended with butter) which yields a crispier, firmer and crunchier shortbread.
How do you roll and score shortbread dough?
Its best to roll shortbread dough between two wax or parchment paper or even plastic wrap for easier handling and no sticking. This will also prevent from adding extra flour. The dough is also scored(marking wedges before baking)and poked with holes for even baking, no bumps and later after baking can be cut easily.
Should you chill shortbread before baking?
Chilling any kind of biscuit and pie dough helps solidify the butter and will help prevent too much spreading when baked.
Why is my shortbread dough too soft? Do you put water in shortbread?
Although shortbread has simple ingredients but there are a few secrets to making good shortbread. If you don't have rice flour, you can try my this recipe of easy shortbread cookies.
If your dough gets too soft, try chilling it before rolling out or just add 1 or 2 teaspoon of flour. Ideally you should not add any liquid, if it gets dry then you can bind a little with your hands and the warmth of your hands will melt butter and helps in binding.
When making shortbread, should the butter be cold?
The butter is the most important ingredient in making shortbreads. A good quality butter is essential. I have used unsalted butter but you may use salted as well. The butter should be soft but cold and not melting away.
Shortbread Recipe
A traditional shortbread cookie made with rice flour for that delicious sandy crumbly texture!
Additional Time
15 minutes
Ingredients
1/2 cup butter*
1/2 cup icing sugar **
1 cup flour
1/2 cup rice flour
Instructions
Beat butter and icing sugar until creamy.
Add in flours and beat until just mixed.
Mix gently with hand until just combined. Do not knead.
Roll between two wax or parchment paper of about 9 inches diameter.
Use your cake pan or ring as a guide, you can even press it inside a 9 inches cake pan.
Score into 16 wedges.
Prick with fork.
Refrigerate for 30 minutes.
Bake in a preheated oven at 325 F or about 12 minutes until just golden at the base.
Cut along the scored lines. Cool a little before serving.
Cool completely before storing.
Notes
* you can use salted butter, butter should be soft but cold
**icing sugar or confectioner's sugar or powdered sugar
Summary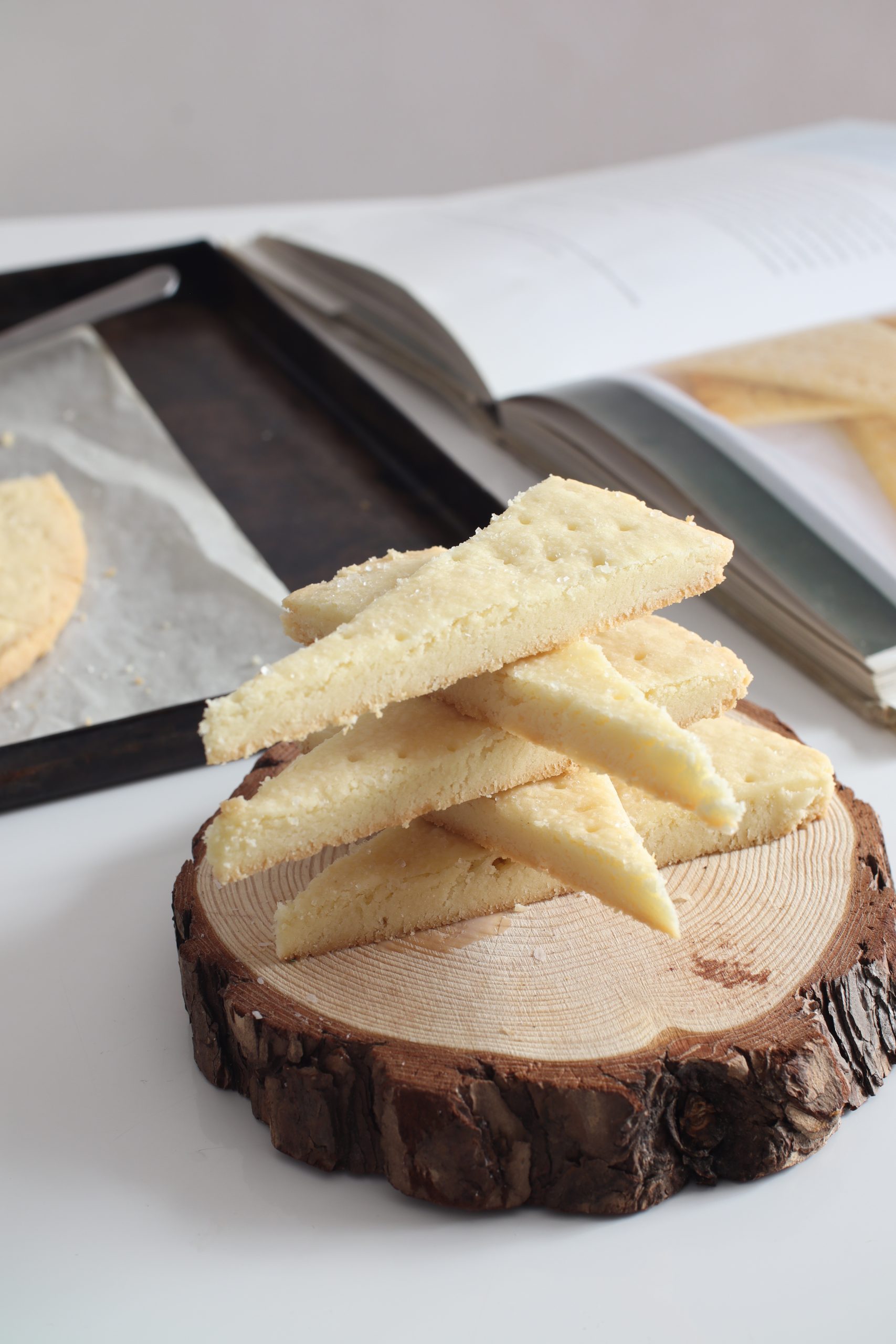 Recipe Name
Classic Shortbread cookies
Author Name
Published On
Preparation Time
Cook Time
Total Time
Average Rating





Based on 1 Review(s)