Breakfast is the most important meal of the day. This will come as a shocker for those who know me from quite a while and my mom will give this scornful look because I gave her not so good times when it came to breakfast. But in my defense, people change and if that change is for good then well, pat on the back. From a pepsi on empty stomach to without sehri fasting, I have come a long way. Lesson learnt before any lesson actually so thankyou Allah mian. I have realized a couple of things about breakfast, it sets your mood for the day, it keeps you full and less hungry for the entire day, you are more productive, energetic and alert. But healthy nutritious breakfast is a must. (sorry halwa puri won't cut ;)).
My mornings have always been crazy, if it was not for rushing to school, college, university, it was office later on and then since I had kids, the crazy got a whole new meaning. Usually what I make for kids breakfast and lunch boxes, I save some for myself to have it later when they leave. Sometimes when I have time and mood to treat myself, I would do some overnight oats, granola parfait or make roghni roti with khageena like my mum makes (though its nowhere close to hers).During vacation and traveling also, I always try to opt for breakfast options in hotels because it keeps the sanity intact for the long day ahead.
Muffins are such a grab and go breakfast option, looks and sounds stylish and can be packed with all necessary nutrition. Contrary to cupcakes, they are supposed to be healthy and wholesome. In the same quest, I tried these chocolate banana muffin topped with oats crumble with no refined sugar or flour in a jumbo muffin pan I had bought a longtime back. They turned out such delicious bombs and are not boring at all. You can also freeze them and can be a great healthy treat anytime. Also as like all muffins, they are super easy to make with just one step of combining dry and wet ingredients together with a hand whisk. So here goes the recipe.
For D-I-Y muffin liners, check notes in the end.
Whole Wheat Chocolate Banana Muffins
2018-06-30 15:47:07
Serves 6
A healthy chocolate banana jumbo muffin packed with nutrition with no refined sugar and flour
For the Muffins
2 bananas* mashed and over ripe (we need about a cup of mashed bananas)
1 egg
1/4 cup coconut oil**
1/3 cup honey
1/2 cup buttermilk*** or yogurt
1 teaspoon vanilla
1 cup whole wheat flour****
1/2 cup cocoa powder
1 teaspoon baking soda
1 teaspoon baking powder
1/2 teaspoon salt
For Crumble
1/2 cup whole oats
1/2 cup whole wheat flour
1/3 cup brown sugar
1/3 cup cold butter
handful of walnuts crushed
For the Muffins
Combine bananas,yogurt,oil,egg,honey and vanilla with a whisk.
Combine flour,cocoa powder,baking soda,baking powder,salt with a whisk in a separate bowl.
Mix the two together with a whisk just until combined.
Line the jumbo muffin pan for 6 with liners or 12 regular muffin pan.
For jumbo muffins, pour half cup of batter in each and for regular, pour 1/3 cup in each.
For the Crumble
Combine flour,oats and sugar.
Rub in butter till it resembles bread crumbs.
Add walnuts.
Equally divide and top the muffins with this crumble.
Bake in a pre-heated oven at 400 F for 5 minutes and then lower the temperature to 350F for another 15 minutes.
The size of the muffins will impact on baking time. Jumbo will take more time than regular ones.
Notes
*We need about 1 cup of mashed bananas. If your bananas are over ripe and you cant use them that day, peel and freeze them in a box. Thaw before mashing. Remove excess water.
**Any other vegetable oil with milk flavor like canola or sunflower or even melted butter
***Buttermilk is laban in Middle East and can be substituted by yogurt or homemade buttermilk. Simple take 1 cup of regular full fat milk and add 1 tablespoon of vinegar and let it stand for 5 minutes.
Adapted from Sally's Baking Addiction
Bake Fresh https://bakefresh.net/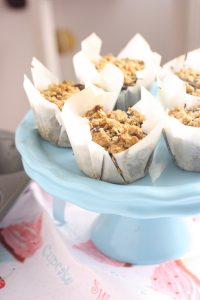 For the DIY parchment liner bakery style, take 6×6 inches of non greasy parchment or baking paper of good quality. For the regular muffin pan, take 5×5 inches. Place it on a inverted glass. The glass should easily fit into the muffin cavity. Press and wrap the centered paper and let the natural creases take their shape by smoothing with the hands.
Summary
Recipe Name
Whole Wheat Chocolate Banana Muffins
Author Name
Published On
Preparation Time
Cook Time
Total Time