My third consecutive post on chocolate, my love for this wicked thing is now evident. But wait, I have a reason. When Meeta from WFLH announced this month's monthly mingle, I thought I will post some traditional Pakistani brunch recipe, Halwa Puri which is very popular as a typical late sunday brunch. But time and resources restricted me, plus I am not very pro in traditional dishes. But that is in the plan, may be I will post next month when I am visiting home for Eid.
Often people confuse cupcakes with muffins. Yes, the shape is same and they are baked in what we call muffin tray but the difference that sets them apart is sugar,fat and egg content. Usually in muffins all these ingredients are in relatively low quantity and as the ratio of these ingredients increases, it yields what we call cupcakes. Since muffins are on healthier side and often whole wheat flour is used in place of white flour, they can be taken as a breakfast. Various fruits and nuts are incorporated to kick up the taste. Also cupcakes are often decorated with various frostings while muffins are not.
This recipe was taken due to my soon to expire sour cream, another favorite ingredient of mine. The settled taste that develops in baking goods made with sour cream is phenomenal. You can use 50-50 ratio of cream and yogurt if sour cream is not available or even full fat yogurt. This is a great recipe, can be made quickly which is often my criteria of selecting recipes, yields perfect dome shaped muffins and tastes excellent. What else can you ask for a breakfast or brunch dessert?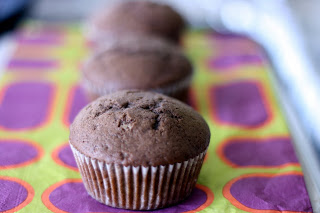 Originally the recipe was Spiced Chocolate Muffins, but I didn't use spice. The recipe was taken from little chocolate cookbook, my mother in-law gifted me a while back. This is the first recipe I tried out from it and the book looks promising.
Ingredients:
3 1/2 tbsp softened butter
1/2 cup caster sugar
1/2 cup brown sugar
2 eggs
2/3 cup sour cream
5 tbsp milk
1 3/4 cups flour
1 tsp baking soda
2 tbsp cocoa powder
1 tsp all spice (optional)
1 cup semi-sweet chocolate chips
Method:
1. Cream butter and sugars.
2. Beat in eggs, sour cream and milk thoroughly.
3. Sift all dry ingredients.
4. Stir it into sugar mixture or beat in at low speed.
5. Lastly, add in chocolate chips.
6. Divide the mixture into paper-lined 12-cup muffin tray about 2/3 full.
7. Bake in a pre-heated oven at gas mark 4 for about 30 minutes.
8. Cool in muffin tray for 10 minutes before taking them out and cool completely.
This post goes to Meeta for her monthly mingle theme Brunch.