Food Blogging community is amazing. I am loving each bit of it since I have started blogging and joined food blogosphere. I love being part of The Daring Kitchen. Thankyou all of you for inspiration, setting great standards in recipes, presentation, photography and help.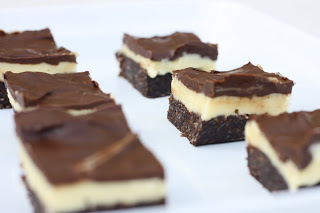 The January 2010 Daring Bakers' challenge was hosted by Lauren of Celiac Teen. Lauren chose Gluten-Free Graham Wafers and Nanaimo Bars as the challenge for the month. The sources she based her recipe on are 101 Cookbooks and www.nanaimo.ca
I really liked the challenge but it was more of a food lover's challenge then a baker's since it is pretty straightforward (although lengthy) to make but very challenging to resist. The way the layers compliment each other is great. I did not go for gluten-free version of graham crackers though since I knew they were not going to be used up and also because the three kinds of flour are difficult to find here. I have always loved graham crackers and making it yourself was a great idea. It is so simple to make and next time I do plan to make it with whole wheat flour to yield healthier version.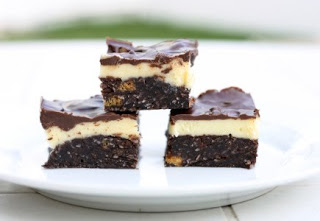 Nanaimo Bars are a classic Canadian dessert created in none other than Nanaimo, British Colombia. In case you were wondering, it's pronounced Nah-nye-Moh. These bars have 3 layers: a base containing graham crackers, cocoa, coconut and nuts, a middle custard layer, and a topping of chocolate. They are extremely rich and available almost everywhere across the country.
Assembling Nanaimo Bars themselves is a fun task. Making each layer, chilling and making next is quite fun. I loved the bottom layer – the way chocolate, crackers and coconut were complimenting each other was phenomenal. You must try this recipe. I loved the idea from one of my fellow Dating Bakers of turning these bars into mini chocolates or chocolate bars. However, they are eaten, they are addictive and delicious.
For a very dear friend of mine who was looking for any gluten-free dessert recipe for her son's upcoming birthday, I am listing down ratios of gluten-free flours as well.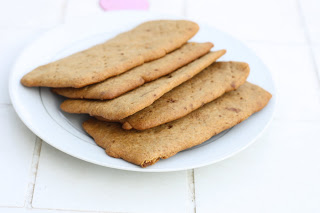 Graham Crackers
Ingredients:
Sweet Rice Flour or Glutinous Rice flour 1 cup
Tapioca Starch/Flour 3/4 cup
Sorghum Flour 1/2 cup
OR
Substitute all above three flours with 2 1/2 cups plus 2 tbsp of All-purpose-flour
Dark Brown Sugar (lightly packed) 1 cup [I used light brown sugar and it was ok]
Baking soda 1 tsp
Salt 3/4 tsp
Unsalted butter (frozen and cut into 1 inch cubes) 7 tbsp
Honey 1/3 cup
Milk 5 tbsp
Vanilla essence 2 tsp
Method:
1. In the bowl of a food processor fitted with a steel blade, combine the flours, brown sugar, baking soda, and salt. Pulse on low to incorporate. Add the butter and pulse on and off, until the mixture is the consistency of a coarse meal. If making by hand, combine aforementioned dry ingredients with a whisk, then cut in butter until you have a coarse meal. No chunks of butter should be visible.
2. In a small bowl or liquid measuring cup, whisk together the honey, milk and vanilla. Add to the flour mixture until the dough barely comes together. It will be very soft and sticky.
3. Turn the dough onto a surface well-floured with sweet rice flour or all-purpose flour and pat the dough into a rectangle about 1 inch thick. Wrap in plastic and chill until firm, about 2 hours, or overnight.
4. Divide the dough in half and return one half to the refrigerator. Sift an even layer of sweet rice flour or All-purpose flour onto the work surface and roll the dough into a long rectangle, about 1/8 inch thick. The dough will be quite sticky, so flour as necessary. Cut into 4 by 4 inch squares. Gather the scraps together and set aside. Place wafers on one or two parchment-lined baking sheets. Chill until firm, about 30 to 45 minutes. Repeat with the second batch of dough.
5. Gather the scraps together into a ball, chill until firm, and reroll. Dust the surface with more sweet rice flour or all-purpose flour and roll out the dough to get a couple more wafers.
6. Prick the wafers with toothpick or fork, not all the way through, in two or more rows.
7. Bake for 25 minutes in a pre-heated oven at gas mark 5, until browned and slightly firm to the touch, rotating sheets halfway through to ensure even baking. Keep an eye if you are using all-purpose flour since they get browned quickly.
9. When cooled completely, place enough wafers in food processor to make 1 ¼ cups (300 mL) of crumbs. Another way to do this is to place in a large ziplock bag, force all air out and smash with a rolling pin until wafers are crumbs.
10. This proportion makes a lot of wafers so you might want to divide the recipe into half.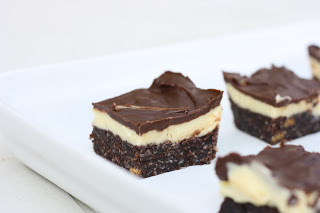 Nanaimo Bars
Ingredients:
For Nanaimo Bars — Bottom Layer
1/2 cup (115 g) (4 ounces) Unsalted Butter
1/4 cup (50 g) (1.8 ounces) Granulated Sugar
5 tablespoons (75 mL) Unsweetened Cocoa
1 Large Egg, Beaten
1 1/4 cups (300 mL) (160 g) (5.6 ounces) Graham Wafer Crumbs (See previous recipe)
1/2 cup (55 g) (1.9 ounces) Almonds (Any type, Finely chopped)
1 cup (130 g) (4.5 ounces) Coconut (Shredded, sweetened or unsweetened)
For Nanaimo Bars — Middle Layer
1/2 cup (115 g) (4 ounces) Unsalted Butter
2 tablespoons and 2 teaspoons (40 mL) Heavy Cream
2 tablespoons (30 mL) Vanilla Custard Powder (I used Betty Crockers' Caramel powder)
2 cups (254 g) (8.9 ounces) Icing Sugar [i used 1 1/2 cups to reduce sweetness]
For Nanaimo Bars — Top Layer
4 ounces (115 g) Semi-sweet chocolate
2 tablespoons (28 g) (1 ounce) Unsalted Butter
Method:
1. For bottom Layer: Melt unsalted butter, sugar and cocoa in top of a double boiler. Add egg and stir to cook and thicken. Remove from heat. Stir in crumbs, nuts and coconut. Press firmly into an ungreased 8 by 8 inch square dish or pan.
2. For Middle Layer: Cream butter, cream, custard powder, and icing sugar together well. Beat until light in colour. Spread over bottom layer.
3. For Top Layer: Melt chocolate and unsalted butter over low heat. Cool. Once cool, pour over middle layer and chill.
Some important points:
1. Toast almonds and coconut lightly for added flavor.
2. If you are making in a hot weather, make sure you chill each layer for neat appearance and layers dont' get smudged.
3. Chocolate in the top layer should be cool so it doesn't melt the middle layer but still liquid for easy spreading.
4. These bars freeze really well and graham crackers can be put in air-tight container for upto 2 weeks.
5. A very good video which i found helpful can be watched here
http://www.youtube.com/watch?v=x5aqa6R1jIM&feature=fvsr
6. Some good sources on gluten-free baking
http://www.thesensitivepantry.com/the-sensitive-pantry/2009/8/3/grahams-plain-fancy.html
http://glutenfreemommy.com/gluten-free-grains-101-the-best-flour-blend/