Who does'nt love doughnuts, they come in so many varieties and flavors that you end up liking one or the other. There are basically two type of doughnuts: Cake and Yeast. Cake doughnuts are also referred to as old fashioned doughnuts and I like them more than yeast ones. As kids we used to make doughnuts, cutting and dipping them in sauce was my particular favorite part. This month's challenge of Daring Bakers was also to make doughnuts – any kind but I decided to try my hands on both. Results? read on.
The October 2010 Daring Bakers challenge was hosted by Lori of Butter Me Up. Lori chose to challenge DBers to make doughnuts. She used several sources for her recipes including Alton Brown, Nancy Silverton, Kate Neumann and Epicurious.


There are many varieties of doughnuts, Crullers is also one of them which is made from choux pastry dough and has been in my to-do list for a long time. Before even beginning, I came to know that yeast doughnuts from Alton Brown's recipe yield excellent results and I wasn't disappointed. However, I wanted more 'regular shapes' but since the dough is too soft, it was a bit difficult to manage. In terms of yeast and high moisture dough, it requires a bit of experience on handling it. Some points before you read the recipe below which is direct copy paste from Daring Baker's challenge. For more wonderful creations check The Daring Kitchen website.


Notes on Yeast Doughnuts:
1. I increased the sugar to 1/2 cup according to my taste.
2. A small skillet, frying pan or pot is recommended so less oil is consumed since you want atleast 2″-3″ high.
3. The dough when first mixed is really really wet, almost pouring consistency. Keep faith, dont add flour, pour in oiled bowl and leave to rise.
4. For second proofing, use ample flour to handle the dough, knock out air, shape them and placing it on a well floured tray.
5. After second proofing, they rose beautifully while frying.
6. Oil should be medium hot, a piece of bread should be browned in 60 seconds. Doughnuts will take 30 seconds each side to fry.
7. I was just occupied with my cake orders so I made my easy
chocolate sauce
and dipped in them. You can use variety of glaze, fillings and toppings.
8. Doughnuts taste best when consumed the same day but a quick microwave for couple of seconds will also make them fresh for next day.
9. Feel free to halve the recipe as I did to yield 10-12 doughnuts and rounds.
10. Hubby enjoyed them without glaze while daughter still prefers Krispy Kreme.
11. If you don't have a stand mixer, use heavy wooden spoon to mix.
12.You can also bake them, brush them with butter and roll them in cinnamon sugar.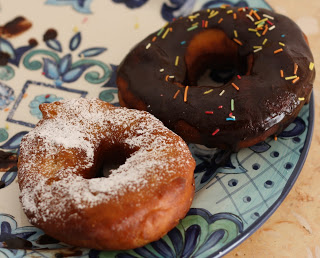 Yeast Doughnuts:
Preparation time:
Hands on prep time – 25 minutes
Rising time – 1.5 hours total
Cooking time – 12 minutes
Yield: 20 to 25 doughnuts & 20 to 25 doughnut holes, depending on size
IngredientsMilk 1.5 cup / 360 ml
Vegetable Shortening 1/3 cup / 80 ml / 70 gm / 2.5 oz (can substitute butter, margarine or lard)
Active Dry Yeast 4.5 teaspoon (2 pkgs.) / 22.5 ml / 14 gm / ½ oz
Warm Water 1/3 cup / 80 ml (95°F to 105°F / 35°C to 41°C)
Eggs, Large, beaten 2
White Granulated Sugar ¼ cup / 60 ml / 55 gm / 2 oz
Table Salt 1.5 teaspoon / 7.5 ml / 9 gm / 1/3 oz
Nutmeg, grated 1 tsp. / 5 ml / 6 gm / ¼ oz
All Purpose Flour 4 2/3 cup / 1,120 ml / 650 gm / 23 oz + extra for dusting surface
Canola Oil DEPENDS on size of vessel you are frying in – you want THREE (3) inches of oil (can substitute any flavorless oil used for frying)
Directions:
Place the milk in a medium saucepan and heat over medium heat just until warm enough to melt the shortening. (Make sure the shortening is melted so that it incorporates well into the batter.)
Place the shortening in a bowl and pour warmed milk over. Set aside.
In a small bowl, sprinkle the yeast over the warm water and let dissolve for 5 minutes. It should get foamy. After 5 minutes, pour the yeast mixture into the large bowl of a stand mixer and add the milk and shortening mixture, first making sure the milk and shortening mixture has cooled to lukewarm.
Add the eggs, sugar, salt, nutmeg, and half of the flour. Using the paddle attachment of your mixer (if you have one), combine the ingredients on low speed until flour is incorporated and then turn the speed up to medium and beat until well combined.
Add the remaining flour, combining on low speed at first, and then increase the speed to medium and beat well.
Change to the dough hook attachment of the mixer and beat on medium speed until the dough pulls away from the bowl and becomes smooth, approximately 3 to 4 minutes (for me this only took about two minutes). If you do not have a dough hook/stand mixer – knead until the dough is smooth and not sticky.
Transfer to a well-oiled bowl, cover, and let rise for 1 hour or until doubled in size.
On a well-floured surface, roll out dough to 3/8-inch (9 mm)thick. (Make sure the surface really is well-floured otherwise your doughnuts will stick to the counter).
Cut out dough using a 2 1/2-inch (65 mm) doughnut cutter or pastry ring or drinking glass and using a 7/8-inch (22 mm) ring for the center whole. Set on floured baking sheet, cover lightly with a tea towel, and let rise for 30 minutes.
Preheat the oil in a deep fryer or Dutch oven to 365 °F/185°C.
Gently place the doughnuts into the oil, 3 to 4 at a time. Cook for 1 minute per side or until golden brown (my doughnuts only took about 30 seconds on each side at this temperature).
Transfer to a cooling rack placed in baking pan. Allow to cool for 15 to 20 minutes prior to glazing, if desired.
Notes on Cake Doughnuts:
I wasnt particularly happy with this recipe. Infact I will stick to Betty Crocker's recipe of cake doughnuts which can be found
here
.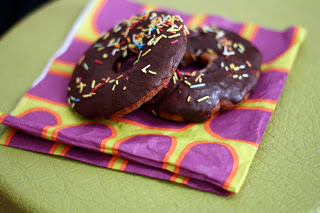 Cake Doughnuts



Old-Fashioned Buttermilk Cake Doughnuts:
Preparation time:
Hands on prep time – 25 minutes
Cooking time – 12 minutes
Yield:
About 15 doughnuts & 15 doughnut holes, depending on size
Ingredients
Sour Cream ¼ cup / 60 ml / 60 gm / 2 oz
All Purpose Flour 3 ¼ cup / 780 ml / 455 gm / 16 oz + extra for dusting surface
White Granulated Sugar ¾ cup / 180 ml / 170 gm / 6 oz
Baking Soda ½ teaspoon / 2.5 ml / 3 gm / .1 oz
Baking Powder 1 teaspoon / 5 ml / 6 gm / .2 oz
Kosher (Flaked) Salt 1 teaspoon / 5 ml / 6 gm / .2 oz (If using table salt, only use ½ teaspoon)
Nutmeg, grated 1.5 teaspoon / 7.5 ml / 9 gm / .3 oz
Active Dry Yeast 1 1/8 teaspoon / 5.6 ml / 3.5 gm / .125 oz
Buttermilk ¾ cup + 2 Tablespoon / 210 ml / 225 gm / 7 ¾ oz
Egg, Large 1
Egg Yolk, Large 2
Pure Vanilla Extract 1 Tablespoon / 15 ml
Powdered (Icing) Sugar ¼ cup / 120 ml / 65 gm / 2.3 oz (Used for decorating and is optional)
Directions:
In a small stainless-steel bowl set over a pot of gently simmering water, heat the sour cream until just warm.
Heat the oil to 375°F/190°C.
Over a large mixing bowl, sift together the flour, sugar, baking soda, baking powder, salt, nutmeg; make a large well in the center. Place the yeast in the well; pour the sour cream over it. Allow it to soften (if using packed fresh yeast), about 1 minute.
Pour the buttermilk, whole egg, egg yolks, and vanilla extract into the well. Using one hand, gradually draw in the dry ingredients. The mixture should be fairly smooth before you draw in more flour. Mix until it is completely incorporated. The dough will be very sticky. Wash and dry your hands and dust them with flour.
Sift an even layer of flour onto a work surface. Don't be afraid to use a lot of flour. You don't want the doughnuts sticking to your counter. Scrape dough out of bowl onto the surface; sift another layer of flour over dough. Working quickly, pat dough into an even 1/2-inch (12.5 mm) thickness. Dip cutter in flour and, cutting as closely together as possible, cut out the doughnuts and holes. Place holes and doughnuts on a floured surface. Working quickly, gather scraps of dough together, pat into 1/2-inch (12.5 mm) thickness, and cut out remaining doughnuts and holes.
Drop three to four doughnuts at a time into the hot oil. Once they turn golden brown, turn them and cook the other side. Cooking times may vary, but with my oil at 375 °F/190°C, I found they only took about 20 to 30 seconds per side.
Once cooked, place on a baking sheet covered with paper towels to drain.
Sift powdered sugar over doughnuts and serve.