Today we are making simple quick bread recipe, one of the best homemade white bread recipes.
Its been a busy busy week, with cake orders and sick child at home. This is a long due post since I wanted to share this wonderful recipe for a quite some time. To get a sneak peak on what cakes I did for last couple of weeks, here is snap shot.
This recipe has been taken from Bake Me Delicious. Sadaf posts some promising recipes and the pictures of her bread loaf looked scrumptious thats why I decided to give it a try and for now this is my favorite recipe for simple bread loaf. It keeps well upto a week and I pop it in an air tight box in fridge the next day. This makes two loaves and are ideal for sandwiches and toast really well. Last week I made this bread and invited my neighbors to have breakfast with me. They thoroughly enjoyed with some slightly salted butter, cheese, jam and peanut butter.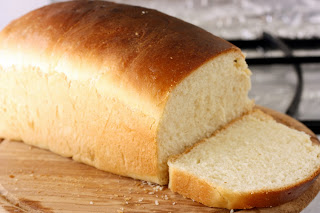 The key to yeast breads is to knead a soft smooth dough. This directly corresponds to the final texture of the bread. If you have a machine with dough hook then you can get this quite easily but if you dont have one, you can certainly do it by hand with some effort. It is way better than the breads we get here and we prefer it over every other bread any time.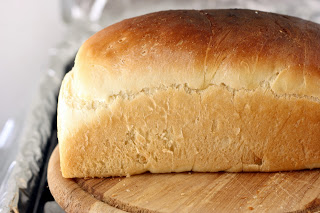 Basic Bread Loaf
2017-04-30 01:28:49
A straightforward basic bread loaf ideal for smothering butter or sandwiches
Ingredients
Warm water 1 cup
Milk (luke warm) 1/2 cup
Yeast (instant or granules) 1 1/2 tbsp
Sugar 3 tbsp
Melted butter 3 tbsp
Salt 1 tsp
All purpose flour 5 cups
Instructions
Mix water, milk in a large mixing bowl. Add sugar and sprinkle yeast.
Leave for 5 mins. until yeast* is frothy and pale in color.
After 5 mins, add flour, salt and butter.
Mix with a wooden spoon or at low speed with a dough hook attachment if using stand mixer.
Increase the speed to medium and knead for 6 minutes. If using hands, take the dough out on a lightly floured surface and knead for 8 minutes until soft, smooth and elastic.
Place it in a well-greased bowl, and cover with kitchen towel and leave to rest for about 1 hour in a warm place until double in size.
Knock out air, place the dough on a floured surface and cut the dough in half.
Roll out each part in a rectangular shape with one side approximately as long as the length of the loaf tin/rectangular tin and the other side thrice as long as the width of the tin.
Roll it like a swiss roll from longer side and tuck the ends.
Place it in a greased loaf tin. Repeat the same with the other part.
Leave it to rise, covered in a warm place for one hour.
Bake in a pre-heated oven for 30 minutes at about 375 F
The top and bottom should be nice golden crust and when tapped, it should feel hollow.
Brush with melted butter and immediately cover it to trap the steam.
Cool completely before slicing.
Notes
* If you are using instant yeast then use it directly in the dough
Adapted from Bake Me Delicious
Adapted from Bake Me Delicious
Bake Fresh https://bakefresh.net/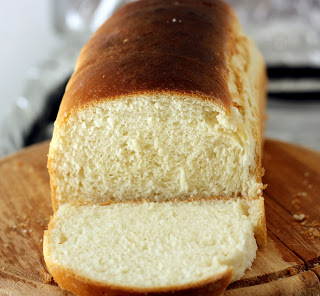 This post goes to
yeastspotting
, a weekly event to showcase recipes made from yeast.
Summary
Reviewer
Review Date
Reviewed Item
Author Rating





Recipe Name