Quiche is such a comforting food and versatile too. You can make it for breakfast, brunch, lunch or dinner, throw in any left overs, play with the flavors etc. Once you know the basics, you can make it indulgent or healthy (yes I consider both of them opposite :)). I have previously blogged about it before but it needed a re-visit.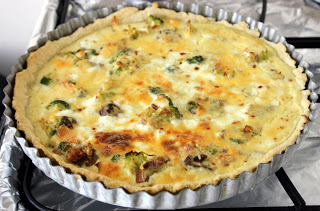 This time I have made my quiche with some changes. I added sour cream to the filling which again is such a versatile ingredient. It makes the texture of the final dish lot more creamy and rich adding just the right amount of sour and saltiness. Use half whole wheat and half white flour for the base if you are looking for a healthier version.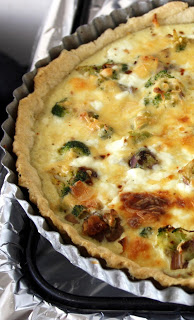 The base is basically the same as before but I added an egg yolk this time, if you are looking for a slightly richer and crisp base. Else you can skip it altogether.
The recipe has been adapted from here but I added some mushrooms, skipped the bacons and used my own recipe for the base.
Ingredients
Base
All-purpose flour 2 cups
Egg yolk 1
Butter 1/3 cup
Salt 1/2 tsp
Cold water to bind
Filling
Olive oil 2 tbsp
Garlic 1 clove
Onion 1 small
Broccoli 10-15 florets, cut up and steamed or boiled for 2 mins
Salt and pepper and red chilli flakes (optional)
Eggs 2
Milk 1 cup
Sour cream 3/4 cup
Cheddar cheese 1 cup
Flour 1 tbsp
Mushrooms few chopped
Method
Base
1. Rub in butter in flour and salt mixture.
2. Add in yolk.
3. Make a soft dough with water. Refrigerate if its unmanageable.
4. Roll out on a lightly floured surface about the same size as your baking tin (Tart tin should be about 10 inches in diameter).
5. Spread in the tin, making sure that the edges are secure and there are no holes etc. else the filling will go through it making the crust soggy. Prick the dough.
6. Bake in a pre-heated hot oven for 10-15 mins while you prepare filling.
Filling
1. Heat oil, add chopped garlic and onion. Cook for 2 mins.
2. Add broccoli, mushrooms, flour and seasoning.
3. Cook for 2 mins. Spread on the half-baked shell.
4. Sprinkle grated cheddar cheese.
5. Whisk eggs, milk and sour cream.
6. Pour on the shell, making sure it does'nt overflow.
7. Bake for about 30 mins at gas mark 5 until crust and filling and light brown.
8. Cool before cutting wedges.