Hello folks, We are making fresh strawberry scones today but before that a huge Thank you for the overwhelming response on the last post I did on my mom's birthday. If you did'nt read it yet – very bad because it has some super cool life hacks I live by. It was instantaneous, planned and executed in merely few hours and purely out of love and more love and longing for her.
So last weekend was pretty hectic in terms of customized cakes and I was feeling a lot of pressure, well because
I had just came back from a quick spring vacation and had to immediately be back on toes.
Out of four clients, three are my favorites as they completely trust me on everything, they just tell me the theme and flavor ideas and leave the rest on me – this is a lot of pressure guys to do your best and the bar has to be raised somehow.
They were all 20 plus persons cake and lot of details and a few techniques were to be tried for the first time
Well, it all went really well (Alhamdolillah) and they super liked everything from design to taste. Lot of people asked how projects like these can be managed. It needs some, ok lot of planning, time management and some pro activity. This, I will tell in detail in my coming posts, so if you are interested in knowing how to manage big projects whether its cake or otherwise along with family and kids on weekends, a bit of socializing here and there, taking care of yourself all while keeping your sanity intact then comment below and I will make sure that I share my top tips very soon.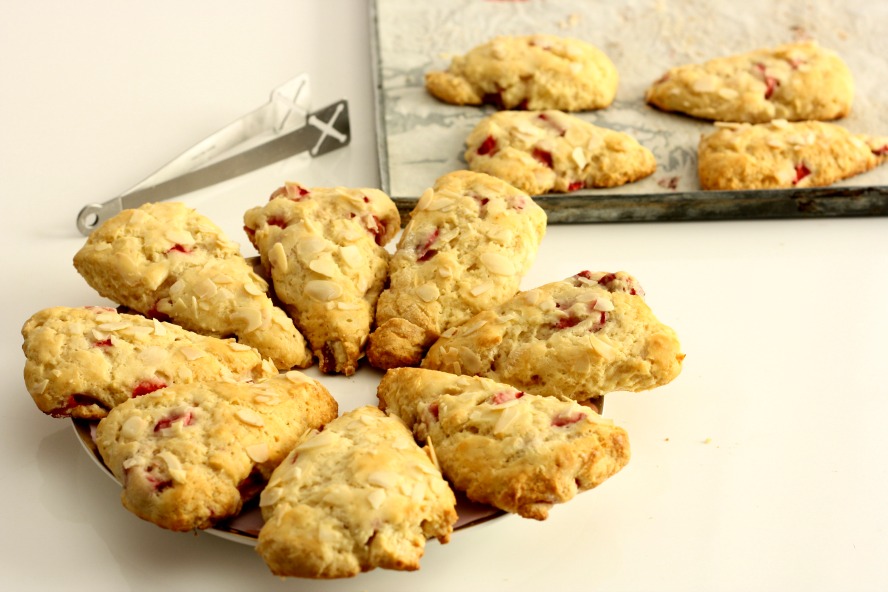 After that crazy weekend, something had to be done to unwind and what's better than relaxing with friends. We planned to meetup and I made these super quick crazy crumbly delicious fresh strawberry scones. I did not glaze them just to cut down some calories (well, atleast I tried) and part laziness but my chocoholic friends made me get up, melt chocolate and drizzle over it. I drizzled a few only and the rest of the scones were dunk in the melted chocolate and devoured. They even protested on the flat spatula I put in melted chocolate and wanted a laddle instead. Oh dear, talk about bad influence! But mental peace achieved! Total bliss! Somehow calories consumed with friends should not be counted. Sigh!
These scones are adapted from my virtual baking inspiration Sally's Baking Addiction website but with few changes like fruits and glaze. They are super easy but make sure you use cold butter, don't knead them much, work with light hand pressure and fingers only and chill well. A keeper recipe with lot of variation options.
Fresh Strawberry Buttermilk Scones
2017-04-26 14:03:03
Serves 6
If strawberries are in season, you should make this
Ingredients
2 cups all purpose flour plus a little more for work surface
2 and 1/2 teaspoon baking powder
1/2 teaspoon salt
1/2 cup cold butter
1/2 cup plus 2 tablespoon buttermilk*
1 egg
1/2 cup sugar
1/2 teaspoon almond essence**
1 teaspoon strawberry essence**
8-10 strawberries, washed, hulled and diced
sliced almonds to sprinkle
Instructions
Preheat oven to 400 F. Prepare a cookie sheet and line it with parchment paper.
Whisk dry ingredients in a large bowl.
Cut in the cold butter and rub gently with finger tips till the mixture resembles the breadcrumbs.
Whisk buttermilk (1/2 cup), egg, sugar and essences in a small bowl.
Pour it over the butter flour mixture and mix with the spatula just until combined.
Add in strawberries and just mix till combined.
With floured hands and work surface, gently form small disc of about 8 inches in diameter.
Cut into 12 wedges with a sharp knife.
Place them carefully on the baking sheet.
Brush with remaining buttermilk and sprinkle sliced almonds on top.
Refrigerate for 15 minutes if possible.
Bake for around 20 minutes until light golden at the bottom and sides.
Cool and drizzle with melted chocolate of any kind if desired.
Notes
*If you don't have buttermilk available then you can use milk and add 1 tablespoon of vinegar in 1/2 cup milk and let it stand for 5 minutes.
** use good old vanilla essence if you dont have strawberry and almond essence available
Adapted from Sally's Baking Addiction
Bake Fresh https://bakefresh.net/
Summary
Reviewer
Review Date
Reviewed Item
Fresh Strawberry Buttermilk Scones
Author Rating





Recipe Name
Fresh Strawberry Buttermilk Scones