This is a copycat recipe from Crepe Cafe. Their florentine crepes are always our family favorite and this is the closest copycat recipe. This is also a master recipe of crepes which can be served with sweet or savory filling.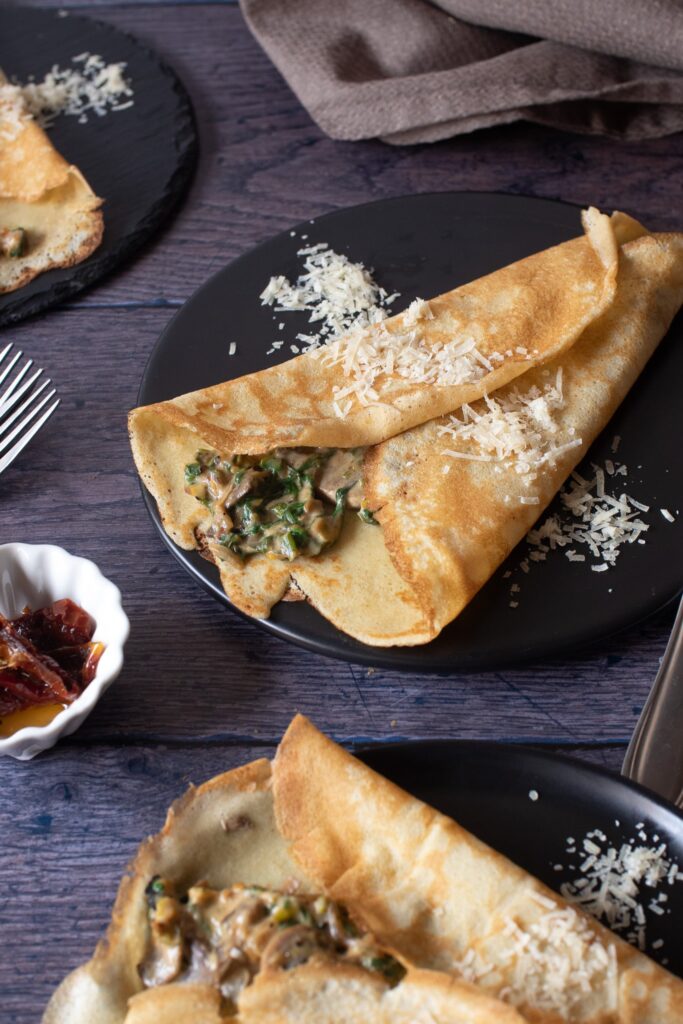 FAQs

What are the type of crepes?
There are two type of crepes, sweet and savory. The ingredients and ratio remains same, one uses salt, the other sugar.
What is the secret of a good crepe?
A good crepe has a uniform batter with no or minimum lumps, is cooked thinly even and is flexible to be rolled in any shape.
Is pancake and crepe mix same?
Although the ingredients are almost same, the ratio is different. One of the major difference is that pancake has leavening agent while crepes does not.
Recipe at a glance – Mushroom Crepes
Eggs – room temperature
Milk – use full fat
Flour – use either all purpose flour or wholewheat, I prefer whole wheat
Butter – 2 tablespoon melted
Salt – 1/2 teaspoon
Make Ahead Tips for Savory Crepes
Crepe can be made ahead and kept stacked covered. They tend to dry out in refrigerator so make sure you cover them properly not exposing any bit.
They also keep fine at room temperature for a day.
Variations
They are very versatile. You can serve them as sweet or savory for breakfast, brunch or even dessert.
For Savory variety – you can add cooked chicken cubes to the same filling, sauteed vegetables, cold meat
For Sweet variety – You can serve cream cheese with fresh berries and sprinkle of icing sugar
You might also enjoy this desi Pakistani style Lasagna.
Yield: 8 crepes
Mushroom Crepes with cream cheese filling
Savory Crepes Recipe with Mushrooms Spinach filling
Additional Time
10 minutes
Ingredients
For Savory Crepes
2 eggs
3/4 cup milk
1/2 cup flour*
2 tablespoons butter
1/2 teaspoon salt
For Mushroom Filling
1 cup Mushrooms
1 small onion chopped
3-4 garlic cloves minced
1 cup spinach chopped
2 tablespoon olive oil
4 tablespoons cream cheese
1/2 cup cheddar or feta cheese
salt as required
seasonings to taste e.g. oregano, black pepper, grated nutmeg, crushed red chilli
Parmesan Cheese for topping
Instructions
For Crepes
Blend all ingredients - eggs, milk, flour, salt, melted butter until smooth and uniform batter is obtained.
Heat a 10 inches non-stick frying pan on a medium heat.
Place 1/4 cup of batter on the pan and swirl quickly to spread the batter evenly.
Cook for one minute and flip carefully.
For Mushroom Filling
Heat oil in a pan. Add crushed garlic. Saute.
Add onions, saute for 1 minute.
Add sliced mushrooms, saute.
Add spinach, seasonings.
Add cream cheese, let it melt.
Add cheddar/feta.
Check for salt.
Remove, place on prepared crepes and fold.
Sprinkle with parmesan cheese.
Notes
* You can use all purpose flour, or whole wheat flour.
Summary
Recipe Name
Author Name
Published On