Pappa Roti (Mamma roti, roti boy) all names refer to the brands that sell incredibly melt in mouth butter buns topped with a crunch coffee topping. They are elevated version of "Maska Buns" popular in Pakistan (and India/Bangladesh – former sub continent).
Why I made this recipe?
The Coffee buns are really popular in Middle East and while passing through malls, the aroma of bread with coffee can be very tempting. However I gave it a twist by using chocolate ganache inside as filling rather than butter cubes. This add a surprise element and well who can argue about bread, chocolate and coffee combination.
Recipe at a glance
For the Dough
Flour – I have used all purpose flour
Sugar, butter, Egg, salt, yeast, milk, milk powder are all usual room temperature ingredients. For Yeast tips see this post of mine.
For the Ganache
I have made dark chocolate ganache using 62% dark chocolate – 4 ounces and heavy whipping cream – 2 ounces
For the Coffee topping
Coffee, cocoa, butter, sugar egg white, vanilla, baking soda and flour.
FAQs
Tips
How to store?
You can store these buns in an airtight box at room temperature for up to 3 days though I highly doubt if they will last that long.
Best pan to make it?
These buns are baked on a large baking sheet with enough room between each bun because they expand considerably. The baking sheet can be unlined or lined with parchment/baking paper or silicone sheet.
Can I make it ahead?
You can make ganache cube ahead several days.
Buns are best enjoyed the say they are baked but you can certainly make them couple of days ahead.
Before serving, bake them in a preheated oven at 350 F for around 8 minutes to make them fresh.
Substitutions and Variations?
Though I will not recommend any substitution in the dough itself, the filling can be changed. Use butter cubes instead of ganache for that traditional coffee buns.
What can go wrong?
The dough itself is a rich dough, with milk, milk powder, butter and egg. In order to rise the dough fully, make sure your yeast is not expired. You can dissolve the yeast (granulated, instant) in slightly warm milk for 5 minutes along with sugar to make sure it is working fine.
If you are kneading the dough by hand, it will take good 8-10 minutes of kneading for the dough to come together nicely in a soft, smooth, elastic form.
Best served with?
Tea or coffee or any hot beverage of your choice. They sure are a great weekend treat.
Related Recipes
You might want to check out this Cinnamon Star Bread or the savory Turkish Pide.
Yield: 8 large Buns
Pappa Roti Chocolate Buns or Mexican Coffee Buns with chocolate filling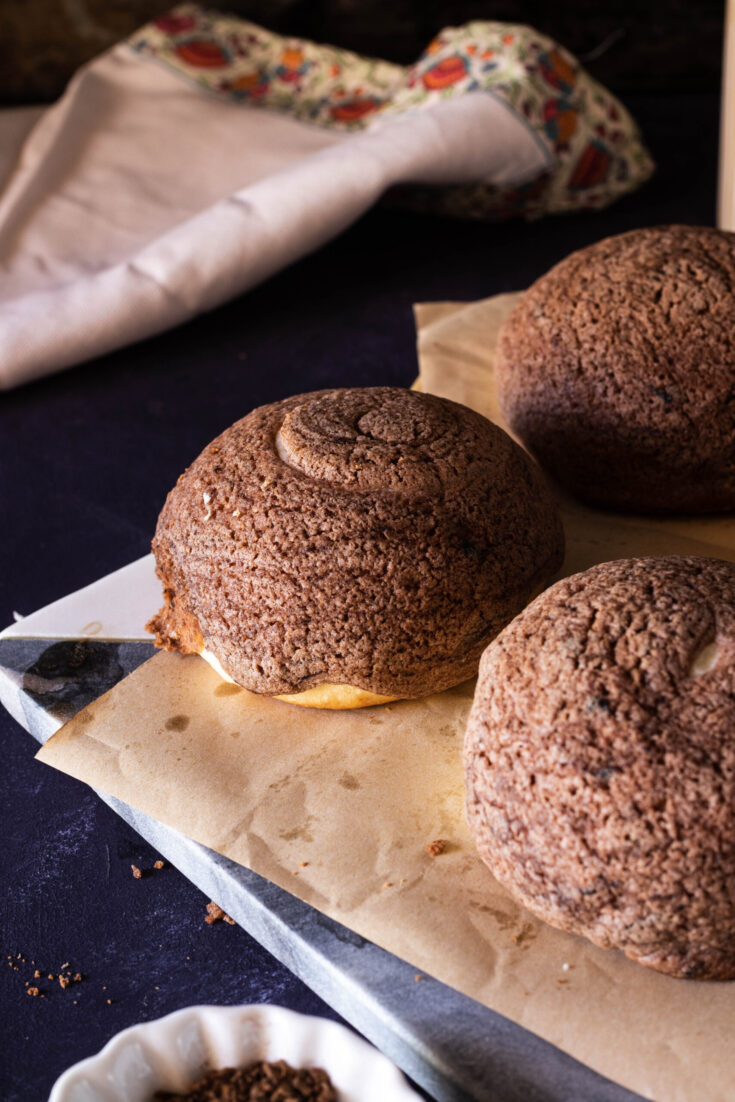 Pappa Roti (Mamma roti, roti boy) all names refer to the brands that sell incredibly melt in mouth butter buns topped with a crunch coffee topping. They are elevated version of "Maska Buns" popular in Pakistan (and India/Bangladesh - former sub continent).
Additional Time
1 hour
45 minutes
Total Time
4 hours
5 minutes
Ingredients
For the Buns
340 grams All purpose Flour (2 3/4 cups)
12 grams Milk Powder (1 1/2 tablespoons)
7 grams Instant Yeast (1 1/2teaspoons)
46 grams Sugar (1/2 cup)
2.5 grams Salt (1/2 teaspoon)
35 grams soft, room temperature unsalted Butter (2 1/2 tablespoons)
1 egg
165 grams/ml milk (a little less than 3/4 cups)
For the Chocolate Ganache
4 ounces/114 grams Dark Chocolate (58-62%)
2 ounces/57 grams Heavy Whipping Cream (32%fat)
Coffee Topping
75 grams soft room temperature butter (5 tablespoons)
56 grams All-purpose Flour (1/2 cup)
75 grams icing/confectioner's/powdered sugar (3/4 cup)
30 grams Egg white (almost from 1 small egg)
15 grams corn flour (1 1/2 tablespoons)
1 teaspoon instant coffee
10 grams rice flour (1 tablespoon)
1 teaspoon cocoa powder
1/4 teaspoon baking powder
2 teaspoons vanilla
Instructions
For the Buns
If using granulated yeast, dissolve granulated yeast in slightly warm milk (take 2 tablespoons from the recipe itself) along with pinch of sugar. Let it foam for 5 minutes before adding rest of the ingredients.
If using instant yeast, place all the ingredients in a mixing bowl and knead the dough using hook attachment for about 8 minutes.
If using hands, mix all the ingredients using a wooden spoon in a large bowl. Turn it out on a lightly floured surface and knead it really well for 10 minutes until smooth, soft, elastic dough is formed.
Grease a large bowl, tip your dough into it, lightly oil the top of the dough as well, cover the bowl and place in warm place for 45 minutes to 1 hour until doubled in size. If its cold then you can place it near a stove, if its warm then place it in a cooler place.
After the dough has doubled in size, check by pressing a finger in the dough, if it bounces back, leave it for another 15 minutes. If the indentation remains, the dough is ready for the next step.
Divide the dough roughly into 8 parts (approximately 80 grams each).
Make a tight ball by rounding it on your work surface until a smooth top balls forms.
Press it gently and place a piece of ganache inside, closing and pinching.
Roll again to form a nice smooth ball (as you make roti kay pairay)
Place them on silicon mat or parchment lined baking sheet with enough distance between them to let them rise.
Cover with a clean tea-towel and place for second proofing for about 30-45 minutes until almost double in size.
Pipe the coffee topping using a piping bag and a round tip, making sure to cover almost 3/4th of the bun. (Don't cover it all because it will melt anyway to the bottom when baking)
For the Ganache
Melt the Chocolate in a large heat proof bowl using a double boiler on a low simmering water without touching the actual bowl of chocolate. Or use microwave in 30 seconds interval, stirring frequently till all the chocolate has melted.
Heat the cream till bubbles start to appear.
Add the cream to the chocolate and mix well.
Chill until firm enough similar to peanut butter consistency
Take 1 tablespoon and form a rough ball, refrigerate again.
For the Coffee Topping
If your coffee granules are larger, dissolve them in 1 tablespoon of warm milk first. Cool.
Place all the ingredients in a large bowl and beat with a hand beater until creamy consistency is obtained.
Fill a piping bag with round tip. You can also use a ziplock bag with one corner snipped.
Summary
Recipe Name
Author Name
Published On