How to make bread with any filling taking example of this Cinnamon Star Bread! Today I am sharing with you a super impressive cinnamon star bread recipe with a video hyper lapse to get you through the easy but intimidating part of shaping this beautiful bread!
Mastering the technique of bread making and using yeast without fear can be a game changer. It opens a whole lot of opportunities to create something sweet or savory, for family or a crowd, for storing or consuming piping hot.
In my Breads round up post, I have included top 10 tips on how to deal with yeast so you can troubleshoot incase you face any issue. Plus I will be answering more questions below.
You can find it here.
How do I make my cinnamon star bread light and fluffy?
As opposed to contrary belief, bread is surprisingly easier genre of baking. Once you know how to handle the dough, you can pretty much make any kind of bread. Besides ingredients and recipe, which I am assuming, you are using from trusted source and best quality, kneading the dough correctly (usually long enough to develop gluten) and temperature are important considerations. Keep in mind the yeast is a living organism and it needs correct temperature to thrive or die.
The lighter, softer and smoother your dough is, the fluffier your bread will be.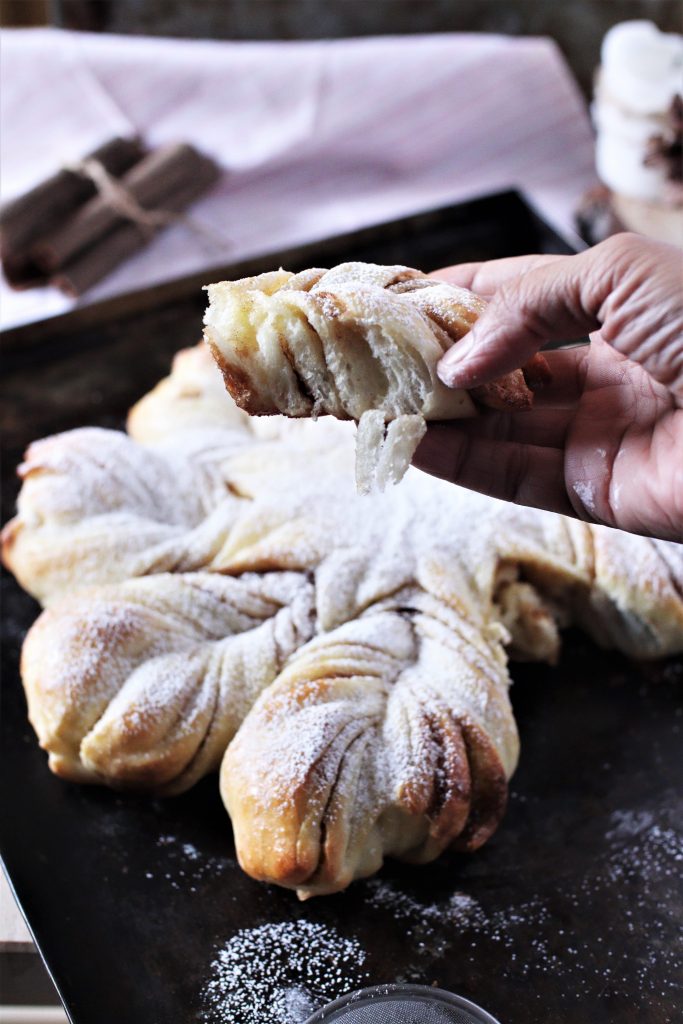 What is the secret to making good bread?
Often I find people making one crucial mistake. Baking bread for too long. Breads are usually baked in hot oven, with temperature ranging from 375 F to 400 F
Bread is golden brown color and puffs up in oven when it is fully baked. Do not over bake. It is always recommended to buy and monitor through external oven thermometer.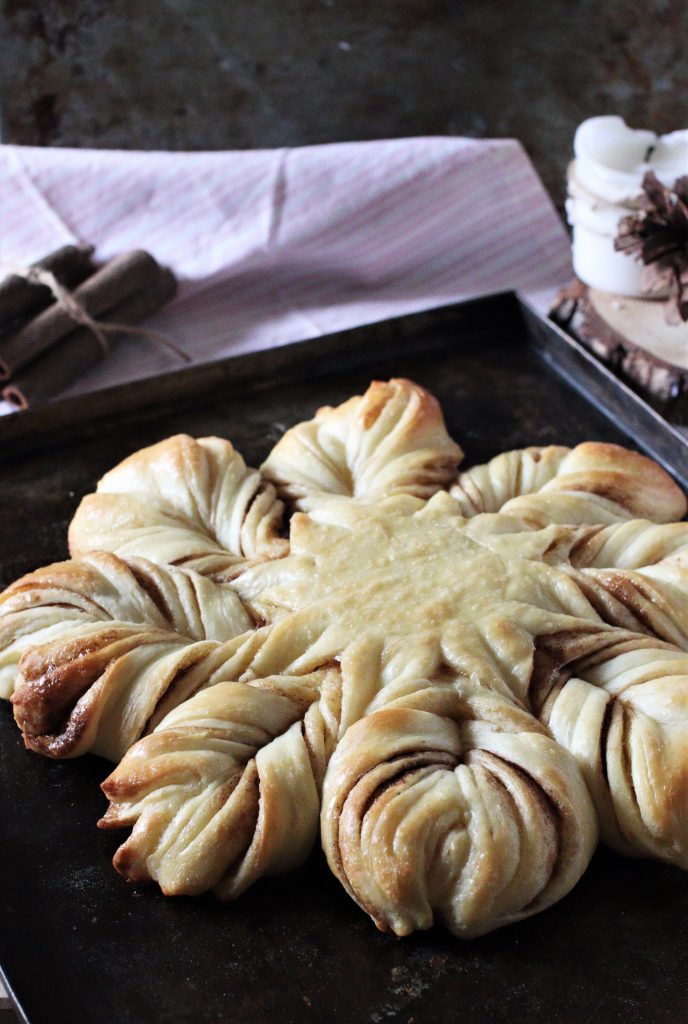 Is it better to make cinnamon star bread recipe with milk or water?
Basic bread is made of flour, water and salt. Sugar, milk, eggs and butter/fat makes it rich. Usually in breads like cinnamon rolls, dinner rolls, milk is required. If you don't have milk at hand, you can always use a couple of tablespoons of dry milk powder and knead with water.
How do you make really airy bread?
The three important steps in bread making are:
kneading
proofing
baking
Make sure you follow the directions in the recipe and pay attention to each of the above steps.
A few important things to consider are the environmental factors, humidity, high altitude and flour quality. High humidity and warmer temperatures may proof the dough quicker and vice versa. Sometimes flour has higher protein content hence more gluten.
After a few recipe trials, you will be able to adjust your bread baking and truly master this genre.
Star Bread Fillings
The best thing about this bread is versitality.
I am sticking to original cinnamon sugar filling which has said to be originated in Phillipines first.
I am going to try the following though:
Chocolate Spread
Peanut butter and jam
Garlic pesto
Chicken tikka or chicken bread filling
Zaatar and olives
Cheese of different kinds with herbs
Whatever you choose, keep in mind two things:
If you are going for savory option, cut the sugar by half
The bread will be difficult to shape if there are big chunks of olives or even peanuts or garlic in the filling.
Now let's get to the recipe and get started on making Cinnamon Star bread:
Cinnamon Star Bread Recipe
A beautiful star shaped bread that is easier to make than it looks
Total Time
2 hours
30 minutes
Ingredients
2 and 1/3 cup flour
2 tablespoon soft butter
2 tablespoon milk powder*
1 beaten egg**
1 tablespoon instant yeast***
3 tablespoon granulated sugar
3/4 cup luke warm water
1 teaspoon salt
Extra flour for dusting surface
Icing sugar/confectioner's sugar/powdered sugar to dust
Filling
Cinnamon 1 teaspoon
3 tablespoon Brown Sugar
3 tablespoon soft butter
Instructions
For the dough:
Place all the ingredients in a bowl of mixer and knead for 5 minutes using dough hook. Alternately if you are using hands, knead for good 8 minutes until soft, smooth and elastic dough is formed. If the dough is getting sticky, you can add 1-2 tablespoons of flour.
Place in a greased bowl, covered for about 1 hour or 1 hour 30 minutes until double in size. If its summers then a cooler place away from stove is fine, if its winters, keep it near stove for a warmer spot.
Take out the dough, divide into four pieces, roll out each piece approximately 10 inches. Brush the butter, spread the filling, place another circular piece and repeat until all four pieces are used. I like to do this step on silicon baking mat or parchment paper for easier handling, you could do it on a lightly greased baking tray.
Mark a 3 inches circle in the center, trim out uneven edges using pizza cutter, and mark 16 cuts. Lift two together, twist on opposite sides and pinch.
Leave to rest for approximately 25 minutes, brush lightly with egg wash.
Bake in a pre heated oven at 350 F for 30 minutes approximately.
Dust with icing sugar and Enjoy!
This can be kept in an air tight box up to 3 days.
Notes
* If you don't have milk powder, use milk to knead the dough instead of water
** I usually reserve a little egg about 2 tablespoon mixed with 1 teaspoon water for egg wash
*** Even if you use instant yeast, you can always test it first, by placing sugar, yeast and warm water/milk in a bowl and let it sit for 5 minutes until it froths
You might be interested in checking out a very popular video of mine, shaping eight type of dinner rolls here.
Summary
Recipe Name
Author Name
Published On
Preparation Time
Cook Time
Total Time