One of the most popular Pakistani breakfast that is easier than Parathas and less messy than chapati is Halwa Poori Aloo – Best part? It can be served in a variety of ways and any time of the day!
Poori or Puri is a popular Pakistani bread that is made by deep-frying dough balls made with wheat flour and a few other pantry ingredients. It is often served with a spicy potato curry, known as aloo bhaji or aloo ki tarkari (potato gravy). It makes a delicious and satisfying meal when Sweet Semolina Fudge aka Sooji ka halwa is served with it.
Here is the step by step recipe of all three, crispy puffed poori, spicy aloo ki tarkari and quickest sooji halwa.
Ingredients at a glance
Puri/Poori
Flour – a mix of whole what flour (chakki ka atta) and all purpose flour (maida)
Ghee – clarified butter, you could use oil instead
Salt and Water
Aaloo ki Tarkari/Bhujia/Potato Gravy
Potatoes – 1 large or 2 small/medium potatoes, peeled, washed and squared
Spices – Red chilli, chilli flakes, tumeric (haldi) cumin (zeera) , nigella (kalongi), Mustard (methi) Seeds
Salt and water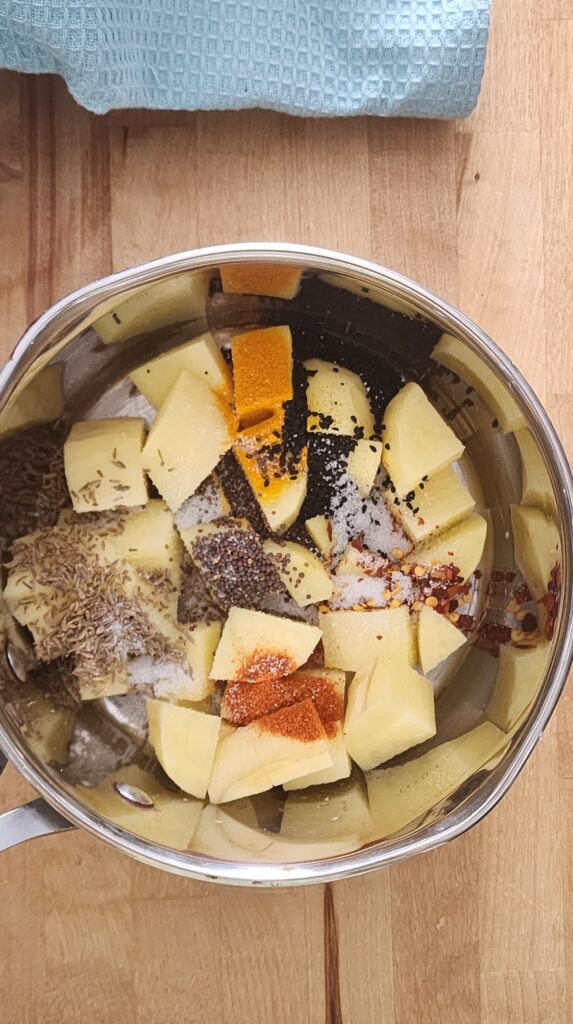 Sooji/Suji ka Halwa/Semolina Fudge
Fine Semolina
Sugar – regular granulated white sugar
Flavoring – Saffron strands (zaafran), green cardamom (choti ilaichi)
Water
Ghee – for best authentic taste use pure ghee although butter or oil could be substituted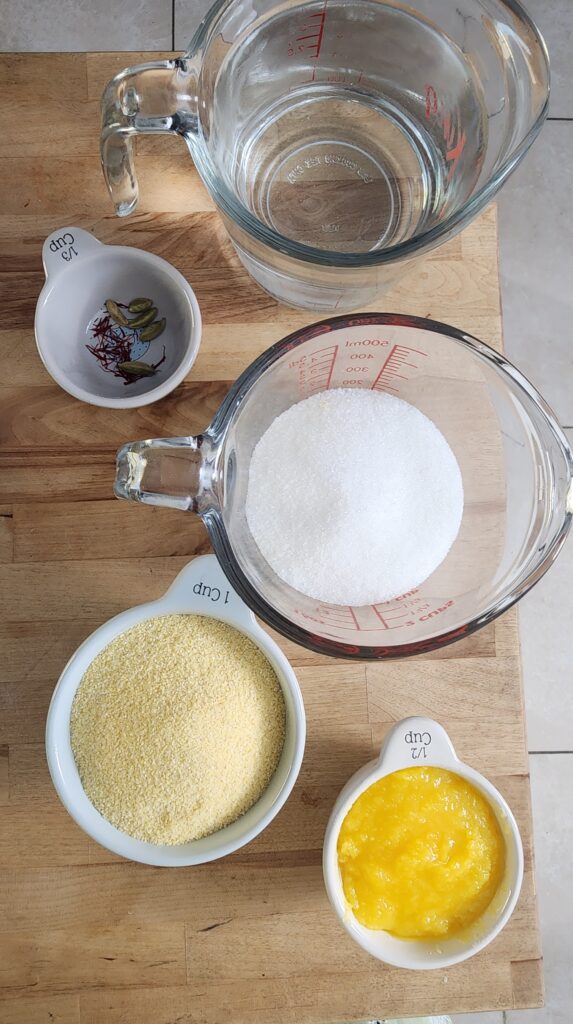 Halwa Puri and Tarkari is not only a traditional Pakistani specially Karachi's breakfast but this is something which I grew with. You can find amazing Halwa Pooris in every corner of Karachi and it is hard to rate them because they all are amazing. However, in the commercial setup, they make it with white flour/all purpose flour and roll out a little but mainly stretch with their hands before flipping in the hot oil in a huge wok.
Why you should make this recipe?
My mom used to make Halwa Poori very often. Usually our home which was a joint family system had lot of guests. And I remember that as soon as they arrived downstairs (we used to live on first floor), my mom's wok would be on stove and dough knead in literally 10 minutes along with potato tarkari(gravy). I used to feel perplexed because I didn't quite like the idea of her working in the kitchen while guests are sitting but she managed everything so beautifully with little help from me and my sister that the guests used to enjoy the hot pooris with condiments like tarkari, halwa and mince/qeema, kebabs or even kheer immensely.
So next time you have some last minute hosting to do and you want to make them feel special, try this elaborate but quick meal.
How to make Poori Halwa Aaloo quickly?
The great thing about homemade pooris are that they can be made from wholewheat flour aka atta. The trick is to knead the dough medium soft and fry in very hot oil. I have not measured what temperature but when you place your palms above the wok, you can feel the heat and smoke. It is 400 degrees Faranhiet. That is the key to have blown/phooli pooris.
Suji ka Halwa
So lets talk about Halwa next. I like halwas/roughly fudge in English but since most of them take a lot of time bhoono/stirring, I always chicken out. But this one is exceptional. It is prepared in a jiffy and is match made in heaven for pooris. I am adding lot of tips in the recipe card so you can achieve traditional look and taste.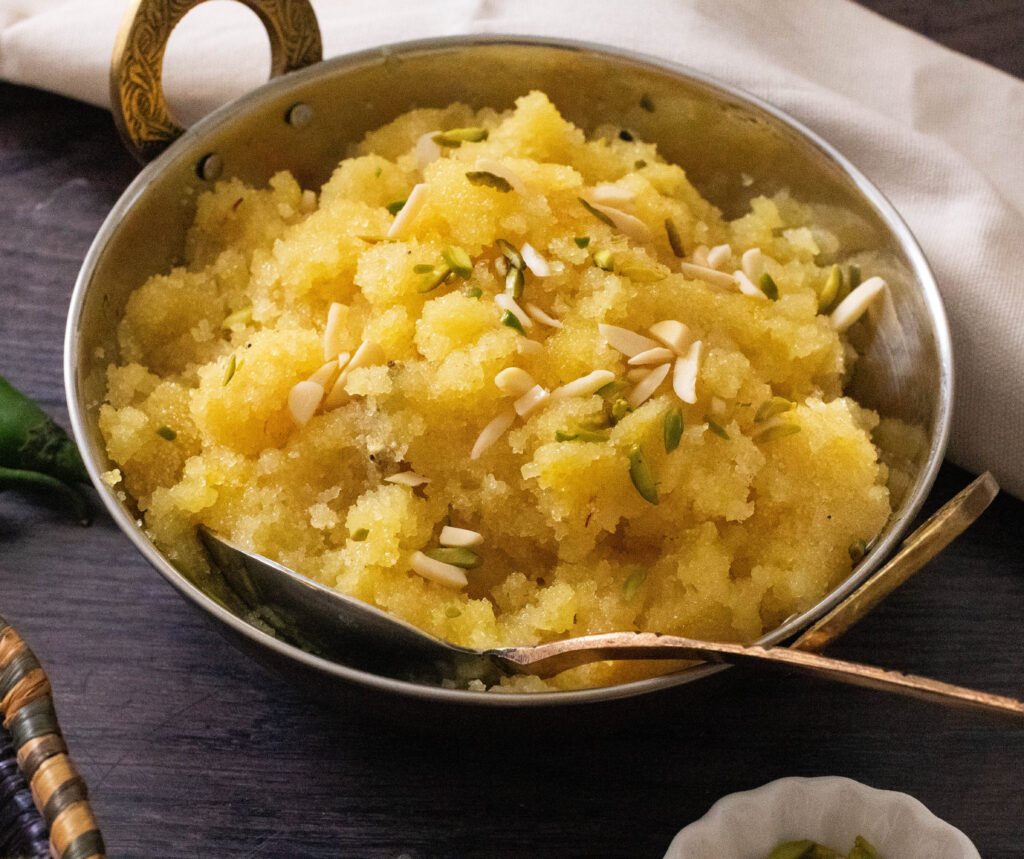 Aaloo Ki Tarkari/Bhaaji
This is the easiest recipe I always make. It has no oil hence goes really well with deep fried Pooris.
For additional punch and serving, you can add a tablespoon of mixed Pickle/Achaar just before serving.
What can you serve with Pooris?
Puris are such a versatile type of bread. Traditionally it is served with chana ka salan, aaloo ki tarkari or bhaaji and suji ka halwa.
But it will go with any kind of halwa. It pairs really well with kheer.
If you have frozen kebabs or leftover Qeema, its a great combination too.
Make ahead tips for Halwa Poori Recipe
I recommend making poori dough/aata at least an hour ahead, covered with a damp cloth in a box so it does not become dry. You can even do it a night before you want to serve.
When your guests are due to arrive, you can make small balls/pairay and keep them covered again with damp cloth and in a box.
Your wok should be ready with oil filled to quarter at least.
Heavy base Iron Pot or wok that is deep works well for deep frying.
Tarkari is easy as is but if you are serving in the morning or next day, you can place all ingredients in a sauce pan/pot and refrigerate till required. It just takes 20 mins for the potatoes to get tender so plan accordingly.
Halwa can be made ahead as well and just needs to be microwaved/warmed prior to serving.
Yield: 16 Pooris
Halwa Poori Aaloo
e of the most popular Pakistani breakfast that is easier than Parathas and less messy than chapati is Halwa Poori Aloo – Best part? It can be served in a variety of ways and any time of the day!
Additional Time
10 minutes
Ingredients
Poori
1 cup Wholewheat Flour/Aata
1 cup All purpose flour/Maida
2 tablespoons Ghee/Oil
1 teaspoon salt
1/2 cup water
Suji/Sooji Halwa
1 cup suji/semolina*
1/2 cup oil/ghee
1 1/2 cup sugar
3 cups water
few saffron strands
2-3 green cardamom
orange/yellow color (optional)
Aaloo ki Tarkari
1 large or 2 medium potatoes, washed, peeled and cut in big squares
1 teaspoon cumin (zeera)
1 teaspoon nigella seeds (kalongi)
1 teaspoon mustard seeds (rai)
1/2 teaspoon red chilli powder
1 1/2 cups water
1 teaspoon salt
1/2 teaspoon red chili flakes
Instructions
For the Poori
In a large bowl put flour and salt. Add Ghee/oil and mix with your hands until combined.
Start adding water slowly till it all comes together and forms a medium soft dough. The dough is the key which will allow you to make tge pooris without any additional flour or oil.
Place it covered with a damp towel in an air tight container for about 1 hour. You can skip the damp towel if you are in a humid environment.
Place a large wok filled with vegetable oil almost half full and heat.
Make small balls from the dough about half the size of roti/chapati.
Roll out with a rolling pin. We are aiming for 4 inches in diameter pooris.
Deep fry and with a slotted spoon slightly press the pooris so they are completely immersed in the oil and starts to puff up. Immediately turn and fry for another 10 seconds. The pooris should not take more than 20 seconds in total to get color and puff up.
Drain.
For the Halwa
Place sugar and water in a pan and heat till sugar dissolves.
Heat ghee/oil with cardamom till it starts to splutter.
Add suji/semolina in a pan on low heat and keep stirring until semolina is fragrant. It should not change its color.
Then add the sugar syrup, all at once. Cook for 3-5 minutes*
Remove from stove and place in a serving dish.
Garnish with almonds pistachios if required.
For Aaloo ki Tarkari
Place all the ingredients in a pot.
Give it a boil and simmer on low heat for 15-20 minutes till potatoes are tender.
Mash a little before serving.
Notes
If the smolina is coarse, it will take more time, if it is fine, it will take less time.
The above pictures are from the brunches I hosted in which I made Halwa Poori. I did a detailed post on how to host one efficiently step by step with sample menus and ideas. Part 1 here and Part 2 here.
Summary
Reviewer
Review Date
Reviewed Item
Author Rating





Recipe Name