Everyone is in a fix for healthier recipes, easy to make quick snacks and make ahead treats. This healthy strawberry recipe which is basically strawberry muffins made with whole wheat flour and oats are excellent nutrients packed and can be easily categorized as healthiest muffin. No sugar, no refined flour, no butter ticking all the boxes of a healthy treat.
I am a big fan of muffins owing to its simple process and possible variations. I have posted my go to muffins recipes on the blog and you can find them here.
Lets get straight to the recipe.
You can use any type of oats but I prefer whole/old fashioned type.
You can use regular yogurt instead of Greek, just drain the excess water.
A sprinkle of sliced almonds not only adds the crunch but a visual appeal as well.
As like other muffins, you can store them in airtight container for a couple of days and in freezer for a couple of weeks,wrapped and boxed.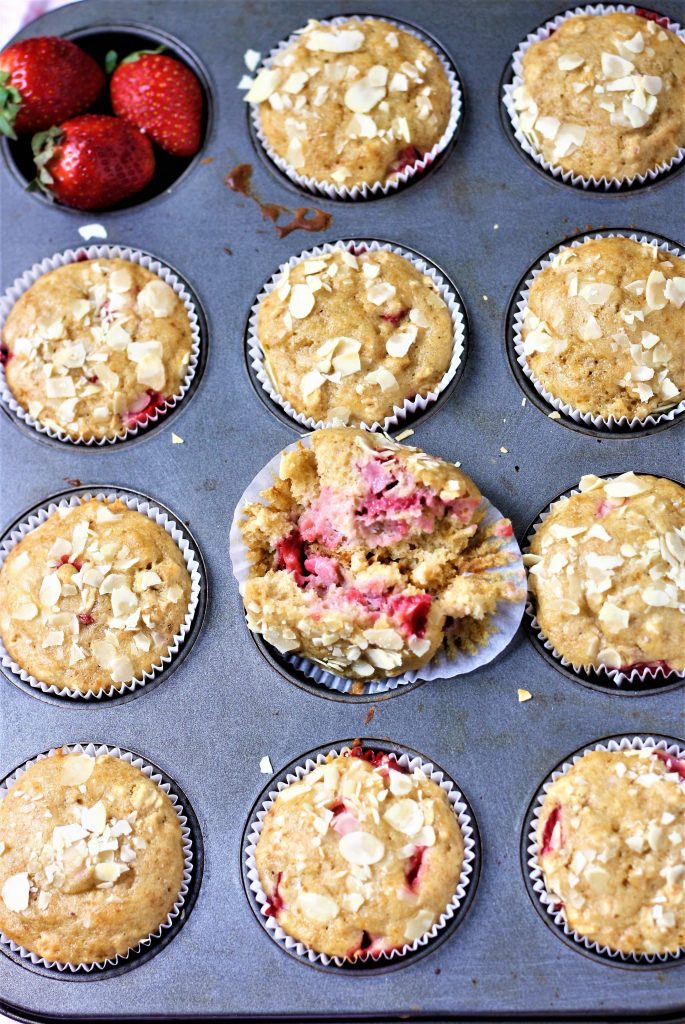 Healthy whole wheat Oats Strawberry Muffins
Adapted from Cookie and Kate
Makes 12 standard size muffins
Ingredients
1 3/4 cup whole wheat flour (aata)
1/3 cup whole/old fashioned oats
1 teaspoon baking powder
1/2 teaspoon baking soda
1/2 teaspoon salt
1/3 cup olive oil/vegetable oil
1/3 cup honey
2 eggs
1 cup greek yogurt/regular yogurt
2 teaspoons vanilla essence
1 cup strawberries (leaf removed,washed and diced)
silvered almond slices to sprinkle
Directions
Line the muffin tray with 12 cupcake liners and preheat the oven at 350 F.
Whisk all the dry ingredients together in a large bowl except strawberries and almonds.
Whisk all the wet ingredients, eggs, yogurt, oil,honey and vanilla.
Mix the dry ingredients with wet until just combined. Do not beat. Few lumps are ok.
Fold in strawberries.
Place 1/3 cup of batter with the help of a scoop in the muffin tray.
Sprinkle almonds on top.
Bake for 20 minutes until light brown on top.