In continuation to my last post "How to host a stress-free brunch", this is part 2 "Brunch Menu Ideas" as promised, in which I am giving you some tried, tested, workable and appreciated menu combinations which are winner for sure. Links to recipes can be found in the end.
Also make sure, you scroll till the end to find a downloadable chalkboard image and how to make a quick menu online.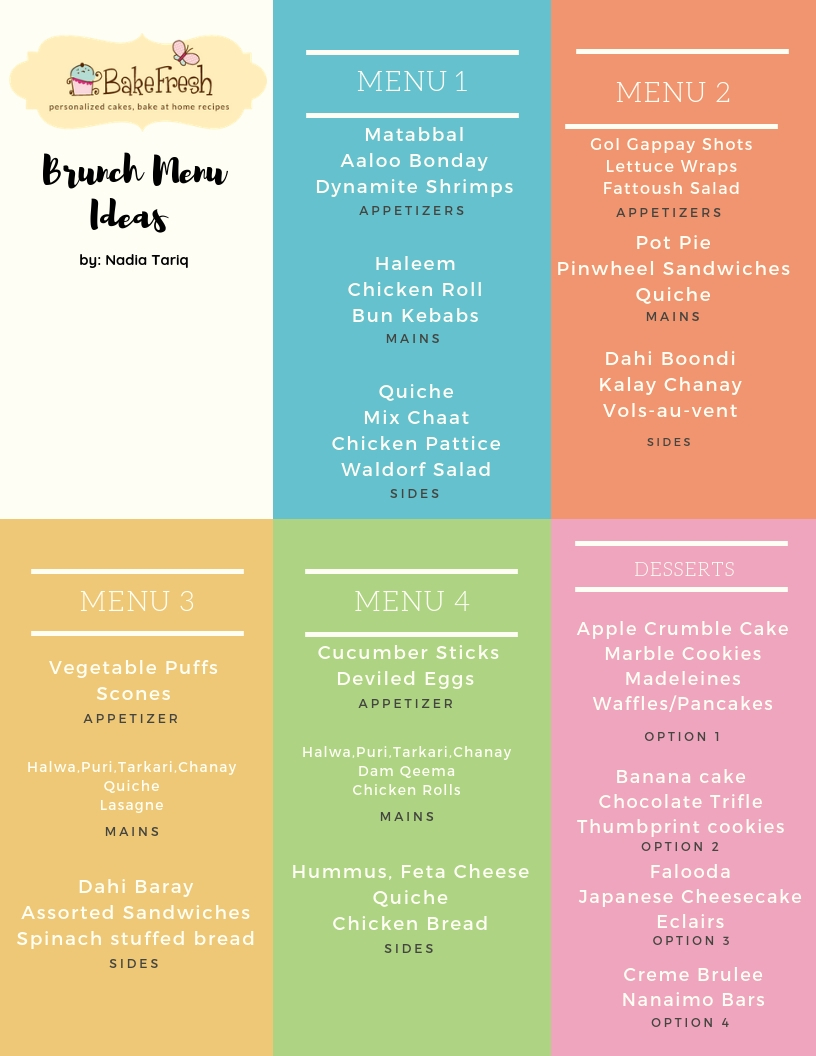 While designing the menu, keep in mind the following things. So, let us get started.
Menu Selection
Ideally there should be couple of meat dishes (mince meat and boneless chicken is better) and few vegetarian dishes.
Menu should be combination of hot and cold items. I avoid fry items but if at all I keep one maximum for manageability.
Couple of baked items makes life easier as mostly they can be baked ahead and can be served warm.
A salad, some finger food and a couple of heavy/filling items makes the menu complete.
Presentation
It is advisable to label each item, even if its a folded craft paper. This not only adds aesthetics but also keeps people from guessing specially if they have special dietary needs. Once I just place quarter doilies on a card holder.
Always, set table in groups, like mains together, and in order, appetizer, mains and sides.
Make sure whatever you serve is easily eaten. If there are wooden picks on aaloo bonday, small individual bowls under deviled eggs, chicken rolls are served wrapped and in a warmer, bun kebabs are cut in half etc. people are more likely to eat it. Like this gol gappay shots, were a huge hit and vanished in a matter of minutes.
You can also draw some fun graphics, like chillies for spicy, capsicum for vegetarian dishes etc.
You can even put up a menu on a white/black board.
Desserts and Drinks
Desserts should be a combination of a cold dessert, some kind of cake and cookies to go with tea/coffee.
For drinks, you can choose from infused water, to lemonade, cocktails, mocktails. My standard go-to drink is any fruit juice mixed with white fizzy drink. There is no right or wrong, you can add mint leaves, citrus fruits slices, chopped up apples etc. Last time I served Mint Yogurt Lassi which was very refreshing for a hot day. Do not keep drinks like smoothies and pina coladas which are heavy and can be quite filling before even food is served.
Mouth fresheners take hardly 5 minutes to put together and they add such a nice touch in the end. Store-bought options are great but you can dry roast equal quantity of fennel (saunf), desiccated coconut, and add either sugar crystals (misri) or granulated sugar.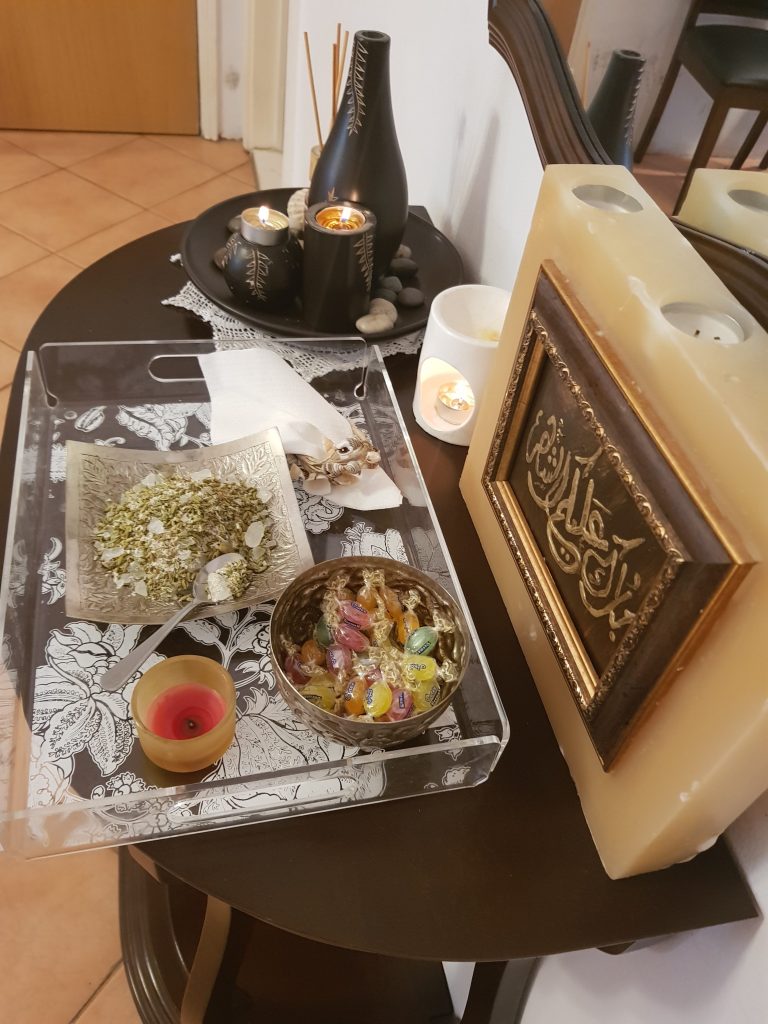 Recipe Links
Alternately, you can go to the category "Brunch" on www.bakefresh.net and you will find all related possible options and recipes. Quick Link here.
Menu Design
This is one time exercise and next time, you just go to Canva and make edits in your design according to the menu. For designing menu to be placed as a decoration, you can download the jpg file here and then follow the following steps.
Go to Canva.
Register or Login (Basic version is free)
Go to 'Find Templates' on left side menu.
Search "Food and Drink Menu"
Either choose any of over 800+ templates and customize or remove all the design and add the jpg file you downloaded and then add the menu. Different fonts in Text menu on left are available and you can plan around with them.
Alternately, you can go to this google doc, download and edit as per your requirement.
Labels
There are so many free lables templates according to your theme and party. Just do a quick Google search and hit images. Write "Free labels template download" and you would get many options.
I have also compiled a simple labels file which can be found here. You can edit them and add menu items in Google Docs.