A good party or a brunch has lot of efforts behind it. If you attend any such party, in which you enjoyed a certain dish, decor, hostess hosting, let her know. She surely made efforts to make it worthwhile.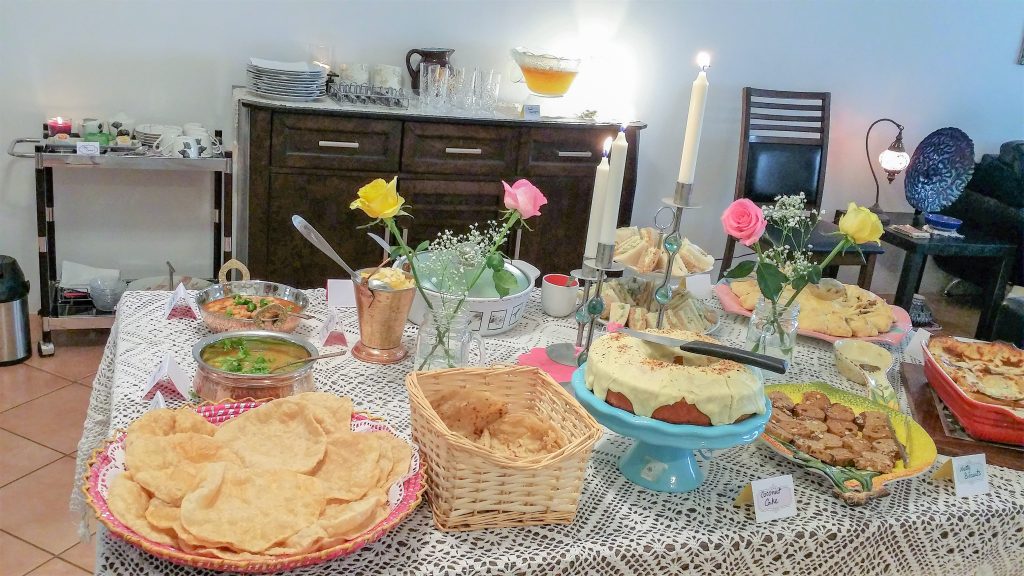 I love to host brunches, also known as coffee mornings here in middle east specifically KSA. Yet I like to keep it realistic, manageable and entertaining. I find them less daunting than dinners where desi cuisine takes the lead except for a few sides. If you are someone who gets intimidated by preparation, variety, timings and execution, read on as I share and breakdown how I process it. My coffee mornings have always received lot of appreciations (specially compared to my dinners lol ) if I may say so (MashAllah, Alhamdulillah).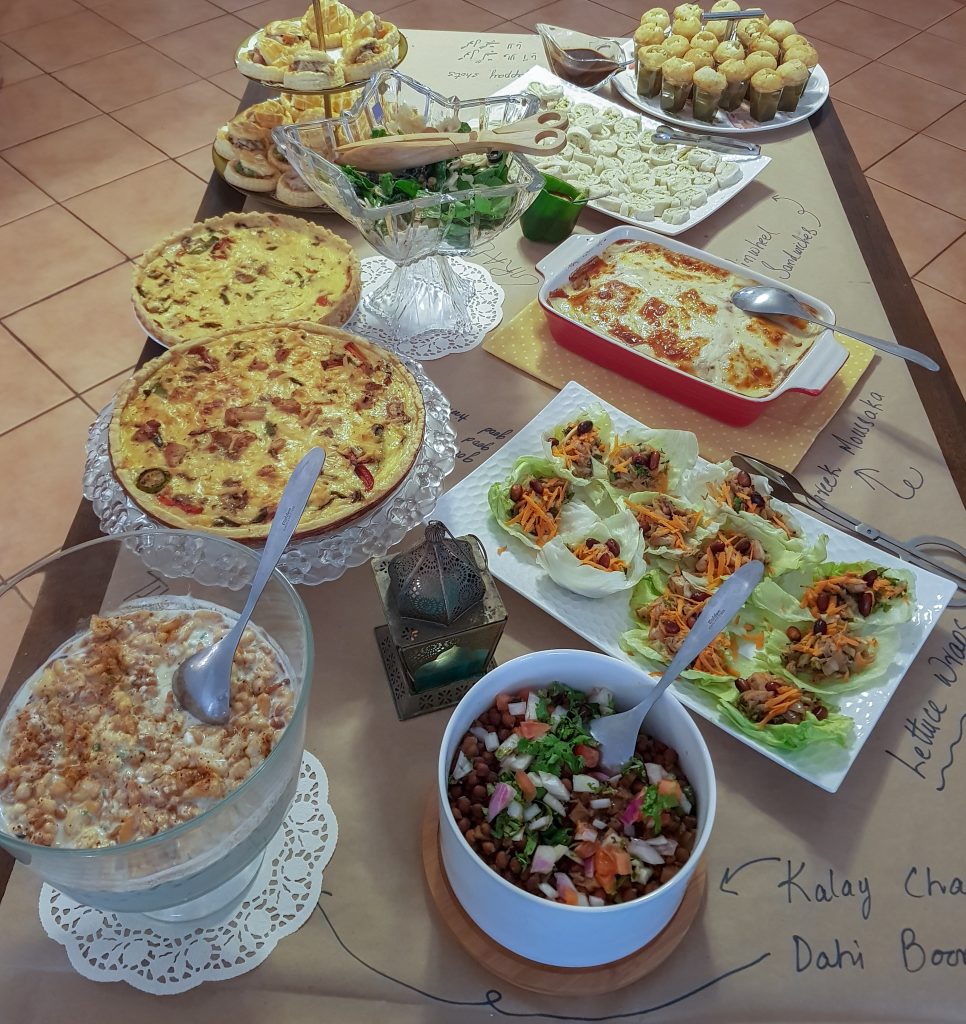 Disclaimer: I am a certified pastry chef but not a professional event planner. What I am sharing is based on my experience and what works for me and I get positive overwhelming feedback.
I also understand that most of the points below will be very intuitive for many experienced hosts but lot of people do look for more elaborate steps on what actually needs to be done and the process involved. So grab a coffee or tea and read on to host your next brunch like a star without getting overworked!
Here are my top twelve commandments on how to host a stress-free brunch by preparing maximum items at home. I mean we are not talking about catering though some items can be picked up or ordered in.
You can also print the infographic at the end, which you can either, save, share, print or pin it for later!
2 weeks prior
1. Plan, plan and plan some more
I like to do the following almost one to two weeks in advance depending upon the size of the crowd. Decide on following in chronological order:
a. Date, time and venue – keep in mind your and your dependents availability, weather any events happening near by, house help you might require, seating arrangements etc. Make sure there is adequate space for everyone to have a seat.
b. Theme and Decor – this is optional but if you do, it makes your party so memorable, it can be anything, from colors to seasons to more elaborate. You should select a theme before deciding the menu so you can plan accordingly. Also choose something which does not conflict with your guests beliefs, interests and ease. Some examples:
Spring theme – adorn with some fresh flowers, colorful fun finger food type of menu, dress code and/or accessories of anything with flowers
My friends once kept Hawaian theme, English tea party, South Indian party, Arabian nights, back to school etc.
Centerpieces add a very nice accent. It can be as reasonable as colorful citrus fruits in transparent jars and bowls or inverted stand glasses with tea lights.
c. Guest list – keeping in view their priority (whom you have to invite in any case), availability (let them know probable dates), company they will enjoy (please don't ignore this, I can bear with everything except this, don't make your guests feel misfit, pleasssee,make sure they all get along well or atleast every one of them knows one or two other guests)
Send an informal invite, confirming the date, time and venue
You can make a digital invitation card, or even a social media group for sending location, reminders and other details.
Keep in mind if there are kids, make some space, put some toys and couple of kids friendly food items to occupy them.
d. Menu – keeping in view the guests and their dietary restrictions, some items should definitely be prepared ahead, some should be able to serve cold, sample menus coming later. More on menu planning in part 2.
e. Giveaways – again optional but leaves a lasting impression, some budget friendly options are:
Once I found some really cute bird cages, I made some chocolate truffles,wrapped them in parchment paper and placed them inside with a thank you note. The theme was spring so everything tied together perfectly.
Another time, I ordered fridge magnets with some little duas from a local crafter. People loved it and I think I will get brownie points whenever they recite it. Make sure in giveaways like these, non-Muslim friends get something similar but something else written.
You can do home-made chutney jars, cookie mix in mason jars, hand-made soaps, a little accessory etc.
f. Entertainment – whether it is games, music, dance, conversations, plan ahead, prepare for it. Again this is very subjective to your guests. Group a crowd that gets along well and participate in it.
A favorite playlist – personally I sometimes play Coke Studio Pakistan.
Games – some simple fun games. Like handout a piece of equal length ribbons to everyone and ask them to tie knots, whoever ties most in a minute gets the prize. Personally I like to play games which involves some basic skills rather that win by luck type of games or way too complicated or brainy or physical games.
Conversations – Have you ever experienced an awkward silence, where a big crowd is looking for words, chewing their lips and wanting to break the ice. Don't let this happen, have in mind some open-ended questions.
Photography – Have your camera or cell phone ready, also designate a close friend to do this job. Later when you realize, you don't have enough pictures, its a bummer.
g. Serveware, Crockery, Cutlery – you can do what you have. I personally don't like to borrow but yes this is an option too. Many a things basic are available in the market easily.
Make sure you have suitable dishes available for every menu item, think out of the box, use wooden boards for breads, traditional wok and handis for desi items, stand /cake plates for appetizers, baskets for dry items
Think varying heights if you are constrained with space, a simple wrapped box , round fish bowls, sturdy glasses can add elevations
If you don't have cutlery caddy or plates holder, keep them neatly with napkins in between, you can arrange the cutlery in nice palm tree pattern.
If some items require bowls, place them also near the plates.
You can also create cutlery sets and wrap a napkin around them.
h. Tableware, napkins, labels – Again, no need for anything lavish, you can keep it as simple as you want and with what you have.
A simple white sheet does the job, once I used my white crochet bed cover with some flamingo table cover weights hanging
A plain silk solid color – use printed serveware with these
Printed table covers – use solid color complimentary serveware with these
Table mats placed strategically under dishes
Runners – placed in different settings like horizontally, vertically, diagonally
Labels – can be simple folded craft paper, so many templates are available online these days and ofcourse some proper label sets are available too
Brown paper roll – If you have nothing, get brown copy cover rolls from stationary and a marker. Lay it out and do the following.
1 week prior
2. Send Formal Invites
Send formal invites, confirm guest list. Keep in account guests with accompanying children. Prepare a toy box, some items for your little guests.
3. Schedule
How will you go about it, the cool thing about schedule is you know if you follow it, you will reach your target. My usual schedule is spread over 4 days, in which I list down what I do when. Stick it up on fridge or prominent place so you can easily access and not forget anything.
4. Do your groceries
Jot down each and every item you need, a little extra just in case, alternatives again just in case by dry running the menu and its recipes. Note different places from where you need to source them.
Send your husband, order online, drive to wherever needed. Get everything accumulated. Nothing should be left and when you start preparing, you should have everything at home. Keep some extra of absolutely necessary items.
5. What you will wear
This is very important. Your dress should not only reflect your personality, your taste but also your comfort, mobility respecting the overall theme of the party. You SHOULD/HAVE TO look good and fresh. Get a blow-dry or manicure done or whatever it takes. Wear comfortable shoes in which you can even run when necessary. Get a good night's sleep. Ice your under eyes and face, if its still puffy. Get in your best form. People love to look at hostess in high spirits. The entire look with accessories and makeup should be in your mind.
As I read somewhere so appropriate
"Don't make your efforts so stagey that your guests' reactions will be 'she went through a lot of trouble' Make them rather say ' She had a lot of fun doing it."
3-5 days prior
6. Start preparing
You can make the dishes which can be done in advance. Or which can be frozen. Ice-creams, chicken bread, pizza, kebabs, fillings,breads, dinner rolls,sauces, chutneys, sweets,granola,fried onions, boiled chickpeas or other legumes all can be done in advance.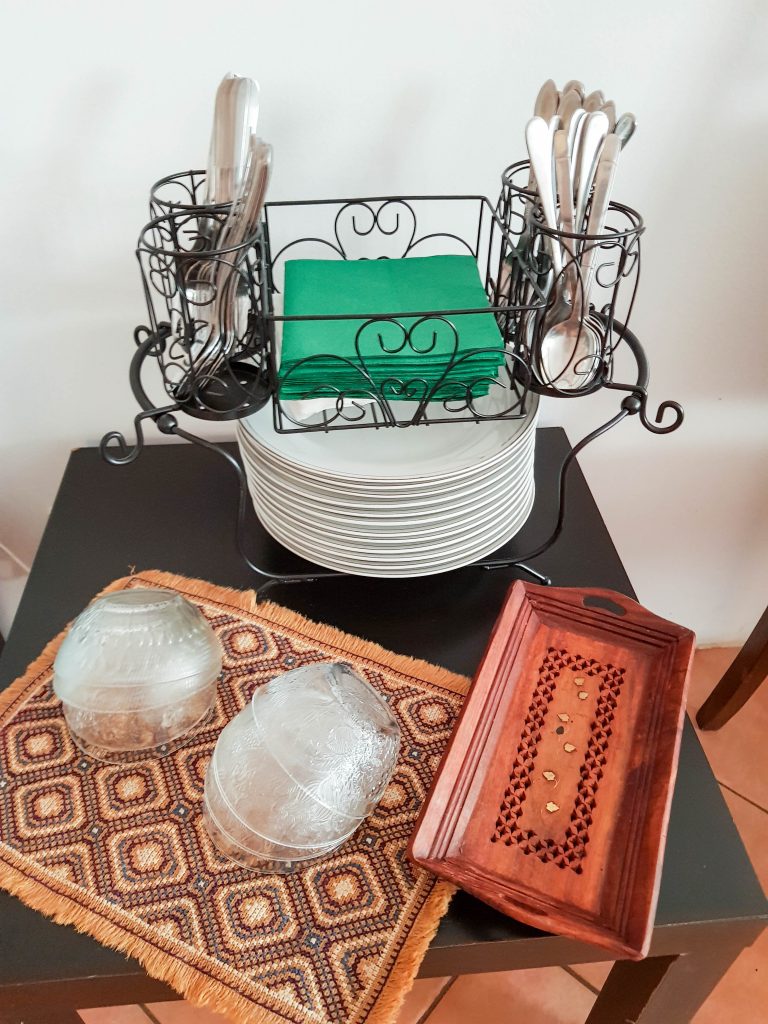 2 days prior
7. Half-done what you can
How do you think hotel and restaurants and catering companies manage. You can make ahead almost every dish and stop just in time to be ready at the last minute. Marination can e done at this time, vegetables can be prepared like chopped tomatoes, chopped potatoes (soaked in water), lettuce in water refrigerated etc.
8. Get the deep cleaning done
Everything should be cleaned thoroughly like venue, dishes, plates etc. Only touch ups should be left for the last moment. No scrubbing last moment or changing your favorite cushion covers.
1 day prior
9. Prepare
Pastas, casseroles, pies all can be done,set, covered and refrigerated just to be popped in the oven next morning. Get your clothes ready. (This is crucial deciding factor for me as you might have guessed 😉
10. Set up your table, buffet table, serveware
Place it now, yes a day before. After your family dinner, you can setup each and everything, only thing should be left is to fill the dishes. Give a good thinking to group the relevant items, crockery, cutlery, napkins, drinks table, tea/coffee station. Place a big tent of your clean scarf or dupatta to protect your dishes.
On THE day
11. Get everything ready
Get everything ready, ideally you should spend 2 -2.5 hours in the morning prior to the given time and then 30 minutes to get yourself ready. Light up the candles, put on the music, diffuser, lamps and air conditioning. Your guests first and last impressions are important so make them feel welcome and loved!
12. Enjoy and have fun!
Recently I have learnt to laugh on blunders. On one of the last dinners, the pot pie filling got watery. I shrugged it off, it happens, no issues. If something has burnt, no worries, you are not in any competition. If something finishes, its ok, remove the dish and smile. No need to fret and kill the enjoyment and hard work you have put in.
This might seem a lot to you but in reality, it makes life so much easier. It becomes a habit, second nature if you practice these things. Thank you for reading upto this point and I hope you benefit from it. The menu plan, combinations, and some sample menus, recipe ideas in part 2, coming soon!