The aroma of bread makes a house a home – they say and I agree.
Yes, whatever the type it may, baking breads can be the most rewarding. Does homemade bread tastes better – definitely, there is no comparison of freshly baked bread!
Baking With Yeast
Here are my top 10 tips to bake with yeast successfully. If you keep the following points in mind, the chances of failure are none.
Yeast is a living organism (yikes) and gets activated with warm water and feeds on sugar.
Where should I keep my yeast? Since its living, its sensitive so always check for expiry and storage method. I keep mine in freezer.
Yeast comes in many forms, granules, instant and fresh. Differences are minor, usage is a little different but the results are same. I use instant that can added directly to the dough!
Yeast dough need warm place to rise so in winters you might want to place your dough near a stove or in an oven which has been warmed up and closed (VERY IMP). If its hot in your kitchen then you don't need to keep it near stove and make sure you don't over proof because it will rise very quickly!
Use room temperature ingredients in yeast dough as with all other baking but specially this as cold ingredients can hinder in yeast activation. Liquid is however luke warm in almost all recipes.
Remember, the consistency and quality of dough is directly proportional to the final product. Hence working towards smooth, elastic and soft dough will yield good breads.
Don't cut the breads while they are still hot or even warm else the steam will escape and will make the bread irreversibly chewy.
The breads freezes well as compared to over the counter or fridge storage. You can wrap the prepared product in cling wrap and then in plastic bag and freeze. Bake in a hot oven for 10 mins when needed.
Since commercial products add preservatives, the breads keep well for even a week. Not in our case though, therefore, consume fresh for optimal taste.
Always cut breads with serrated knives of roller cutter in case of pizzas.
Easy Yeast Recipes
Following are 15 tried and tested (unlimited times) of breads from all categories.
Basic homemade bread
no fuss no fluff, use for sandwiches, french toast and what not! Written Recipe of Basic easy homemade bread here and a video tutorial of basic bread loaf here!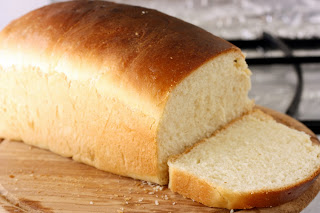 Simple burger buns
They are easier than you think! Knead the dough, divide into balls, proof and bake – bam, homemade burger buns for chicken, beef or simple Pakistani street bun kebabs. Video REcipe of Simple and chocolate filled buns here!
Dinner Rolls
8 Different fun shaped dinner rolls – one of the most popular video on my youtube channel. Check it out here.
Brown Bread
You can always substitute half flour with whole wheat without fail. Try this brown bread recipe which is tasty and easy here.
Rustic no knead bread
If kneading overwhelms you, try this rustic, european style bread with crusty top and chewy inside. Just stir ingredients together and let it sit overnight, ready to be baked in the morning, also learn in this video how to mimic dutch oven if you don't have one with Pakistani/Desi Aluminium Pot.
Chicken bread
A cult classic, favorite Pakistani stuffed bread, written recipe here along with video tutorial.
Coffee Buns
These Malaysian/Mexican buns are making rounds recently and have become super popular because of their soft texture and and crusty coffee flavored topping. Recipe on my instagram stories here.
Cinnamon Rolls
Very very popular with kids, these sweet swirled buns filled with nuts and cinnamon (chocolate chips can be added too) topped with cream cheese frosting and drizzled with fudge sauce. What not to love – recipe here.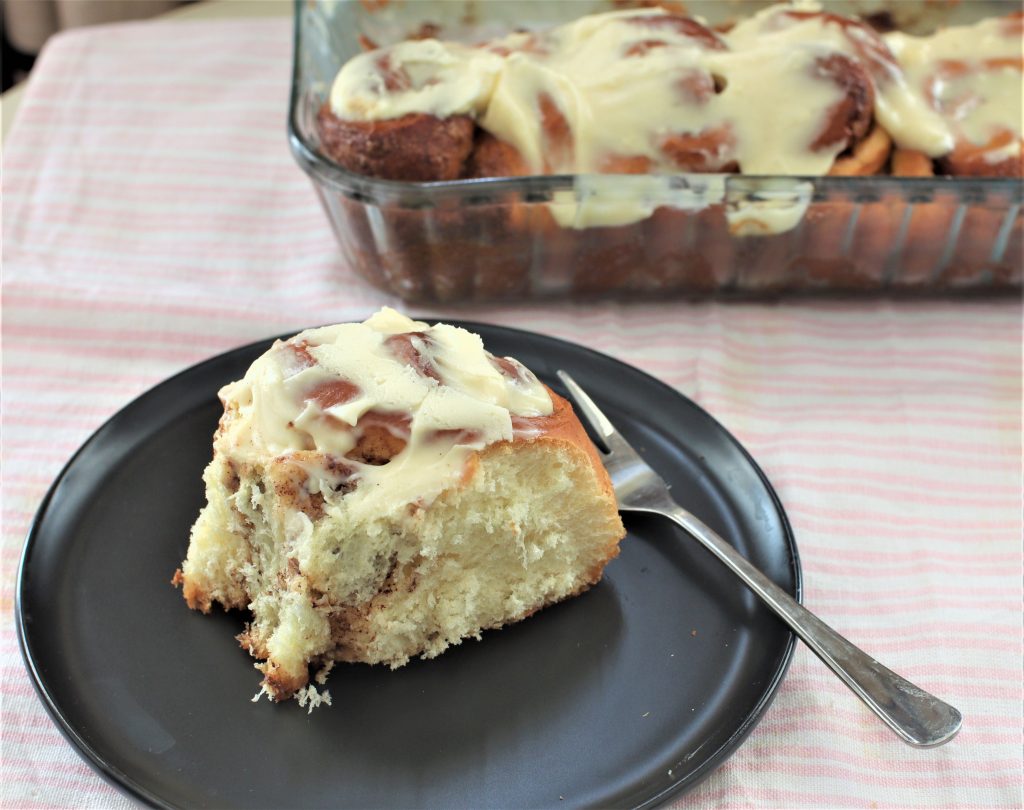 Finger Millet bread
A very popular type of flour in India and Pakistan, known for its health benefits, learn how to make these with delicious chicken filling here.
Pizza
My mom learnt how to make pizzas in early 90's, with desi twists and combinations, try this no fail, mum's famous pizza here.
Fatayer
Popular street snack in Middle East – I learnt this recipe from a famous local shop here. You must check out written and video recipe here.
Focaccia
Italian bread – sister of Pizza, this is so delicious that does not even need and topping or filling, rich with olive oil flavor, try this one hour no knead focaccia bread.
Croissants
The bad boys of Bread category, no doubt the trickiest to make but a beginners recipe can be found here.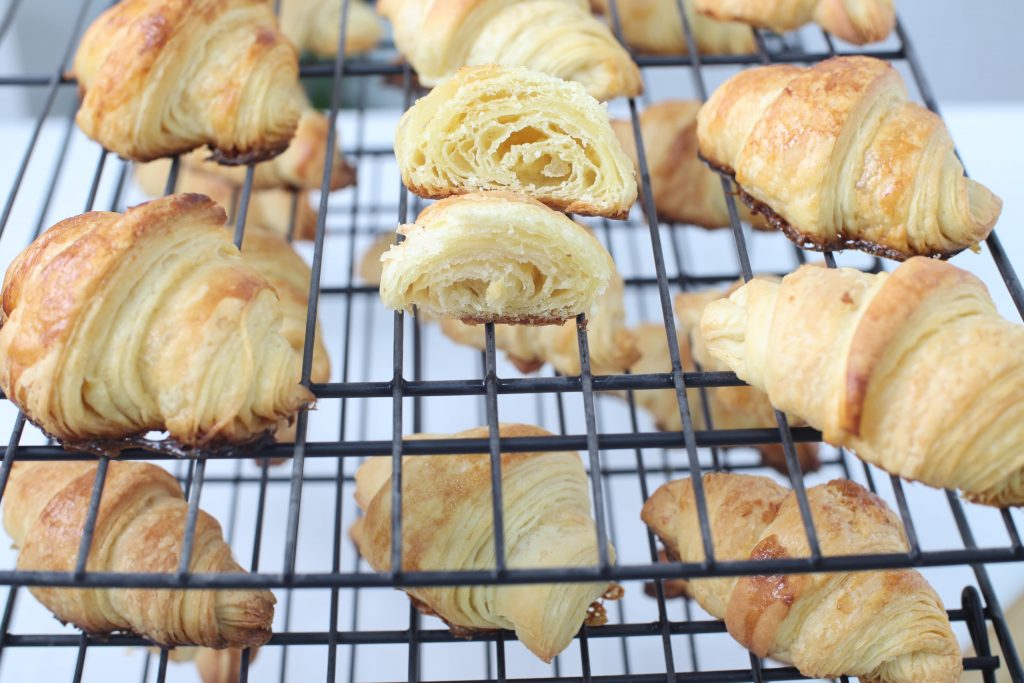 Tiger Bread
Buns with signature crackled look on top, they are simpler to make than they look. Find the recipe here.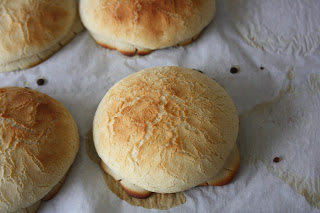 Bread Sticks
Great snack, easy to pull off, will hardly fail you and a good starter recipe, find the written and video recipe of bread sticks here.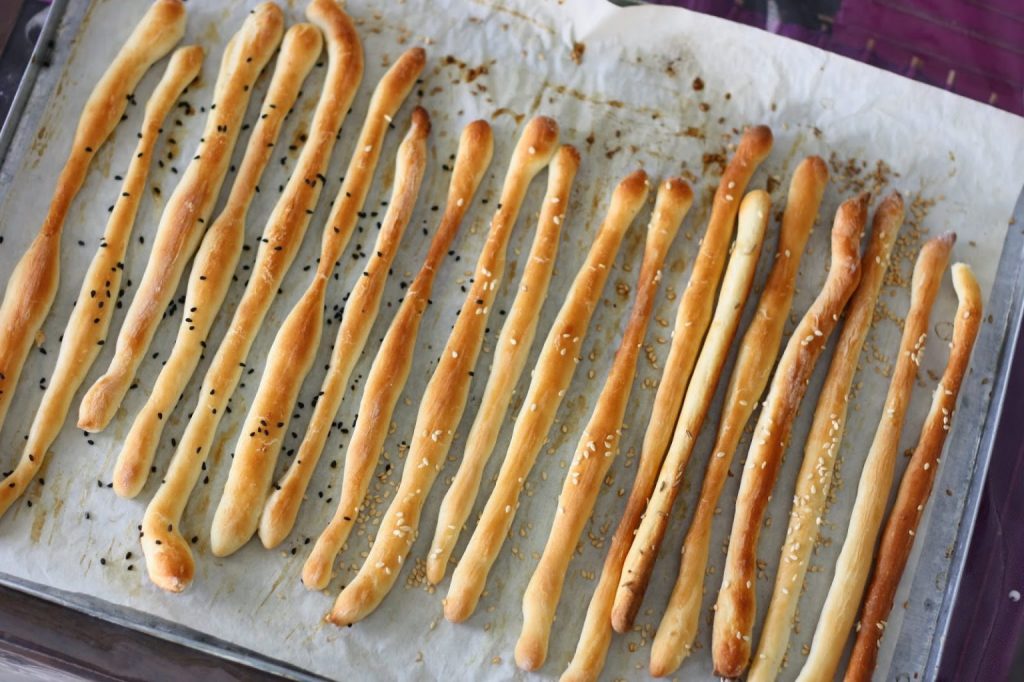 Healthy Banana Bread
Made with honey and whole wheat, you will not even guess that there is not white sugar or flour. Impressive looking as well, find the written and video recipe here.
Honey Wheat or Bushman's Bread
A famous restaurant starter, this chocolate flavored honey, whole wheat bread has a distinctive flavor and aroma. You can find the recipe here on my instagram.