A warm comforting meal – Beef Lasagna is one of the favorite meals, my family enjoy. Layered with three home-made sauces namely mince meat, tomato sauce and cheese sauce along with Lasagna Sheets. I add a few desi Pakistani spices to give that extra kick and satisfy the taste buds.
Lasagna or Lasagne?
Lasagne is an Italian word and of course being a variation of pasta is Italian origin. Lasagna simply means single sheet while Lasagne is plural. In addition, Lasagna is used in North America while everywhere else, usually Lasagne is used.
Restaurant style Lasagna at home?
I have never actually liked what they serve in restaurant because their meat has that peculiar aroma and also the ratios are a bit off. This is the traditional beef lasagna that I have modified over years to let you make it perfectly every time.
Recipe at a glance
It may seem long, but if you look at the tips, with little management you can easily nail it.
Lasagna Strips – Take uncooked strips for best result, any reputable brand will do
Mince Meat – Beef is the best option in my opinion however you could use chicken mince or bite size chicken cubes
Cheese – If lasagna is not cheesy what's the point, I have used Cheddar, Mozzarella and Parmesan, you could use Ricotta as well, just make sure you use best quality available
Spices – Red chilli flakes, oregano and basil are the dominant spices, I use dried, you can use fresh, for Desi twist I have added 1 teaspoon of roasted crushed coriander and cumin seeds each
Seasonings – Salt, black pepper and white pepper
Herbs – A couple of tablespoons of chopped coriander not only adds flavor but also color
Veggies – Tomatoes for the sauce, onion, garlic, ginger, carrot, olive (optional for garnish)
Sauces – Tomato Ketchup, vinegar, mustard
Fat and Dairy – Oil, butter, milk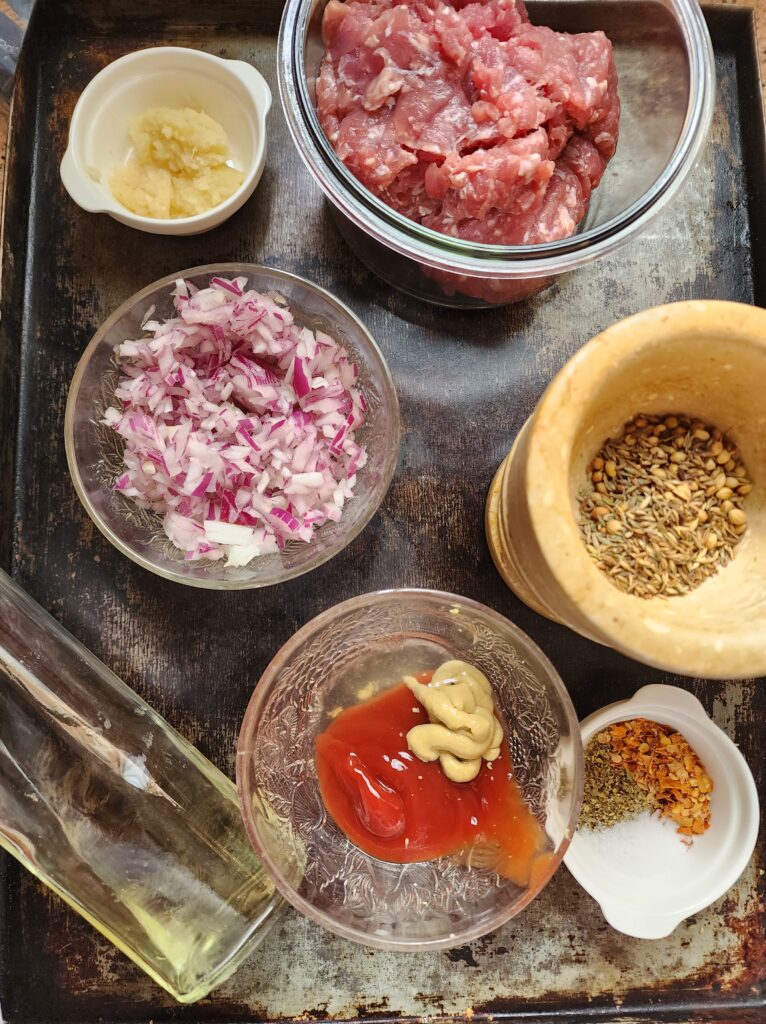 When making Lasagna do you cook the meat first?
Yes, Mince meat of beef or chicken, just cook it well enough till tender and dry with spices and other ingredients. You do not want any water residual.
What should be the bottom layer of Lasagna?
Ok so this is my secret trick, I start with tomato sauce and because I have made it separately this works perfectly fine. It keeps the lasagna strips in place.
Should Lasagna be 2 or 3 layers? What is the correct layering?
I like to do 4 layers of lasagna strips. You can do 2 but minimum 3 will build up really well.
The layers when perfectly cooked and layered gives the optimal flavor and mouthfeel in every bite. The cheesey top with all ooey-gooey meltiness just makes for a very satisfying meal.
How long can Lasagna sit out?
Lasagna can be served piping hot or slightly warm but not cold. When it is slightly warm, you can easily cut the squares. After it has been cooled completely, it should be covered and refrigerated. Since it has meat and cheese etc. it is not recommended to let it sit out for longer periods.
It can be refrigerated up to 3 days covered. I do not recommend freezing the assembled lasagna however the meat and tomato sauce be be frozen.
You can make ahead Lasagna and assemble it completely and bake it the next day but not later.
How long to bake Lasagna?
A four layer Lasagna, set in a deep glass dish uncovered will take approximately 45 minutes at 350 F in a pre-heated oven.
Can you boil oven ready Lasagna Noodles?
I never use oven ready lasagna which do not need boiling however many people do and they work perfectly. The only thing to pay attention to is directions at the packaging you have chosen.
How to tell if Lasagna is done?
I recommend no foil cover because the top cheese layer gets mushed and sticks to the foil. You will see or feel or hear slight bubbling of sauces as well.
To get that charred brown cheesey melty crust on top, turn on the upper grill for last 5 minutes, keeping a close eye because it burns fast.
Related Recipes
More savory bakes recipes on my blog
Check out the video recipe of Lasagna here
Yield: 1 8x12x3inches dish
Beef Lasagna
Prep Time
1 hour
15 minutes
Additional Time
15 minutes
Total Time
2 hours
15 minutes
Ingredients
Meat Sauce
450 grams / 1 pound Beef Mince
2 tablespoons oil
1 medium onion (chopped)
4 tablespoons oil
2 teaspoons ginger garlic paste
1 teaspoon salt
1 teaspoon crushed red chilli or flakes
2 teaspoons dried oregano
1 teaspoon crushed black pepper
2 tablespoons ketchup
2 tablespoons vinegar
2 teaspoons mustard paste
1 teaspoon dried basil (optional)
Tomato Sauce
1 1/2 cups blended tomatoes
5-6 cloves garlic
1 tablespoon chopped onion
1 small grated carrot
2 tablespoons oil
3 tablespoons ketchup
1 tablespoon tomato paste
1 teaspoon crushed red chilli or flakes
2 teaspoons dried oregano
1/2 teaspoon salt
1/2 teaspoon black pepper
Cheese Sauce
1/3 cup butter
1/2 cup flour
4-5 cups milk
1 teaspoon salt
1 teaspoon white pepper
1 teaspoon oregano
1/2 cup grated cheddar cheese
New Group
12 Lasagna Sheets
1/2 cup grated mozzarella cheese
Olives as required
Oregano, crushed red chilli to sprinkle
Grated Parmesan
Green Coriander chopped
Instructions
Meat Sauce
In a medium size pan, heat oil, add onion, saute for 2 minutes.
Add ginger garlic, saute for 2 minutes.
Add mince meat and all the remaining ingredients - salt, crushed red chilli, black pepper, oregano, ketchup, vinegar and mustard paste. Mix well.
Cover and cook on low heat till everything is cooked and water has dried for about 30 minutes.
Turn the flame high, stir with a spoon well for 1 minute to make sure everything is mixed, tender and dry. Cover and cool.
Tomato Sauce
1. Heat oil in a medium pan. Add onions, carrots and garlic. Saute on medium heat for 5 minutes.
2. Add tomatoes, ketchup, chilli flakes, tomato paste, oregano, basil, salt, black pepper.
3. Cover and cook on medium heat till 90% of the water has dried and it becomes a thick sauce for around 20-25 minutes.
Cheese Sauce
1. Melt butter in a medium pan on low heat.
2. Add flour and whisk well.
3. Start adding milk by cup at a time stirring continuously.
4. The sauce will thicken, and starts bubbling. Check the consistency, adjust with more milk, it should not be too thick nor very runny.
5. Turn the heat off, add in salt, white pepper and oregano. Add cheese.
Assembly
1. Boil Lasagna sheets according to package direction.
2. I do not add any oil or salt, just add sheets in rapidly boiling water and stir gently frequently so as not to let them stick.
3. Drain and immediately place in room temperature water to stop cooking and prevent sticking.
4. When the sauces are ready and Lasagna sheets are cool enough to handle, start the assembling process.
5. Take a 8x12x3 inches baking dish preferably with straight walls.
6. Mentally divide tomato sauce in 4 portions. Take 1/4 of the tomato sauce and spread.
7. Line 3 lasagna sheets.
8. Spread tomato sauce, 1/3 of meat sauce and 1/4 of cheese sauce.
9. Repeat steps 7 and 8.
10. On last 3 sheets of Lasagna layer, spread the remaining cheese sauce.
11. Top with Mozzarella cheese, olive, chopped green coriander. Sprinkle red chilli flakes, oregano, basil and black pepper.
12. Bake in a pre-heated oven at 350 F f0r 45 minutes, turning the grill on in last 5 minutes for that cheesy melty top.
13. Cool slightly and Enjoy!
Nutrition Information:
Yield:
12
Serving Size:
1
Amount Per Serving:
Calories:

1260
Total Fat:

73g
Saturated Fat:

31g
Trans Fat:

1g
Unsaturated Fat:

34g
Cholesterol:

279mg
Sodium:

2936mg
Carbohydrates:

72g
Fiber:

6g
Sugar:

36g
Protein:

80g
Summary
Recipe Name
Author Name
Published On
Preparation Time
Cook Time
Total Time
Average Rating





Based on 1 Review(s)