You might have heard the buzz about green smoothies. Some people are avid fan while others lie on the other extreme end. The terms like " drink your veggies", "juice your veggies", "weight loss smoothies" and "meal replacement smoothies" are afloat these days. Are you interested to know what is the deal, why it is so good for skin, weight loss/maintenance and overall a miracle drink? Well then, grab a green smoothie errrrr your coffee/tea and read on.
I was first introduced to this by a wonderful, healthy eater friend, Kiran who happens to be a fitness freak. When she told me, my first reaction was… nahhh sorry, I can't. I mean who blends in spinach and other so many nutritious produce and drink rather swallow? Fast forward, one year later, here I am writing down a post and introducing it to my lovely readers. I swear by it now. Here are some top questions and concerns addressed followed by not-so-hard-core smoothie recipe, just for getting you started.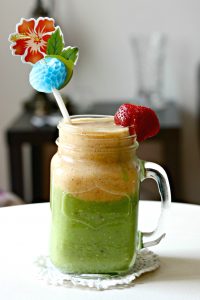 Intro – It is basically a blended compound of vegetables and fruit (s). The ratio can be anything but general rule of thumb is 3 or 4(vegetables) to 1 or 2 (fruits). Clean your produce thoroughly, use organic where deem necessary and blend it really really well with non dairy liquid like almond milk, juice or just water.
Method – For a really smooth consistency, adjust liquid content and blend for a while else fiber in all the vegetables and fruits can be unappealing. Many people strain, I don't recommend. *TIP – Try freezing fruits before adding, will give cool creamy consistency.
Ingredients – They can broadly be divided into five categories –

Vegetables – you can use pretty much anything, the ones I use are : Spinach – my main ingredient, Kale, Lettuce, Mint, Parsley, Capsicum (only a little), Avocado (again very little), Carrot, Cucumber, Beetroot, Broccoli
Fruits – Banana, Grapes, Apple, Pomegranate, Berries, Mango, Peach
Liquid – If you are using spinach then dairy is not recommended, use coconut water, almond milk, water, orange juice etc.
Seeds – I use a teaspoon of flax seed and chia seed each, you can try others as well like sunflower or pumpkin
Extras – Some people add nuts, cocoa powder, oats, protein powder, a dash of lemon juice and a small piece of ginger

Benefits – So what are the benefits, well for me it has really helped me clear my skin, have reduced inflammations. It helps me loose those extra pounds, maintain it, cleanse and detox my body from inside and helps me get all those nutrients which otherwise is not possible. It give me tons of energy to get going throughout the day.
Schedule – Ok so when to take it, based on my personal experience, I find it effective and doable during day time, breakfast or lunch and also for easy digestion. For me lunch works as I hardly have time to sit and take proper lunch. For weekdays craziness, you can make packs, label and freeze them. Just pop it in blender and your smoothie is ready. If you are aiming for weight loss, you can substitute a meal altogether.

So enough of education, now onto a very nice recipe as a starting point. I am introducing you to this smoothie which is basically a fruit smoothie with only one main ingredient of green smoothie used. The ideal ratio for more benefits is mentioned above but its yummy, I promise.
Two Layer Green Smoothie
2017-01-25 13:54:54
Serves 2
A great smoothie who want to tap into healthy healing benefits of green smoothie
Ingredients
Banana 2 (frozen)
Apple 1 (peeled if desired)
Kiwi 1
Spinach two hands full *
Flax seed 1 teaspoon **
Strawberries 4
Peach 1
Orange juice from 2
Chia seed 1 teaspoon **
Almond milk 1/2 cup***
Instructions
Wash, core, seed and chop all the fruits.
In a high power blender, blend 1 banana, apple, kiwi, spinach and flax seed with cup of milk.
Pour in two glasses equally and chill the glasses until you are making the next layer so they don't get mixed.
Wash the blender. Blend strawberries, peach, orange juice and chia seed.
Lightly pour on the green layer in the glasses.
Serve immediately.
This recipe can be easily halved.
Notes
* I use fresh spinach, or fresh spinach, washed cut and frozen and not the commercial frozen ones
** Seeds are completely optional
*** Almond milk is recommended and any other non-dairy liquid like coconut milk/water or plain water
Adapted from Sally's Baking Addiction
Bake Fresh https://bakefresh.net/
Some more information can be found on the website which gave me tons of information and answer lot of my questions.
Another great resource for smoothies is from my favorite blog
Disclaimer – I am not a nutritionist, nor a health or weight loss expert, the information given here is just based on my personal experience and trials of 1 year. During this duration it acted as a catalyst in my weight loss efforts resulting in loss of 7 kgs. You may want to consult your doctor first if you have any chronic condition or any other medical reasons.
Summary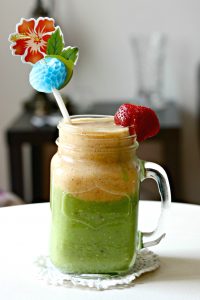 Recipe Name
Author Name
Published On
Preparation Time
Total Time
Average Rating





Based on 1 Review(s)