Chocolate Trifle is one of my go to dessert when it comes to deciding sweet dish for a crowd specially if that party has children. It is a crowd pleaser, kids friendly and a great make ahead dessert which can even be made with leftover chocolate cake. It is a completely make from scratch chocolate trifle with layers of moist chocolate cake, egg-less silky pudding custard and cloud like whipped cream.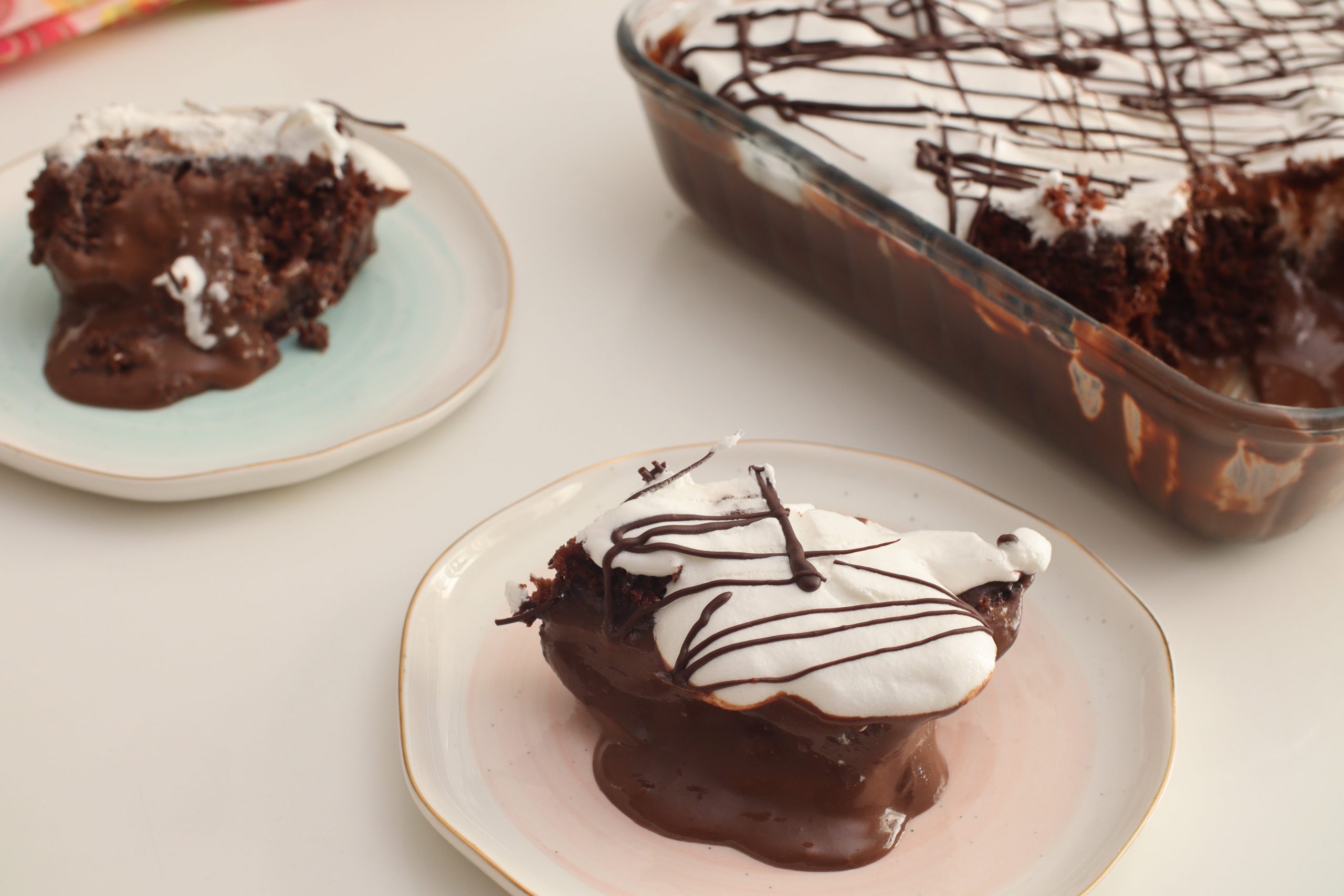 Chocolate trifle is a simple yet impressive dessert that guests from all ages definitely love. You can assemble this super easy chocolate trifle in a big trifle dish or individual servings. Either way, it is great for those dinner parties and yields generous servings.
Can a trifle be made ahead of time?
Since dinners are already very time consuming, it is better to make at least one sweet dish ahead. Chocolate trifle or any trifle for that matter is a great make ahead dessert and can be made at least a couple of days ahead.
What is chocolate trifle made of?
Chocolate trifle has a layer of moist chocolate cake, chocolate pudding or custard, whipped cream and chocolate decorations. In the middle you could also use some sort of jam or jelly to add a flavor dimension. For a beginner's guide to chocolate trifle, I do not need eggs nor even yolks; as opposed to traditional custards and pastry creams.
What are the layers of a trifle?
A trifle consists of typically three or four layers starting from a cake/biscuit layer, custard or pudding, followed by cream and garnishing. However, you can serve the custard layer alone, as with chocolate pudding too. Here, the base I recommend is a simple chocolate cake but you can use crushed biscuits of any kind or any other cake sponge. You know by now that with chocolate, everything rocks.
Also, the fruits option is a limitless, any seasonal juicy fruit will go. I prefer strawberries or pineapples. The top is finished with whipped cream and a chocolate accent. I am giving an attachment below that you can print, lay it under wax paper on a baking sheet, pipe the melted chocolate on it carefully and let it set before peeling off the wax paper and lifting the accent. I will be posting a short live video on facebook this week so be sure to check it out.
What makes the bottom layer of a trifle?
The bottom layer is usually a cake of any kind like sponge, dacquoise, pound cake which sits to take on the other creamy layers like custard, cream or pudding.
A quick note about chocolates – in chocolate custard, I recommend dark chocolate or semisweet; because milk chocolate will be too sweet. For chocolate accents, a compound chocolate is recommended but it should be completely melted. If the chocolate is not melted properly, small un melted bits will interfere your piping which otherwise is very simple. So make sure to create a small cone or use small quantity as chocolate tends to solidify quickly specially in winters. So now on to the recipe.
Yield: 20-25 servings
Chocolate Cake Trifle
Learn how to make this impressive dessert Chocolate Trifle that feeds a crowd
Ingredients
Chocolate Cake
4 eggs
1 cup oil
1 1/3 cup sugar
6 tablespoon cocoa powder
1 teaspoon vanilla essence
2 and 1/3 cup flour
2 1/2 teaspoon baking powder
1 cup milk
Chocolate Custard
4 tablespoons corn flour
1/2 cup sugar
1/2 cup cocoa powder
4 cups milk
6 ounces semisweet/dark chocolate (chopped)
2 tablespoons butter
Assembling
whipping cream 1 1/2 cup
chocolate accents
pineapples or strawberries as required
simple sugar syrup or juice or jam
Instructions
Cake
Beat eggs really well till light and fluffy.
Add oil while continue beating.
Add in sugar, vanilla essence, and beat.
Sift flour, cocoa powder, and baking powder.
Mix in with the beater at the lowest speed.
Add in milk and beat until just combined.
Bake in a pre-heated oven at 325 F for 20 minutes in a 9x13 inches square greased and floured pan.
While it's baking and cooling, prepare the custard.

Custard
In a deep cooking pot, mix everything with a whisk except chocolate and butter.
Cook on low heat while whisking continuously until it boils and thickens.
Remove from heat.
Add butter and chocolate.
Pour in a large measuring cup.
Cover with a cling film so that it touches the surface of the custard to avoid thin film from forming.
Assembling
Whip the cold cream with a couple of tablespoons of sugar till soft peaks are formed.
Get your serving dish or cups ready.
Cut cake into pieces as suitable for the serving dish.
You can moisten the cake with either sugar syrup or juice or even jam.
Layer cut up fruits and distribute evenly.
Pour custard distribution equally and evenly.
Let it sit for at least a couple of hours in the refrigerator.
Pipe swirls of whipped cream or just put dollops with a spoon.
Add chocolate accents or dust with cocoa powder.



A chocolate trifle with an elegant dessert glass creates a serene, beautiful night scene. My generous sister gifted me these beautiful glass shots they come in a pack of twelve along with small spoons and they go hand in hand with this recipe!
If you plan to make this recipe, do not forget to tag us on all our social media accounts!
Start baking fresh with Nadia today by subscribing to our newsletter and YouTube channel.
Related Reads:
3 Ingredient Quick Chocolate Mousse
Easy Chocolate Recipes no-bake (with few ingredients)
Basic Dark Chocolate Ganache and The chocolate class story
Summary
Recipe Name
Author Name
Published On
Preparation Time
Cook Time
Total Time