Naankhatai or naan khatai it is today! Sometimes you are at a loss. No ideas whatsoever, you have favorites at Tastespotting, you have archives, you have notes on what recipes to try and you have people feedback but nothing seems to fit. I cannot write a post to 'fill in' space. I have to absolutely love that recipe and it should look and taste amazing not to mention that it should be photographed decently.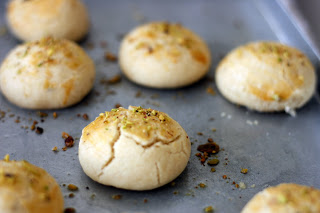 This weeks' post is one of a kind of traditional Pakistani biscuits called Naan Khatai. It also has roots in Indian cuisine but they generally use semolina as well. This is a very old hands down recipe and I can't even recall whose recipe is this actually. It consists of only three main ingredients – oil, flour and sugar. It is flavored with freshly grounded cardamom. The cookies are brushed with beaten egg yolk and sprinkled with pistachios. The typical texture of these cookies should be powder like on the cracked tops. You can find them in almost all Pakistani bakeries and they are true all time favorites. Check out the video at the end.
So next time when you have guests coming over in less than 30 minutes, give this a try. No need to thaw butter or use electric beaters. I am sure they will love it. And did I tell you that its totally egg-less?
Naan Khatai
2018-07-12 07:25:06
Serves 4
A traditional Pakistani cookie which can be made egg less too
Ingredients
1 cup Flour
1/4 cup Castor Sugar
1/2 cup approx. Light flavored Oil e.g canola
4-5 Ground cardamom
Egg yolk beaten, for brushing
Grounded pistachios for sprinkling
Instructions
Place sifted flour, sugar and cardamom in a bowl.
Start adding oil and binding it with your hands.
When everything is combined and a ball can be formed, don't add more oil if left.
Make small balls [about 8 in this quantity] and place it on greased baking tray pressing them slightly.
Brush with egg yolk and sprinkle with pistachios.
Bake in a pre-heated oven for 15-20 mins at 325 F until golden from bottom and tops have cracked and are nice and golden.
Adapted from from my mom's diary
Adapted from from my mom's diary
Bake Fresh https://bakefresh.net/
Summary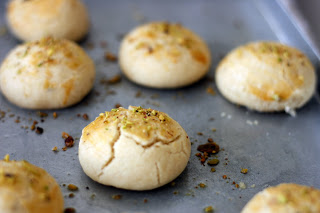 Reviewer
Review Date
Reviewed Item
Author Rating





Recipe Name