I have been on cake recipes hunt spree. For me, a wonderfully baked cake that tastes awesome is a real treat. I have been doing a lot of reading too in this regard, about the ingredients, methods and various flavors. I will share some of the findings with you. One more important thing, when I visit a blog in a particular niche, for example food, I am very interested in the whereabouts of the recipe and writer's opinion.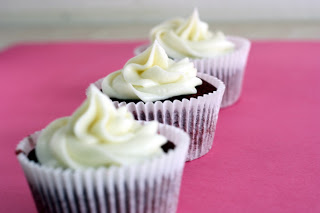 Cupcakes are often regarded as mini-cakes. Usually the batter is same but my experience is different. I think cupcakes are mini cakes, baked quickly and have a quick chance of drying out so it has to be ultimately moist with no compromise. If cupcakes are delicate and not so firm, they will forgive since they already have individual serving. Cakes on the other hand, are often torted, sliced and iced so they have to be firm yet moist. Both should have uncompromised moist, soft, delicate crumb with desired level of firmness. I would love to hear your take on cupcakes and cake difference too.
Coming back to red velvet cake, its a rich cake famous for its striking color combination. It is a moist deep red cake often frosted with cream cheese. It has a distinctive flavor with subtle hint of cocoa powder and that is why it is often compared with devil's food cake.If you are like me and have'nt tasted it before, you will find the flavor a bit odd but once paired with frosting, it is definitely a heaven. In my opinion, this is one of the cakes which cannot be consumed unfrosted.
The recipe is adopted from Annie's Eats, one of my favorite blogs and after a quick research,I found that Food Network and Bakerella uses the same recipe for their cakes. So, even though I have'nt tried personally, it looks that this recipe can be easily made into a cake. A little problem though, my cupcakes were'nt that tall but I think its just because of the baking soda, next time I will try with different brand and will keep you posted. For now, I am quite pleased with this recipe.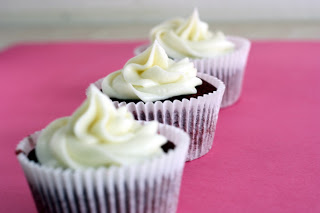 Red Velvet Cupcakes
2018-04-10 06:39:45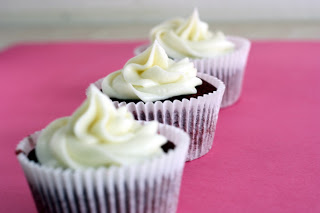 Serves 8
A moist, flavorful red velvet cupcakes with cream cheese frosting and that can turned into cake also
Ingredients
1 and 1/4 cup Cake Flour*
3/4 cup Castor Sugar
1/2 teaspoon Baking Soda
1/2 tablespoon Cocoa Powder
1/2 teaspoon Salt
3/4 cup Vegetable Oil
1 Egg
1/2 cup Buttermilk**
1 tablespoon Red Food color [I used a local brand in liquid form]
1/2 teaspoon Vanilla Essence
1/2 teaspoon Distilled white vinegar
Ingredients
Cream cheese 4 ounces [use Philadelphia or Kiri]
Butter 2 1/2 tbsp
Vanilla essence 1 tsp
Icing Sugar 1 1/2 cup
For cupcakes
Combine flour, sugar, baking soda, cocoa powder, salt in a bowl and whisk.
Beat eggs, buttermilk, oil, food color, essence and vinegar and until blended.
Add in dry ingredients and beat on medium speed for two minutes.
Divide the mixture into a paper cup lined muffin pan.
Bake in a pre-heated oven at around gas mark 4 for 18-20 minutes until toothpick inserted comes out clean.
Cool and frost.
For Cream Cheese Frosting
Beat butter and cream cheese until creamy.
Add in essence and icing sugar beating till combined.
Frost with a spatula or piping swirls with 1M tip.
Notes
* 1 cup Cake Flour can be made by placing 2 tbsp corn flour in a cup and then filling the cup with all purpose flour. Now do your math for 1 1/4 cup. More on cake flour and other types of flour in later posts.
**Buttermilk can be made by adding 1 tbsp vinegar/lemon juice in 1 cup of milk and let it stand for 5 minutes before using
Adapted from Food Network
Bake Fresh https://bakefresh.net/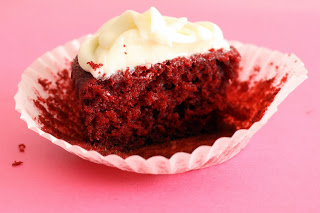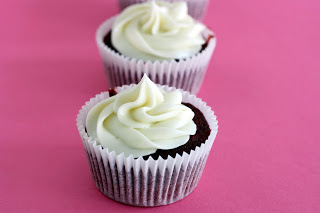 Summary
Reviewer
Review Date
Reviewed Item
Author Rating





Recipe Name