Today I am sharing NanKhatai Recipe – Pakistani style. In simplest words, NanKhatai is a South Asian (Now Pakistan and India) shortbread cookie with some origin stories from Afghanistan, Iran and China. It is one of the favorite teatime biscuits in Pakistan consisting of three main ingredients (Ghee/Clarified butter, flour, sugar). You do not need any fancy equipment nor procedure to make it.
Today I am sharing one of the famous variations of this cookie, called Besan Nan Khatai Recipe, replacing some of the regular all purpose flour with besan or chickpea flour.
What is NanKhatai in English?
NanKhatai is typically a shortbread cookie but with South Asian twists like addition of mixed nuts and spice like green cardamom.
What is Nan Khatai made from?
NanKhatai has three main ingredients – clarified butter or ghee, flour (or combinations), sugar.
You can use All purpose flour, whole wheat, semolina, almond flour and chickpea flour in different combinations to make NanKhatai.
In South Asia, Ghee or clarified butter has Animal fat as main ingredient. You can easily make it at home from butter if it is not readily available in your area.
I am using icing sugar or powdered sugar or confectioner's sugar. You can use grinded sugar at home sifted multiple times for that melt in mouth texture.
Is Pakistani NanKhatai made of Maida?
Commonly, NanKhatai is made from Maida or all-purpose flour. However you can substitute different flours like almond, chickpea, semolina and whole wheat in various combinations.
What is Surti NanKhatai?
NanKhatai is believed to be originated from Surat (present day India) in 16th century. It has nuts of different kinds but distinct flavor comes from Cardamom. It is a typical tea time snack.
Yield: 18-20 cookies
NanKhatai Recipe - Pakistani Tea time Biscuit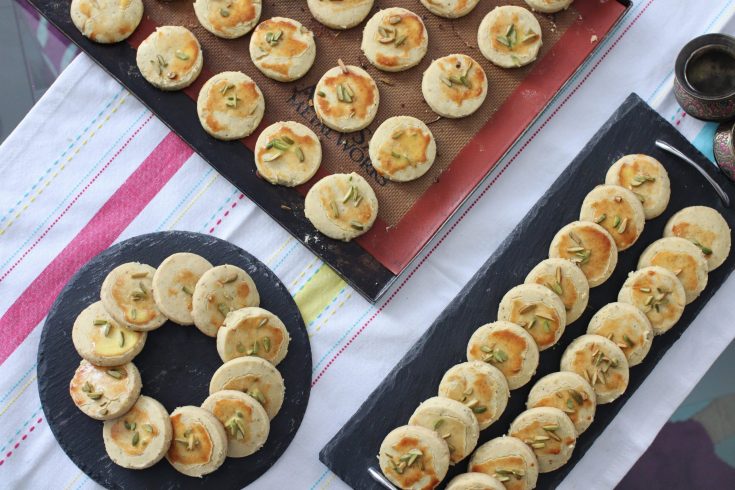 A Pakistani shortbread cookie - traditional tea time biscuit flavored with green cardamom
Additional Time
30 minutes
Total Time
1 hour
30 minutes
Ingredients
1 1/2 cup flour
1/2 cup besan/chickpea flour
2/3 cup ghee/clarified butter
2/3 cup icing sugar/powdered sugar/confectioner's sugar
2 teaspoon ground green cardamom (pisi hari ilaichi) *
1/2 teaspoon baking powder
1/2 teaspoon baking soda
1 egg yolk diluted with 1 tablespoon water
sliced pistachios to garnish
Instructions
1. Sift flour, chickpea flour (besan), baking powder and baking soda in a large bowl, add in sugar.
2. Add ghee, cardamom powder (ilaichi), and mix well to form a dough
3. Knead gently into a soft dough till you can form a ball without crack.
4. Make 18-20 balls or roll out thickly between parchment/baking/wax paper
5. Chill for 30 minutes before cutting out circles.
6. Whether you have made balls or cut out the cookies, chill them in refrigerator for 30 minutes before baking.
7. Brush with egg yolk and sprinkle pistachios.
8. Bake in a preheated oven for 20 minutes at 350 F.
9. Cool and store. Enjoy!
Notes
*Clarified ghee should be semi solid state
**freshly grounded cardamom powder is recommended
Previously I have made these amazing NanKhatai using oil and you can find it here.
Easy NanKhatai Recipe with oil
Shortbread Recipe with 4 ingredients
Summary
Recipe Name
Pakistani NanKhatai Recipe
Author Name
Published On
Preparation Time