I find Pakistani Dessert a little difficult to make. They are not complex but just takes some hand-on time unlike baking. However I have some favorites from Pakistani sweet dishes which I have aced because they are quintessential and also a easy with these fool proof recipes. This is part 1 of the series and in second one I will be sharing Pakistani Desserts that can be made with condensed milk. Third part is favorite because I will share a roundup of Pakistani Bakery Sweets! So stay tuned or you can subscribe to my newsletter (on homepage and right side bar)to keep yourself informed.
Today I am sharing four Pakistani dessert recipes that are not only delicious but are my personal favorite because they are not difficult at all. Most of them are from my mum's diary and I have seen them being made for every other dawat since my childhood. They are also great make ahead desserts!
In second part of this Pakistani Dessert recipes, I will be sharing five Pakistani desserts that can be made with condensed milk, such a quick way to add richness and flavor in less time.
So first up is my all time favorite dessert for Dawats and dinners is Khubani Ka Meetha. Here is why I like to make it to end a full fledge heavy dinner:
Serving Options: Layer it like trifle, set them in individual glasses
Quantity : This is easy to make and yields a big quantity, fit for a crowd
Eggless : This is great dessert for catering guests that don't eat eggs
Less Ingredients: 5 Main Ingredients, yes you read it right, dried apricots, sugar,cream, custard powder, milk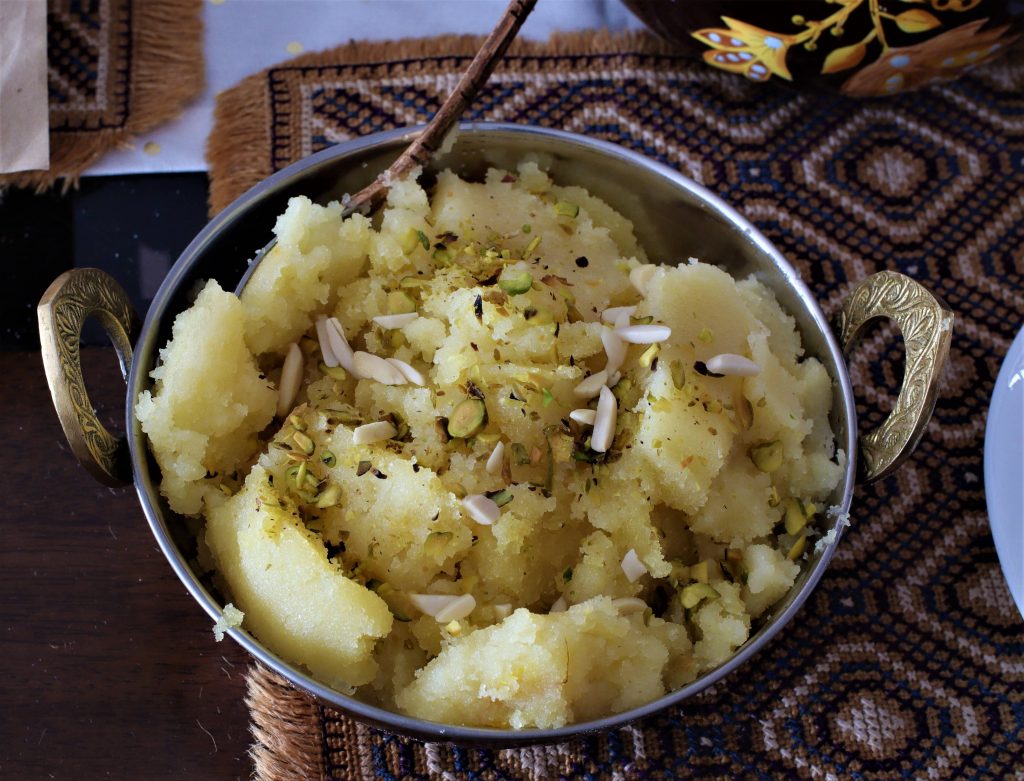 Next is super versatile suji ka halwa Or semolina fudge, here is why I love it
Because my husband loves it 😉 and as a matter of fact, everyone who has eaten it, have either asked for more or taken its recipe
It can be served as a breakfast with poori/puri, check out my wholewheat no-fail Pooris recipe here, at brunch or as a dessert.
Again three ingredients – semolina/suji, sugar, ghee/clarified butter and/or cardamom,saffron
Quick to make – It can be made in like 10 minutes
Third one is Gulab Jamun – sweet and favorite just like its name. My friend calls it "Pillow soft Gulab jamun" and here is why I love it.
Super soft, spongy dumplings balls soaked well in sugar syrup
Excellent option to serve a little warm in those cold winter dinners
It can be made without khoya/curdled milk yet it yields great taste
Can be made into mini or regular sizes with multiple serving options
And the last one is personal favorite. Chanay ki daal ka halwa! My emotional association with this supersedes all above because my mom makes it every time I visit home. A little tedious to make but you will not regret even a minute you spent making it.
It's a great make ahead and is in my opinion king of halwas (sorry gajar ka halwa)
It's great for vegetarian/vegans option as it has no eggs and can be boiled in water instead of milk
Great option for gifting someone, packaged nicely, people will remember forever.
It is heaven in every bite like literally
So I hope you got some ideas for your next party or any other occasion and if you feel nervous when attempting any of the above, these recipes and explanation will help you nail them.