What happens when you are suddenly free after finishing a project? For me, I immediately get back to my neglected baby, my blog. When I got up this morning, I was starving and didn't want to have usual breakfast. Idea – make best apple crisp for breakfast and blog and yes quick.
Recipe at a Glance
You need very basic ingredients present in every pantry.
Its a great breakfast option for a weekend or you can halve the recipe for making in 4 ramekins.
Apples – I always use Gala without peeling, any kind would do
Lemon Juice – a good squeeze, no need to measure
Cinnamon powder – just the hint or for a more pronounced flavor because apples and cinnamon go so well together
Bonus Flavor – Nutmeg : Just a dash of grated nutmeg adds amazing flavor to the apple crisp
Butter – a good quality unsalted butter chilled – neither soft nor frozen
Oats – Use whole oats – old fashioned for the crispier texture
Brown Sugar – You can use white sugar but brown sugar just adds the depth and dimension in flavor
Flour – I always use whole wheat flour unless I am serving it as a dessert with ice-cream
What is the difference between apple crisp and apple crumble?
Most crisps and crumbles are pretty straightforward and can go with any seasonal fruits like pears, peaches, cherries etc. The only difference is of oats in crisp while crumble doesn't have oats. I like mine with apples especially when they have been lying around for a while and no one was eating them. Best served warm with a dollop of fresh cream or with ice-cream for a more formal dessert.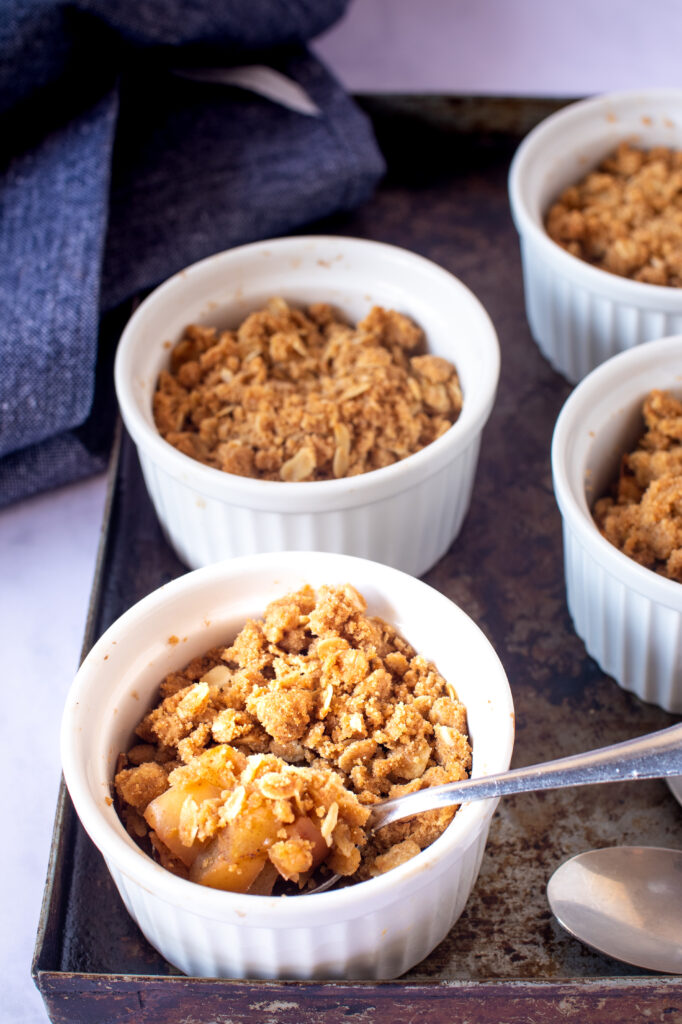 How do you keep apple crisp topping crispy?
There are a few tips to keep the crisp crispy.
Bake it at 350 F uncovered
Rub in cold butter with dry ingredients and sugar rather than mixing it and turning into a dough
Best apples for apple crisp?
I have always used Gala apples with skin and it turns out perfect. They are sweet enough such that it doesn't require any additional sweetness in the apple layer.
Why do you put lemon juice in apple crisp?
There are two reasons for this:
To prevent the apple from browning
To release the juice from apple and helps them tender quickly
How do you slice apples for best apple crisp?
I always prefer chopping the apples with skin on however you can choose to peel the skin.
Can you use quick oats instead of old fashioned oats in?
You can but old fashioned whole oats tend to yield crispier Apple Crisp.
Yield: 8
Best Apple Crisp Recipe
Easy Apple Crisp Recipe - Perfect for weekend breakfast or a fall dessert
Ingredients
3-4 Apples
1/2 cup Flour
2/3 cup Brown Sugar
1/2 cup Whole Oats
3/4 teaspoon Cinnamon Powder
1/4 teaspoon grated Nutmeg (optional)
1/3 cup Nuts and Raisins (optional)
1/3 cup Butter
Instructions
Wash apples, core if you wish, chop.
Add lemon juice, nutmeg, cinnamon, nuts and raisins.
Place the apple layer in a large oven proof serving dish or individually in 4 ramekins.
Mix dry ingredients and rub in butter with your finger tips.
Spread the mixture over apples.
Bake in a pre-heated oven at 350 F for 20-25 minutes until golden brown on top.
Notes
* I use Gala apples, you could use any variety
** You can use wholewheat flour as well
You might also like
Summary
Recipe Name
Author Name
Published On
Preparation Time
Cook Time
Total Time